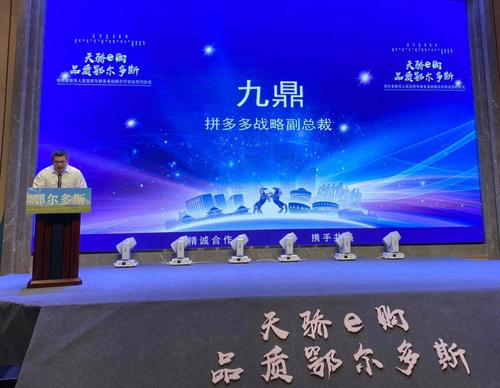 On June 30, Ordos Municipal government announced that it had reached strategic cooperation with Pinduoduo to jointly launch the "Tianjiao E-Purchase, Quality Ordos" activity.


There are 79 cashmere processing enterprises above designated size in the cashmere industry in Ordos, accounting for 55% of the cashmere processing enterprises above designated size in the autonomous region. The annual production of cashmere sweaters here has exceeded 6 million pieces, accounting for more than half of the national output. It is sold at home and abroad and is indeed a "China Cashmere City". Ordos will carry out comprehensive and in-depth strategic cooperation with Pinduoduo platform to help Ordos enterprises increase orders and stabilize production capacity, promote export-oriented enterprises to achieve coordinated development of domestic and international markets, and boost the domestic consumer market. At the signing ceremony, a number of Ordos representative companies showed their hopes for this cooperation. They are all eager to use the new e-commerce to fully connect the domestic market of 628 million users of Pinduoduo platform.
According to Jiuding, vice President of Pinduoduo Strategy, Pinduoduo will join Ordos' cashmere superiority industry to promote the platform "new brand plan" pilot in Ordos, implement the regional excellent product series plan, further drive the expansion of the domestic market and increase market share. At the same time, the two sides will cooperate to help the cashmere industry cultivate a batch of new national brands, comprehensively enhance industrial competitiveness, and promote the high-quality development of industrial clusters.

ALL COMMENTS