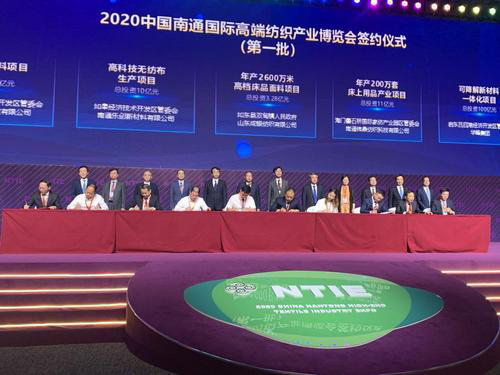 The 2020 China Nantong Jianghai Expo, which opened on July 3, focuses on the high-end textile industry. Nearly 20 high-end textile industry projects have been signed with a total investment of 33.5 billion yuan.


The 2020 China Nantong Jianghai Expo is online and offline simultaneously. At the scene, representatives of nearly a thousand textile enterprises gathered together; in the virtual expo, more than 400 textile enterprises from 14 countries and regions around the world opened exhibition halls, forming "all-star lineup" of the textile industry chain.
Nantong home textile industry has developed into the largest home textile professional market in the country, with more than 3,800 enterprises and more than 10,000 merchants, products are exported to more than 150 countries and regions, foreign trade import and export volume exceeds 10 billion U.S. dollars, online and offline market transactions is over 220 billion yuan, textile exports ranked first in the province. By 2025, Nantong will achieve a high-end textile industry output value exceeding 300 billion yuan, build a world-class textile industry advanced zone, and become a global leader in high-end textile industry.

ALL COMMENTS