On March 11, the "Civil Health Masks" group standard drafted by the China Nonwovens & Industrial Textiles Association (CNITA) was officially released. The promulgation and implementation of the standard will provide technical support for related mask manufacturers, provide a basis for market supervision, and facilitate consumers to choose suitable masks.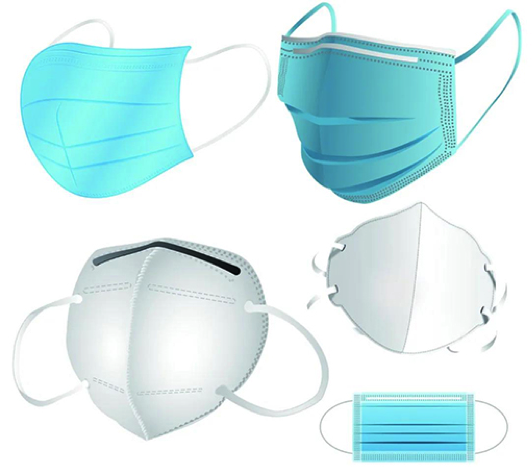 Existing mask standard
Civil protective mask standard: GB / T 32610-2016 "Technical Specifications for Daily Protective Masks", GB 2626-2006 "Self-priming Filtering Anti-particulate Respirator for Respiratory Protective Products", which is mainly applicable to particulate matter protection and played an important role in this epidemic, but a large number of barrier masks (mainly flat masks) were used in the resumption of work and production, which could not meet the requirements of the above two standards.
Medical field standards: GB 19083-2010 "Technical Requirements for Medical Protective Masks", YY 0469-2011 "Medical Surgical Masks", and YY / T 0969-2013 "Disposable Medical Masks" are mainly applicable to the medical field.
On March 11, T / CNTAC 55-2020 and T / CNITA 09104-2020 standards for "Civil Health Masks" were released. This standard applies to civilian sanitary masks used by ordinary people in the daily environment to block the transmission of particles such as droplets, pollen and microorganisms.
This standard revolves around the functions and safety settings of masks, which mainly include materials and wearing safety, necessary barrier functions, and special attention to wearing comfort. And special provisions for children's masks.
The main contents of "Civil Health Masks"
● Suitable for getting back to work and school, it can effectively block the transmission of particles such as droplets, pollen and microorganisms;
● Divided into adult masks and children's masks, the specifications are large (L) medium (M) small (S);
● Clearly wear safety and materials, there should be no accessible sharp points and sharp edges, children's masks should use ear-hanging mask straps, there should be no removable small parts, etc. Children's mask straps should not have free ends, masks raw materials should not use recycled materials, and materials that come in direct contact with the skin must not be dyed, etc.;
● Highlight the barrier function of the mask, the bacterial filtration efficiency is not less than 95%, and the particulate matter filtration efficiency is not less than 90%;
● Prominent wearing comfort of masks, ventilation resistance of adult masks is set to ≤49Pa, and ventilation resistance of children's masks is set to ≤30Pa;
● It also clearly specifies the residual ethylene oxide, color fastness to dry rubbing, formaldehyde content, pH value, decomposable carcinogenic aromatic amine dyes, microbiological indicators, flame retardancy and other indicators.