Back to February 6, Sinopec, China Petrochemical Corporation, was seeking for masks machines for collaborative production of masks because this petrochemical complex has meltblown nonwovens. But now, the nonwoven is not something it wants to supply to masks manufacturers for co-production, it is the very material it wants to keep for its own production of masks, instead of selling out cross-aisle to the other sectors of industry.
BYD Company Ltd., once the earliest respondent to Sinopec's appeal for mask machines, now calls even louder for cooperation by saying " We have mask machines, but have no way of buying meltblown nonwovens!" BYD staff told media " our company needs 5 tons of meltblown nonwovens, but we have only found a supplier for signing a deal for 10 more tones of it, barely enough to support consumption for two or three days, at a lead time in about one month."
Of course, BYD is not the only company troubled with meltblown shortage. Some mask manufacturers said that some suppliers for meltblown nonwovens went with an offer as far as 150,000 Yuan/ton, still hard to be attainable in cash-and-take terms, which happens more to the medical-purposed application than to ordinary civil consumption.
In fact, 150,000 Yuan/ton for meltblown nonwovens is not the ceiling price at the moment. Mr. Chen, coordinator for raw material allotment to some of the mask manufacturing companies in Changyuan city, Henan province, told the media " the price for meltblown nonwovens rocketed from the previous less than 20,000 Yuan/ton to 300,000 Yuan/ton, even up to 400,000-500,000 Yuan/ton in the price offering."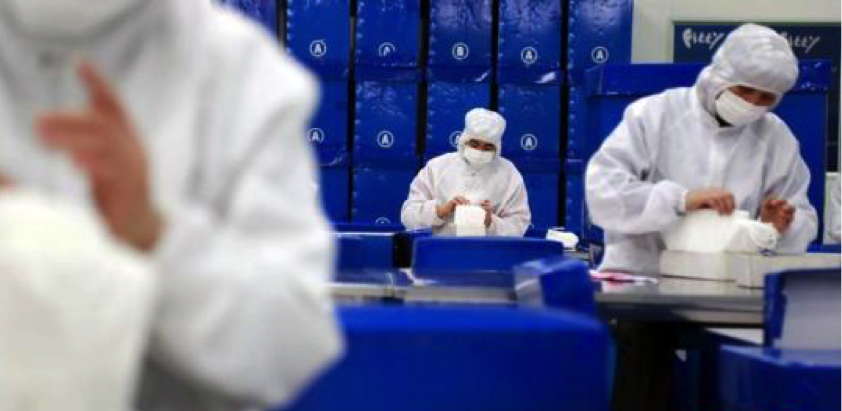 The demand/supply relationship is well proven in time of insatiable edacity here in the market as the mask manufacturers are starving for meltblown nonwovens, which drives up the raw material price. A meltblown nonwoven manufacturer in Beijing has told [[CHINA TEXTILE]] that its price was somewhere at 18,000 Yuan/ton before the coronavirus breakout, and is over 400,000 Yuan/ton, 20 times higher at the moment today on March 8."It's like one-day-one-price business" he said.
The production of this special product is usually adequate for consumption, due to its small nitche market, but the outbreak of COVID-19 goaded a lot of companies not only in textile industry, but also in the other sectors of the industry to invest in new lines or capacity expansion, including some new comers who shunted their lines to the mask production to keep abreast of the rising demand, intensifying the competition not to sell out, but to buy in when it comes to availability of meltblown nonwovens. On February 24, Sinopec decided to invest 200 million Yuan in 10 new lines which are expected to go into production as soon as possible, aggrandizing its daily output to 18 tons of meltblown nonwovens. Two new lines out of this new capacity are set up in Sinopec Yanshan Petrochemical Company in Beijing, which is to go into production on March 8.
The meltblown nonwoven is the core filter of the sandwiched mask that is flanked by spun-bonded nonwovens on both sides, and it is often made of polypropylene which is the key feedstuff for making meltblown nonwoven. According to China Non-Woven and Industrial Textile Association(CNITA), there was about 53,400 tons of this product, roughly 146 tons every day on full-year count, which is not confined to mask application, it is also widely applied to the nitche market for environmental protection, garment and diaphragm in battery. Based on its slim production capacity, about 20,000 tons of meltblown nonwovens for N95 medical masks are needed, that is to say, 50 tons a day in a year to meet the demand if we take into account the mask production for 6 billion pieces as was reported last year.
As the factories are rebooted progressively here and there across the sectors in the whole country, workers are asked to wear mouth muffles. There are about 530 million job goers in the secondary and tertiary industries, meaning that you have to provide 530 million pieces of face masks a day. And how many more are to be expected if they change even now and then instead of now and again? Roughly accounted, one ton of meltblown nonwovens can turn out 1 million pieces of one-off masks, more than 100 tons of nonwovens in this category can turn into 100 million pieces of masks, still far short of supply.
This on-going and potential driver for more masks not only for the people at work, but also for the people staying at home to go out occasionally for shopping or outdoor activities. Moreover, there are two-way traffic at a fast speed right now, one for workers to come back to factories at a fast step, and another for global spread of the disease at an accelerating rate, both factors will push the demand for more new lines even higher.
As the price has blown out, another worry grows, nevertheless. The quickly rising demand for new lines for meltblown production overwhelms the machine manufacturers who are unable to deliver on time, with a promise to fulfill the contract in 6 months, in September this year. The heat will soon quench if the coronavirus dies away and out, what will blow out when so many expensive production lines are here and there or even under construction?