On December 25th, in the 6,500-square-meter weaving factory of Zhejiang Xinlan Textile Co., Ltd. in Lanxi City, 108 looms were rattling, but it was difficult for the textile workers to find ...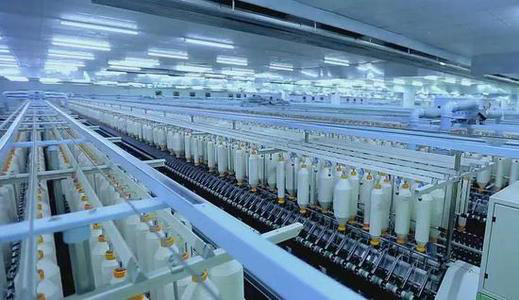 "In order to improve production efficiency and product quality, the company has invested 130 million yuan in the past two years to implement intelligent applications, and built a dust-free intelligent weaving workshop and intelligent three-dimensional storage." Huang Min, deputy general manager of Xinlan Textile Co., Ltd., told reporters that before the investment, the company has hesitated, but the results were unexpected. "At present, for the 10 million meters of cloth produced in the denim industry, 150 workers are required. Now with intelligent production, only 100 people are needed. Our company produces more than 50 million meters a year, which is equivalent to saving 250 people's expenses. The product qualification rate has been greatly improved, the product production cycle has been accelerated, and even the amount of hydropower has been reduced overall. "
"Because the production process is intelligent and digital, the product quality can be controlled and credible. This year, the number of first-line quality customers increased by 40% over last year." The company's chairman Huang Youhong said directly that the company plans to invest another 60 million yuan and strive to take the lead in completing the goal of building an all-round intelligent factory in the textile industry of the province by the end of 2020.
In order to accelerate the transformation and upgrading of the textile industry, in June of this year, Lanxi City started the creation of a smart manufacturing demonstration city in the textile industry. It is planned to gradually realize the networking of equipment, data interconnection, paperless documents, transparent process, reduced workshop personnel, management visualization and service platform of textile enterprises through 3 years. More than 200 intelligent production lines, more than 100 intelligent workshops (warehousing), and more than 50 smart factories have been built. The "enterprise digital manufacturing and industry platform services" have been basically realized. At present, 8 textile companies have carried out intelligent manufacturing transformation, and all have achieved significant results.
ALL COMMENTS