Jiangsu S&S Intelligent Science and Technology Co., Ltd. celebrated its 20th anniversary on October 19th , inviting nearly 500 people including leaders and guests, as well as experts, scholars, research institutes, S&S upstream and downstream partners and employees to its appreciation banquet in Shuyang, Jiangsu province.
Innovation is always on the way
In face of poverty and blankness, without resources and geographical advantages, S&S Intelligent Science and Technology created one miracle after another. Ms. Song Jiayi, President of Jiangsu S&S Intelligent Science and Technology Co., Ltd., stated that "With leading technology innovation, solid product quality and intimate professional services, we have won the trust and reputation of users, and made the brilliant achievement of 'No. One in the World' with S&Song creation."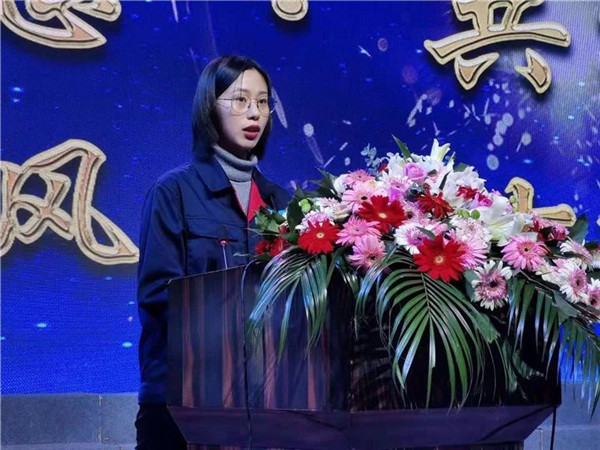 Ms. Song Jiayi, President of Jiangsu S&S Intelligent Science and Technology Co., Ltd.
She stressed that the healthy growth of S&S Intelligent Science and Technology all the way cannot be separated from the elder generation's dream for industry, innovation and a powerful country, cannot do without the struggle and persistence of S&S people, and cannot do without the support and trust of various leaders and friends. Twenty years is only a new starting point; in the future, S&S Intelligent Science and Technology will continue to insist on improving user experience satisfaction, increase R&D investment, and continuously improve innovation capabilities; upgrade automated production lines to ensure product quality; strengthen team building to ensure timely, professional and efficient service.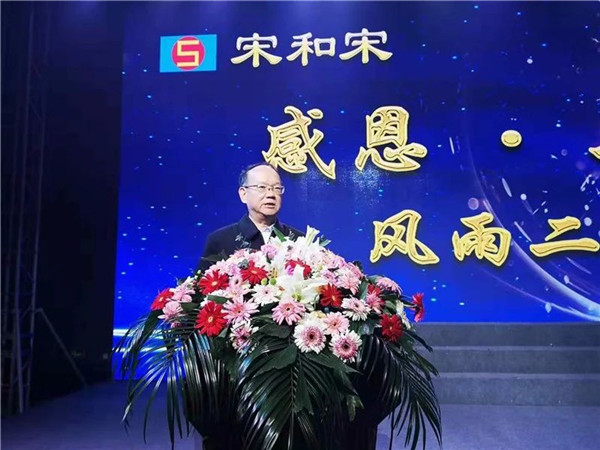 Mr. Gao Yong, Party Secretary and Secretary General of China National Textile and Apparel Council


Mr. Gao Yong, Party Secretary and Secretary General of China National Textile and Apparel Council, congratulated S&S Intelligent Science and Technology on its 20th anniversary and fully affirmed its innovative development. He said that the founder Song Risheng has made important contributions to the promotion of electronic jacquard technology and the expansion of the production scale of domestic electronic jacquard machines in the past 20 years, effectively enhancing the world influence of domestic jacquard machines.
A review of the development of S&S in the past 2 decades
★ In 1999, in an office of less than 20 sqm. in Tianma Building, Yantai city, Mr. Song Risheng and his wife Ms. Song Hua founded S&S. The worsted electro-heat calendering system developed then filled the gap in China.
★ In 2001, the company successfully developed the first D-056 semi-automatic selvage mark jacquard machine in China, a turn from worsted components to jacquard machine.
★ A fire broke out in 2005, and all assets of the company were turned into ashes. Under the joint efforts of many parties, S&S resumed production in 15 days.
★ In face of the weakened demand of textile equipment in 2008 owing to the financial crisis, the company timely innovated and launched lightweight equipment, and in the same year developed the world's first crank-drive chain-gear jacquard machine. The market share ranked first in the world.
★ From 20 sqm. to 100,000 sqm., from 4 people to 600, and from one machine to more than 60,000, today S&S has been an innovative enterprise owing two world's first technologies including crank-drive chain-gear jacquard machine and reed motion jet terry cloth looms, as well as more than 50 innovative intellectual property rights.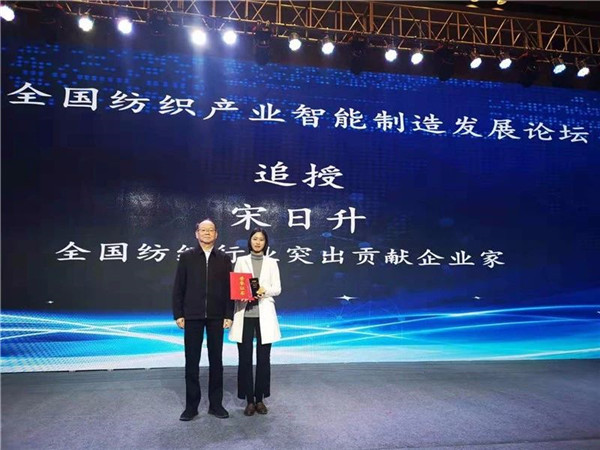 In recognition of the spirit of doing scientific research, and the entrepreneurial spirit with independent innovation, hard work, and the courage to take responsibility, Mr. Song Risheng was poshumously awarded the honorary title "National Entrepreneur Making Contributions to the Textile Industry" by China Textile Enterprise Association.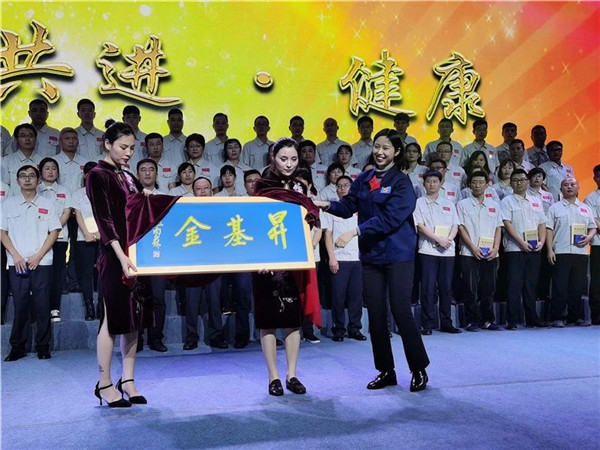 In the activity, in order to reward the hard work of the employees, S&S "Sheng Funds" was formally established, highlighting the responsibility and love of the company to the employees.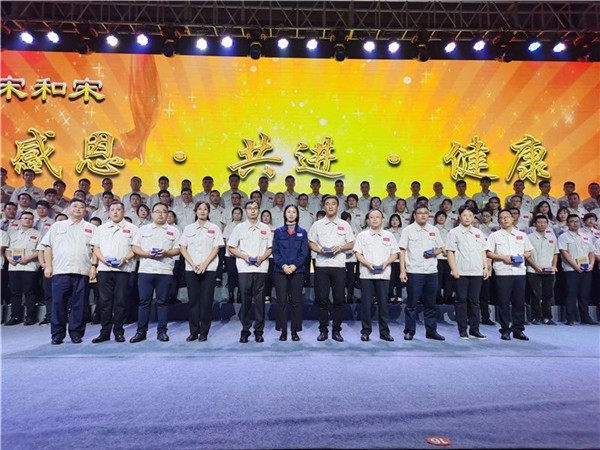 The industrial layout around the world is being improved
In order to achieve sustainable and healthy development, S&S decided to invest in Shuyang in August 2011, and successfully put into production in just ten months.
S&S Intelligent Science and Technology, which is known as the "king of jacquard machine", is a high-tech enterprise integrating scientific research, production, management and service. It is also the most competitive electronic jacquard machine manufacturer in the world, No. 1 in terms of sales volume annually. Since the establishment of Jiangsu Company in Shuyang in 2011, the scale has been continuously expanded, R&D investment has increased year by year, and sales have increased substantially. It has become the largest industrial base for electronic jacquard machines in China. It is to be listed in 2021.
"In the past, the people in S&S never retreated, and in the future we will not stop!" Mr. Yu Jiang, Director of the Production and Service Dept. of Jiangsu S&S Intelligent Science and Technology Co., Ltd., said that S&S will continue to innovate in the future, strengthen operational management, and continuously develop products that meet the needs of the times, serve the world and benefit all mankind. To this end, S&S will continue to give full play to the advantages of leading enterprises and jointly create an IoT-based Jacquard Weaving Industry Alliance Cloud Platform to provide comprehensive trading services and create a five-in-one service model featured by "localization", "technology-based", "high efficiency", "full range" and "one-stop".
He said that S&S will be always "user-experience-improvement centered", and will provide tailor-made jacquard weaving solutions according to the user demand. "We strive to constantly improve product cost effectiveness and market competitiveness, for example, the jacquard machine SE5 for medium and low-speed market is increasingly improved; high-speed jacquard machine specially is specially designed for African fabrics; 38,000 needle jacquard machines is designed for high-end single-pattern fabrics. Especially in terms of talent development, we will continue to introduce outstanding professional talents at home and abroad, optimize the structure of professional talents, and stimulate the vitality."
Mr. Liu Yang, Sales Director of Jiangsu S&S Intelligent Science and Technology Co., Ltd., said that S&S will continue to innovate based on the needs of the fourth industrial revolution. In the future, relying on the precision component testing center and verification testing center, they will increase product quality control and carry out full process control of key components to achieve production line automation. Meanwhile, the use of double cam jacquard machine, LINUX-based logistics network intelligent weaving control system, intelligent heald frame shedding, electromagnetic single-needle jacquard and intelligent textile robot technology will constantly improve the service level.
According to Mr. Liu Yang, S&S has established three offices in India and one office in Uzbekistan. By October 1st, 2020, the strategic layout in Southeast Asia, South Africa, and South America will be completed, and then the production and sales will exceed 1 billion RMB during the 15th Five-Year Program period.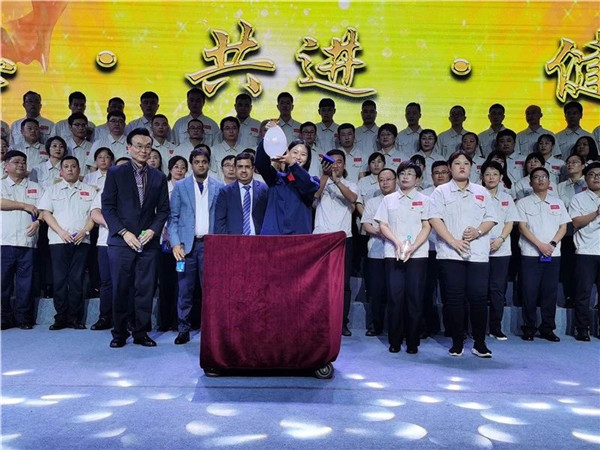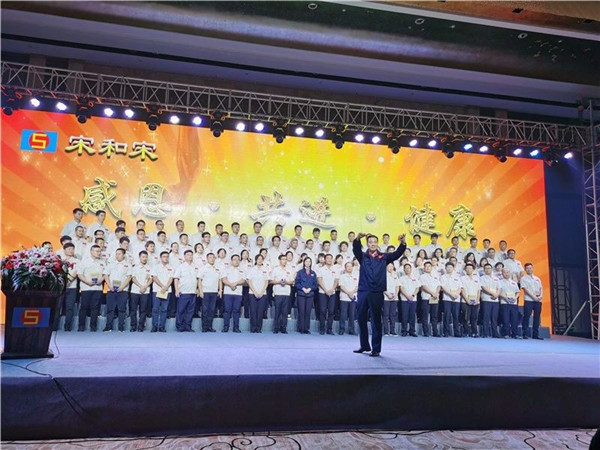 Congratulations from clients at home and abroad
"The cooperation with S&S is a fate, an opportunity and a necessity. In the 9 years of cooperation, we have introduced more than 400 electronic jacquard machines from S&S, and truly feel their entrepreneurial spirit of "being grateful and active in cooperation for excellence". In addition, we also witnessed their growth into an industry leader based on professional business ability, quality brand service, faithful business purposes and passionate enterprising spirit."
- Teng Zhaobu, President of Jiangsu Tengsheng Textile Group
"As the first overseas customer of S&S, we have been in cooperation for 16 years. In order to better promote the electronic jacquard machine to the international market, both parties have the same goal, that is, to satisfy customers with excellent products and services. Since S&S established a technical team in India, all of India's largest textile companies are now loyal customers. Excellent quality and service as well as constant innovation have made S&S enjoy world-wide influence and reputation in the field of jacquard machines. In the future, users in the overseas markets will, as always, fully support S&S and grow together."
- Pradeep Baldawa, the first overseas customer of S&S



"S&S and Fengda have been in cooperation since 2003. Fengda has been all the way along with S&S, while S&S also witnessed the gradual growth of Fengda. Every year, the growth and progress of S&S have strengthened our confidence, and we have learned many development ideas."
- Liang Xuejie, General Manager of Yantai Fengda Machinery Co., Ltd.
ALL COMMENTS