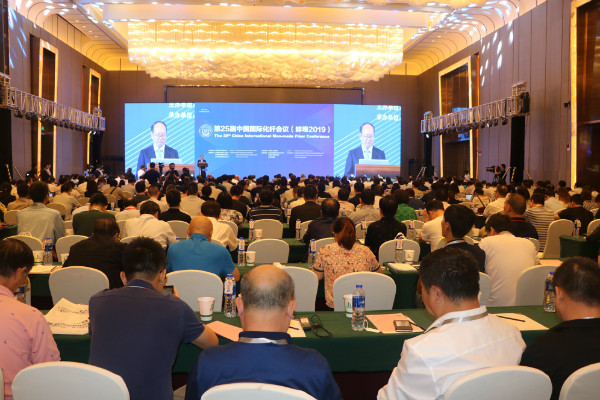 The 25th China International Man-made Fiber Conference (Bengbu 2019) (hereinafter referred to as CIMFC 2019), themed on "Opening and Integaration for Interactive Development — Coordinated Progress of Global Man-Made Fiber Industry", was convened in Bengbu City, Anhui Province.
CIMFC 2019 was sponcored by China National Textile and Apparel Council (CNTAC), organized by China Chemical Fibers Association, China Textile International Exchange Center, and China BBCA Group Corp., supported by Bengbu Municipal People's Goverment, and co-organized by Bengbu Investment Promotion and Foreign cooperation Center, Bengbu Municipal Bureau of Commerce and Foreign Affairs, and Oerlikon Manmade Fiber.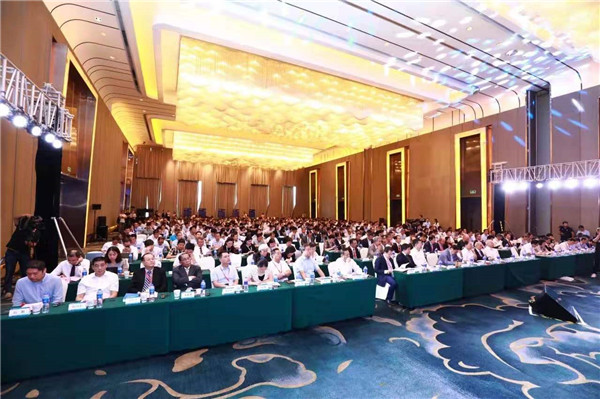 During the two-day conference, experts, scholars and entrepreneurs related to the manmade fiber indsutry in nearly 20 countries and regions from the United States, the European Union, the United Kingdom, Japan, South Korea, Thailand, Mainland China, China Taiwan, and China Hong Kong gathered together to share the forecast analysis and research results of China's and the world's textile manmade fiber industries in terms of supply and demand market, development trends, intelligent manufacturing, and green manufacturing.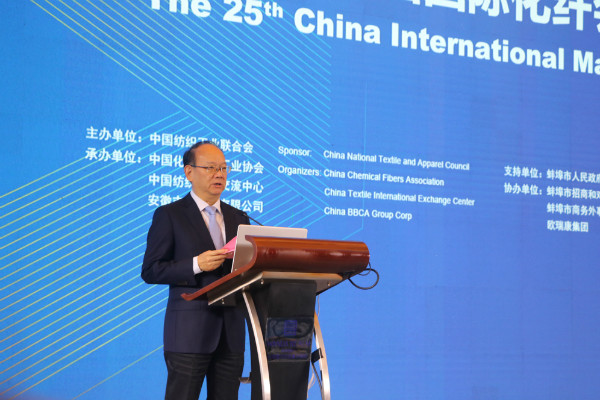 Gao Yong, Party Secretary and Secretary General of CNTAC, delivered an opening speech, stating that over the years, CIMFC has always enjoyed a high degree of attention and influence, while the basic support lies in grasping the overall development trend of the manmadel fiber industry and the development. The shared trends and research results have a new look every year. The theme of this year's conference is "Opening and Integaration for Interactive Development — Coordinated Progress of Global Man-Made Fiber Industry", which not only conforms to China's consistent position and proposition of economic globalization, trade liberalization and innovation development, but also conforms to the development objective requirements. of global fiber industry. The conference brought together industry experts from relevant industry associations, universities, research institutes and well-known enterprises at home and abroad to participate. They will share the latest technology and application development trends in the field of global fiber upstream and downstream, jointly grasp the digitalization, network, intelligent, green development opportunities, and jointly explore new technologies, new models, new growth driving force and development path, in order to further cultivate and expand the domestic market, meet domestic consumption upgrading needs, which is of great significance in promoting the sustainable development of global fiber industry.
Gao Yong said that this year marks the 70th anniversary of the founding of New China. After more than 60 years of development, the manmade fiber industry has achieved world-renowned achievements. The conventional manmade fiber varieties such as polyester, nylon, regenerated cellulose fiber and recycled chemical fiber are constantly being improved in terms of differentiation and functionalization. Moreover, the products are more in line with the actual needs of the downstream. The development of high-performance fibers such as carbon fiber, aramid fiber and ultra-high molecular weight polyethylene fiber has made breakthroughs, seeing gradually improved fiber performance, more abundant product structures, and continuously expanded downstream application fields. Major varieties of bio-based chemical fibers have made important progress in the industrialization of domestically produced equipment and process technology. In Bengbu City, which has a good foundation for industrialization of polylactic acid, it is expected that in the next few years, it will be able to make substantial breakthroughs in the field of biomaterials, and to cooperate with upstream and downstream related production enterprises to create an influential bio-industrial park with great development prospects.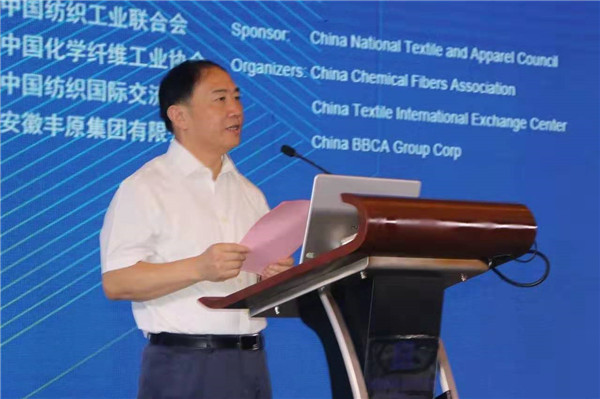 Wang Yingchun, Secretary of Bengbu Municipal Committee, made a welcome address, stating that the 25th CIMFC is an important event for the development of the international manmade fiber industry. It is also a summit forum focusing on new technologies and exploring new practices. It will have an important and far-reaching impact on the high-end development of bio-based new materials. In recent years, Bengbu has adhered to the new development concept as the guide, in accordance with the requirements of high-quality development, focusing on silicon-based bio-based two-wheel drive, creating a "double-billion-dollar" industrial cluster, and constantly accelerating the pace of "innovation city·material capital" construction . The bio-based new materials industry is a green and environmentally friendly sunrise industry. Over the years, BBCA Group has successfully broken through the obstacles in bio-based technology development, comprehensively mastered the world's leading polylactic acid industry chain production technology, and taken the lead in building the world's first 1000-ton polylactic acid fiber production line. At present, Bengbu is relying on such such key enterprises as BBCA Group to build an important bio-based material emerging industrial base in Anhui Province, the country's leading bio-based material capital, and an international polylactic acid industrial cluster.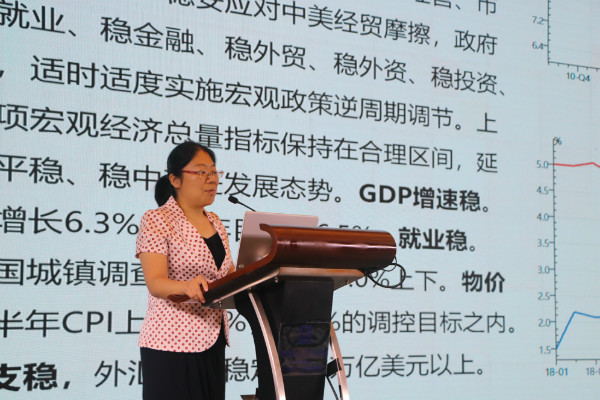 Li Ruoyu, Division Head of Economic Forecasting Department of State Information Center, said in her report "China's Macroeconomic Situation and Policy" that in the first half of the year, the main macroeconomic indicators remained within a reasonable range. The Chinese economy has long faced pressure from transformation and structural adjustment, and in the short term, it faced Sino-US trade frictions. Despite this, China's economic growth continues to lead the world's major economies, and the world economy has entered the downward phase of this round of growth cycle. Under the pressure of Sino-US trade friction, the Chinese economy has shown good resilience. The future export growth will face downward pressure. The export "running effect" and diversification of the export market are important reasons for the better-than-expected export performance. In addition, the export growth is facing the pressure of external demand weakening and the U.S. imposed tariffs. The growth of fixed-asset investment slowed down but tend to be satble; the growth of household consumption slowed down slightly; the employment was generally stable. The domestic demand is weak, and the price increase is insufficient, thus the contraction effect caused by weak demand has begun to be transmitted to the production side. The economic activity of the industry and service industry has dropped to a low point in recent years, while the automobile output has continued to decline, and the raw material industry has gained momentum.
Li Ruoyu pointed out that Sino-US trade friction is a new risk challenge faced by China's economic development. Next, we will increase the counter-cyclical adjustment efforts, and the sound monetary policy will be adjusted to a looser direction, maintaining a reasonable liquidity and a reasonable growth in the scale of social financing, and driving the actual interest rate level to be significantly reduced. Actively taking measures to stabilize investment will give play to the role of "stable investment" in infrastructure investment, and stabilize manufacturing investment. It is to increase opening up and optimize regional economic layout, open up new space for free trade pilot zones, and promote regional economic layout with complementary advantages and high quality development.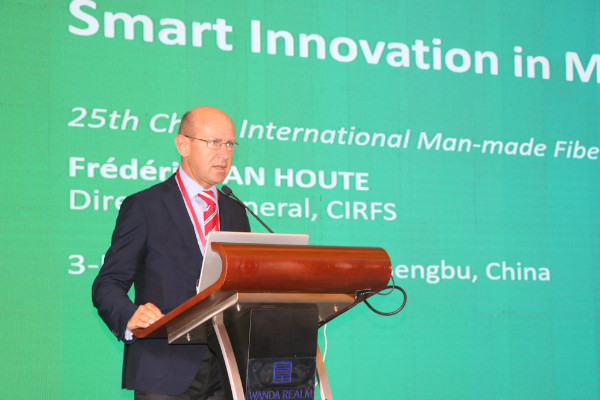 Frédéric VAN HOUTE, Director General, CIRFS, in his report "Smart Innovation in MMF and Textiles" stated that in the textile world, MMF has been a never-ending success story. The majority of the fibre and textile production is in Asia, while Europe is highly specialized. The MMF and textile industry are becoming dynamic, innovative, knowledge driven, competitive and sustainable sectors. Main innovation trends are in sustainability, functional fibresand textiles, smart textiles, material engineering, new atypical applications. Innovation will affect all products and cover the whole organization. Smart, highly innovative, flexible companies are able to create differentiation and integrating sustainability and cradle-to-cradle thinking will be leaders.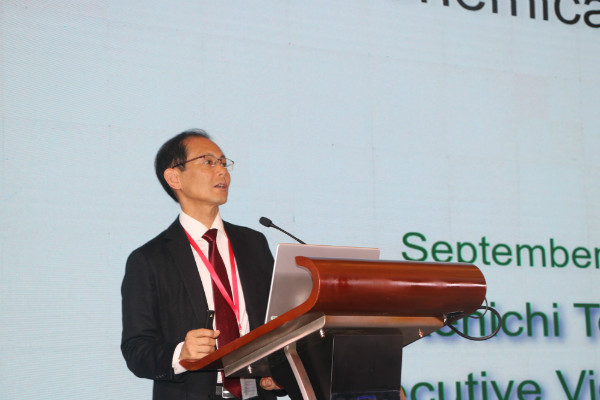 Kenichi Tomiyoshi, Executive Vice President of Japan Chemical Fibers Association, talked about "Global Mid-term Chemical Fibers Supply/Demand Forecast and Challenges for Global Chemical Fiber Industries", including long-term overview of world fiber demand, forecast of supply/demand balance of synthetic fibers as of 2022, and challenges for global chemical fiber industries. He pointed out that chemical fiber will support the future growth of global fiber demand. In addition, chemical fiber can also widely contribute to the achievement of UN SDG's.


However, we should recognize that there are also various challenges against global chemical fiber industry, such as the micro plastic fiber issues. The ocean plastic issue has become a global concern. One of the micro plastic issues is synthetic fiber wastes, their origin is also from the Asian region according to a source. Japan has developed "Test methods to identify and quantify micro fibers wastes release during the washing of synthetic fiber products", which is applicable to final textile products, and suitable for regular washing machine and regular washing conditions in daily life.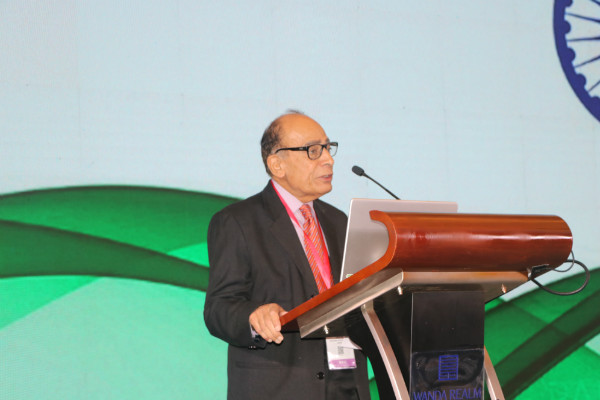 S C KAPUR, Director General of Association of Synthetic Fiber Industry (ASFI), India, stated in his report "India Development Trend and Features of Indian Textile and Chemical Fiber Industry Chain" that global fibre consumption is strongly linked to the GDP growth; MMF is the major textile base, of which polyester has the largest share; Sustainability and recycling is gaining importance and the share of recycled feedstock is gradually rising in the mainstream textile consumption; India poised for healthy growth which would spur textile consumption; India's self sufficiency in feedstock to support polyester consumption growth; Government is supportive and is extending all support for textile industry growth.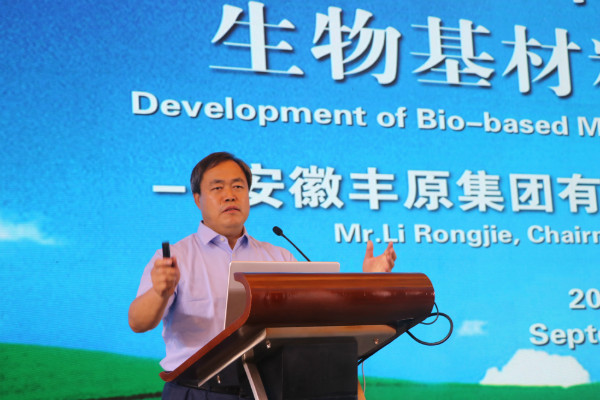 Li Rongjie, Chairman of China BBCA Group Corp., talked about "Development of Bio-based Materials of China BBCA Group Corp.", explaining that the bio-materials polylactic acid are the renewable resource which formed by photosynthesis from biomass, such as root, stem and fruit of plants, which are converted into five-carbon sugars and six-carbon sugars by using starch, cellulose and hemicellulose contained therein. A high-purity lactic acid with small molecule contained in the human body will be produced by using the biological fermentation technology, and next a polymer material obtained by a special polymerization reaction. The raw materials are inexhaustible, and straw, agricultural and forestry wastes, etc. can also be used as raw materials, which will change the structure of farming and civilized industries for thousands of years. After the polylactic acid product is discarded, it is decomposed into carbon dioxide and water by microorganisms in nature or undercomposting conditions to achieve surface carbon cycle.
The post-petroleum era is a revolution for energy and materials while advanced energy vehicles are gradually replacing gasoline and diesel vehicles, and biological materialsare gradually replacing petrochemical materials. Polylactic acid has mature applications in fiber textile direction with its excellent properties of natural, skin-friendly antibacterial and anti-mites. At the same time, polylactic acid is environmentally friendly, non-toxiciity and biodegradability which widely used in the field of plastic products.
At present, BBCA Group has developed industry-leading bacterial technology, fermentation technology and separation & extraction technology, which fundamentally solves the cost and performance problems of polylactic acid materials. It is the only company in China that can manufacture polylactic acid chips as well as polylactic acid downstream fiber products and polyester products, with food crop or straw cellulose as raw materials.
In the next 10 - 15 years, BBCA Group will build a tens of million-ton bio-chemical bio-pharmaceutical and bio-materials industrial base, vigorously develop the bio-materials industry, strive to realize the utilization and transformation of renewable resources, achieve sustainable development, and be a model of circular economy.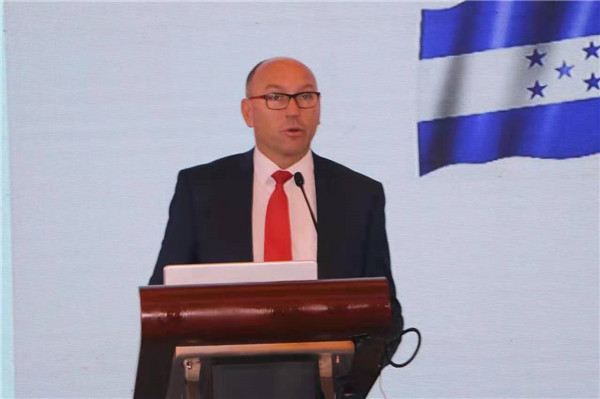 The challenges, but also the opportunities for the manmade fiber industry in the next decade are manifold. The world is currently changing rapidly, and people's attitudes toward climate change, sustainable development and resource recycling will accelerate the transformation and upgrading of the textile manmade fiber industry. André Wissenberg, Vice President, Head of Marketing, Corporate Communications and Public Affairs Oerlikon Manmade Fibers Segment believes that intelligent manufacturing is one of the ways to transform and upgrade the industry, featuring the use of new automation technologies and the digitization of production processes. Oerlikon Manmade Fibers Segment is the world market leader for polyester, nylon and polypropylene spinning solutions. With continuous polycondensation and extrusion line systems and their key components, the company caters to the entire process with automated and digitally networked Industrie 4.0 solutions - from the monomer all the way through to the textured yarn.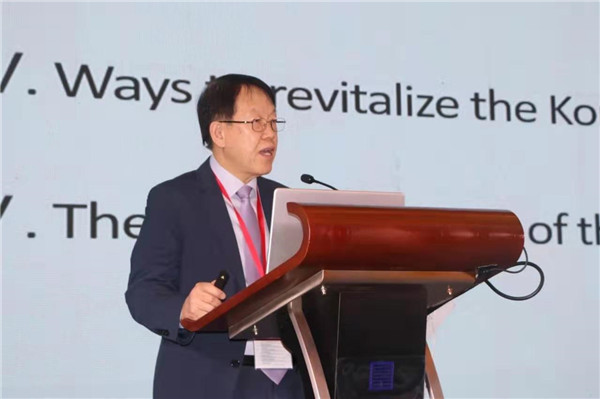 Lee Chang-wook, Senior Director of Korea Chemical FIbers Association, analyzed "The current status and the future direction of the Korean textile · chemical fiber industry", pointing out that while advanced countries focus on highly functional textiles with sensory properties, Korea have mainly produced low-value, universal purpose textiles due to lack of investment. It failed to close the gap with advanced countries, with emerging countries catching up with Korea's technology. Advanced countries have led the global market based on brand and marketing power, whereas Korea continued the OEM model., but the domestic OEM is at risk due to rising production cost including labor cost. Businesses, focusing on infrastructure instead of technology enhancement, lack overall competitiveness. The Korean textile industry lost opportunities to enhance global competitiveness. However, Korea is also enjoying some opportunities, higher job and value creation effects compared to other manufacturing sectors, highly balanced streams compared to other leading countries, and there are some high-tech, industrial textiles that have global competitiveness. The future direction of the Korean textile industry includes support for state-of-the-art industrial textiles, advance the structure and competitiveness of the apparel textile industry, and globalization· digitalization of the fashion industry.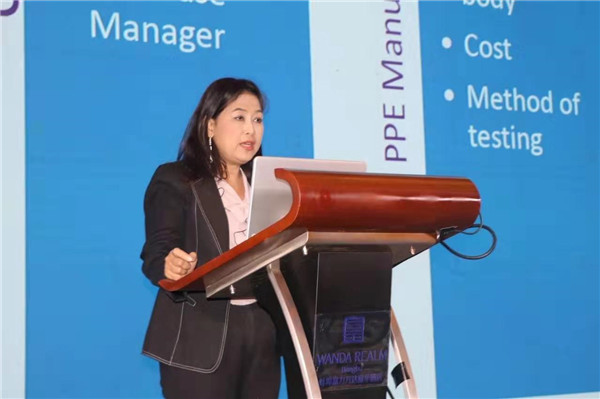 Mayuree Didpakdeechol, Honorable Chairman of Thai Man-Made Fiber Industries Association, made a report focusing on "S- Mark : Safety Mark for Personal Protective Equipment (PPE) in Textile Products", aiming to create awareness of fire deaths and injuries and their common causes, share the experience how Thailand has initiated S-Mark for protective textile products, and promote the usages of the standard of PPE (Textile Products) for workers and employers and regulator agency as well.
According to Ms. Mayuree Didpakdeechol, S-Mark or Safety Mark is an voluntary certified label
of Personal Protective Equipment on textile products. S-Mark or Safety Mark is beneficial for USER in term of selecting the suitable products for their own usages. S-Mark or Safety Mark is beneficial for PPE manufacturers in term of upgrading the standard of their products and increasing market value. S-Mark or Safety Mark is beneficial for Regulator Agency in term of reduce the loss of injuries and reduce the number of regulations.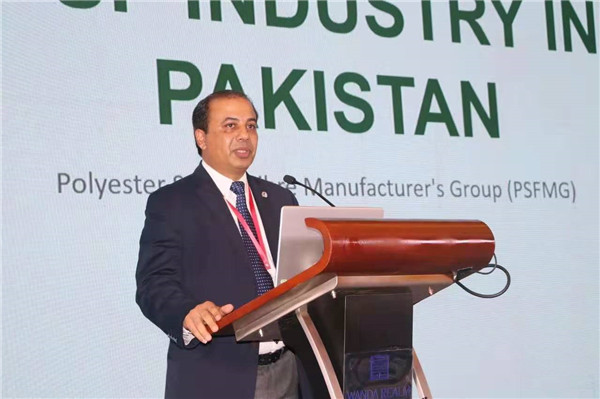 Rizwan Afzal Chaudhry, Commercial Manager of Polyster Buisiness, ICI Pakistan Ltd., shared the development of PSF industry in Pakistan, saying that Pakistan is the 8thlargest exporter of textile commodities in Asia and the sector contributes 8.5% to the GDP. Textile exports increased by 10.43% to US$ 13.55 billion in 2018. The entire textile industry chain is estimated to invest US$ 7 billion over the next 5 years which is expected to double exports.
The denim industry of Pakistan saw rapid growth and expansion in its use and production capacity with investment of about Rs.40 billion, as well as constant increase in export of denim fabric to major brands. The major export destinations are Turkey, Bangladesh, Sri Lanka, Jordan, Kenya, Morocco, Tunisia, Syria, Latin American Countries, etc. Also, Pakistan suffers the cost of doing business and regulatory challenges. Accordingly, the way forward includes: Moving from commodities to more value added and export oriented market; New investments in highly automated plants and machinery; Downstream investment into Non Woven segment to grow polyester usage in the country; Take advantage of CPEC through partnerships in technology with Chinese companies; Investment in upstream to improve raw materials availability.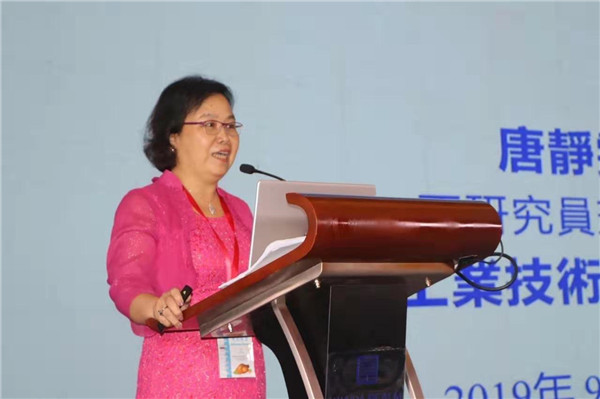 Nancy Tang, Principle Researcher Of Industrial Technology Research Institute, made a report "Industry Trends and Development Strategies of Functional Textile in Taiwan", sharing the status of Taiwan's textile industry, development of functional textile industry in Taiwan, and the development trends and strategies for functional textiles, including functionality upgrade (sports, leisure and fashion), green circular (Energy saving and environment protection), and smart textile (cross industry alliance).

Taiwan's textile industry saw a profit of $405.1 billion NTD in 2018. Taiwan is No. 3 largest production yield of synthetic fibers in the world, and its functional textile manufacturing accounts for 70% international brands. As for the development trends and strategies for functional textiles, One is vertical integration: Expand the production layout of Southeast Asian countries such as Indonesia, Vietnam, and Cambodia; African countries such as Ethiopia and Lesotho,and GSP preferential countries in the United States and the European Union. The other is to keep core technology in Taiwan: Development of niche-type functional fiber materials, rooted in Taiwan, exported to Vietnam or Mexico for garment manufacturing.





Signing Ceremony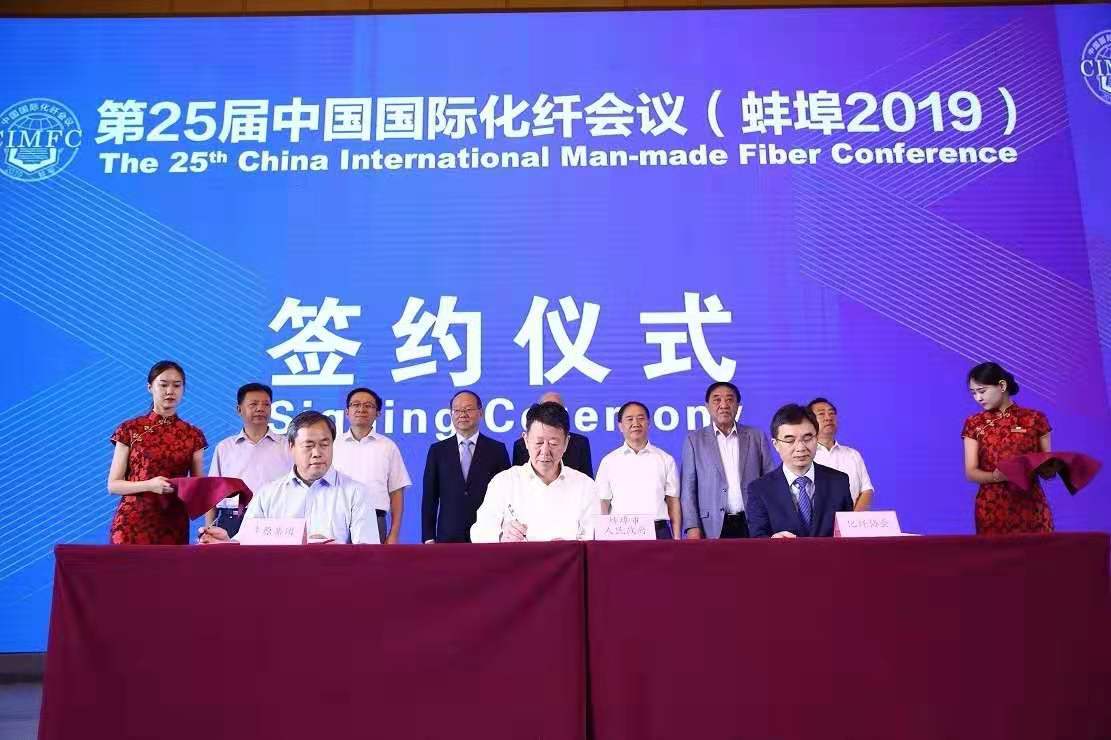 In order to comprehensively enhance the influence of Bengbu's fiber new materials field, and jointly build a 100-billion bio-based material industrial park,at the meeting, Bengbu Municipaly People's Government, China Chemical Fibers Association and China BBCA Group Corp. jointly signed "The Strategic Cooperation Framework for the Construction of the 100 Billion Bio-based Material Industrial Park in Bengbu". The three parties will cooperate sincerely to establish, maintain and develop long-term strategic partnerships, make full use of their respective advantages, further enhance the status of the industry, promote the upgrading of bio-based materials technology, explore application areas, enhance brand value and influence, and promote the developmentbio-based materials industry.
Top Interview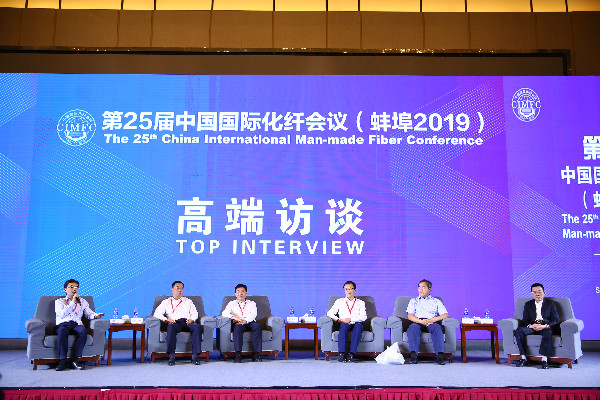 Yu Jianyong, Academician of the Chinese Academy of Engineering, and President of Donghua University, Li Lingshen, Vice President of CNTAC, and President of China Nonwovens and Industrial Textiles Association, Gu Ping, President of China Textile Machinery Association, Li Rongjie, Chairman of China BBCA Group Corp., Xi Wenjie, President of Suzhou Longjie Special Fiber Co., Ltd., talked about the development of science and technology during the Fourteenth Five-Year Development Program, the relationship between industry, university and research cooperation and intellectual property protection, as well as the development direction of functional fiber and textile chemical fiber equipment in the industry, and how to deal with topics such as plastic particles .Duan Xiaoping, Vice President of CNTAC and President of China Chemical Fibers Association, prsided over the interview.






Parallel Sessions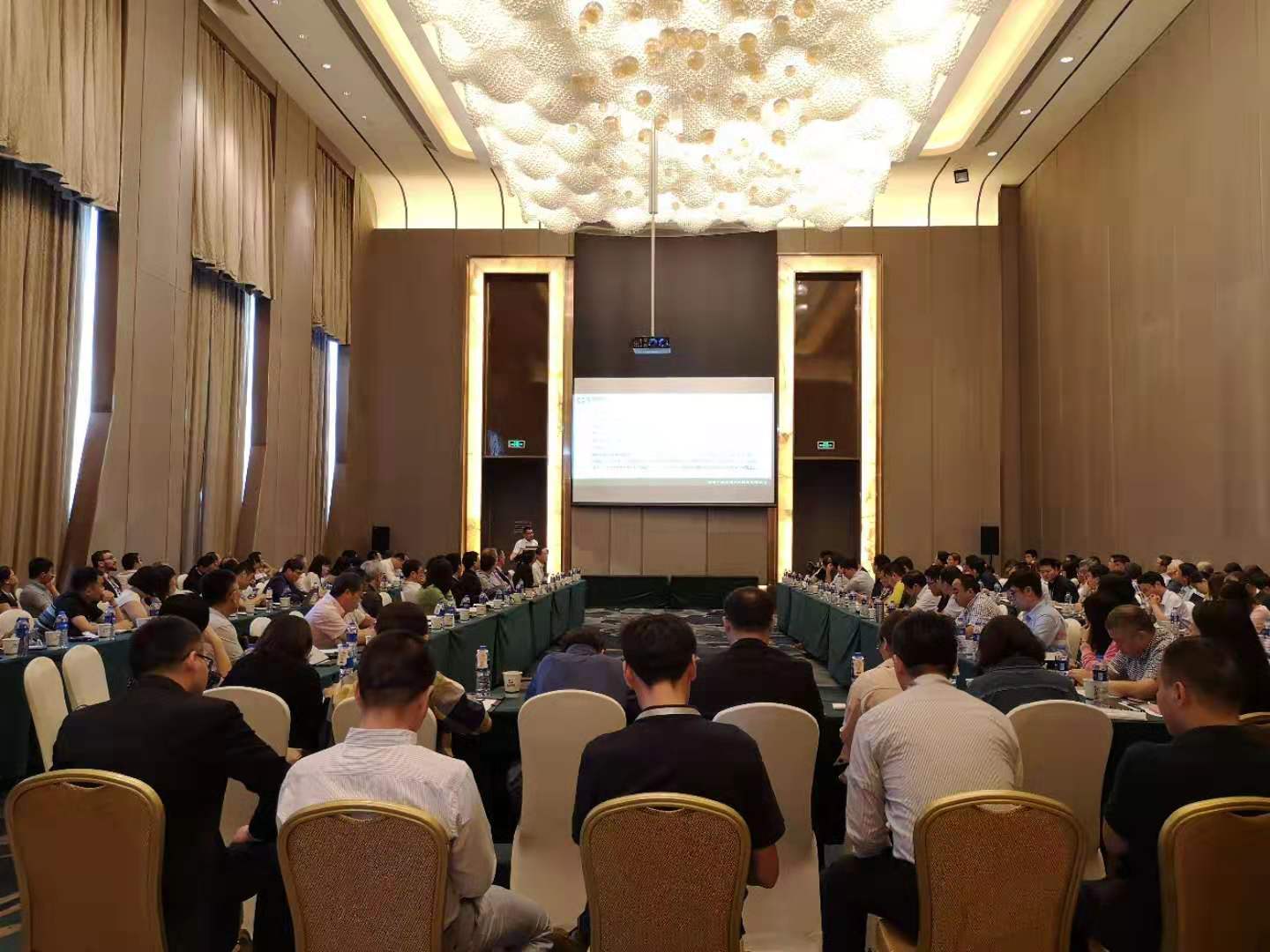 In addition to the Forum on Development, there were also parallel sessions, including Forum on Bio-based Material Development of BBCA & Advanced Functional Fiber Material, Forum on Development of High0tech Fiber Material, Forum on Development of Green Fiber, Forum on Frontier Fiber Material, and Seminar for Brand Sharing of China Fibers Fashion Trend.




More Highlights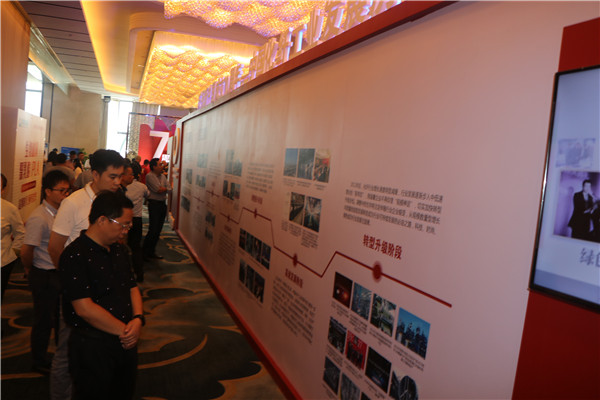 The Exhibition Zone "Celebration of the 70th Anniversary of the Founding of New China - Review of the Development of China's Chemical Fiber Industry"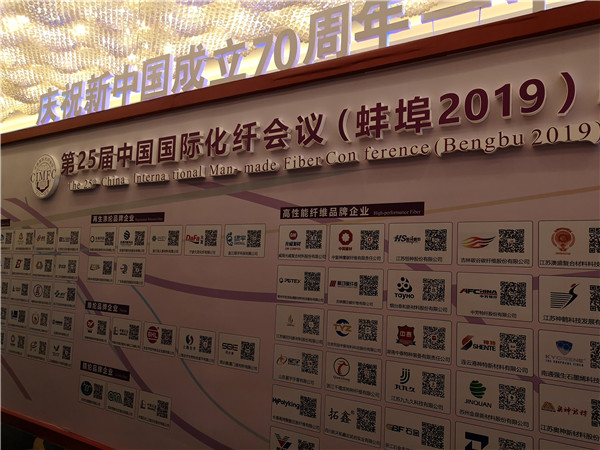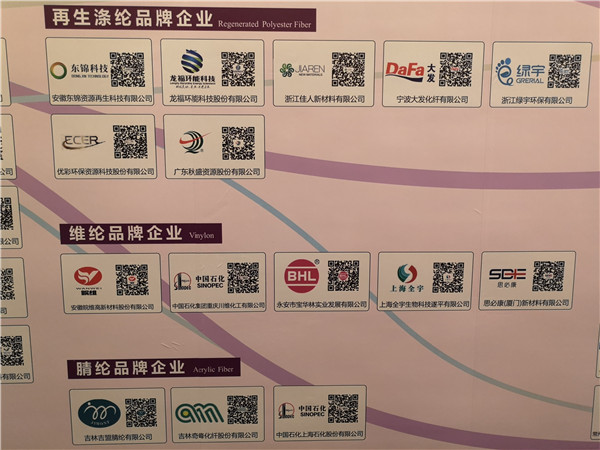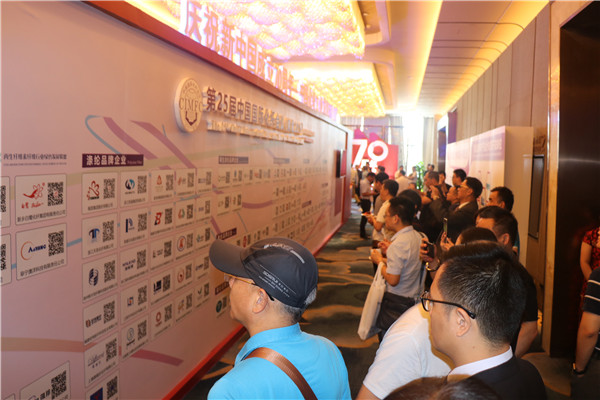 In the Exhibition Zone of "Brand Enterprises of Chinese Chemical Fiber Industry", more than 100 well-known brands in the industry, covering polyester, nylon, regenerated cellulose fiber, spandex, polypropylene, acrylic, vinylon, high-performance fiber, bio-based chemical fiber, chemical fiber supporting services, etc. were displayed through code scanning.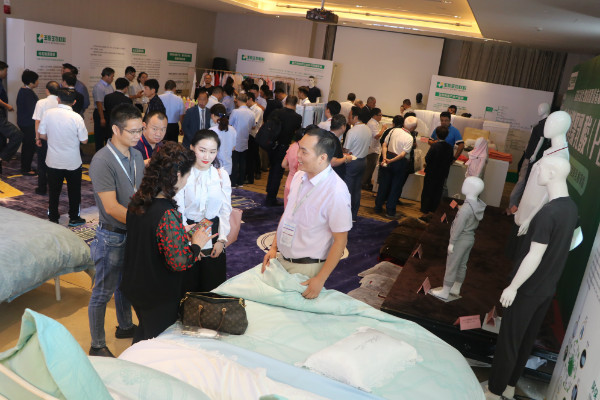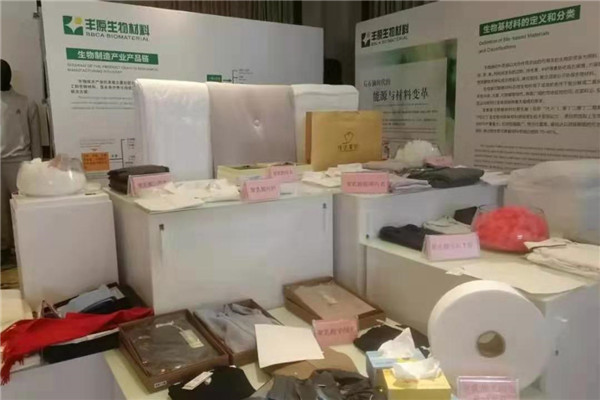 In the Exhibition Zone "Biomaterials Polylactic Acid (PLA) of BBCA Group" themed on "Polyline Age and Return to Nature" , showcased the Group's environmentally-friendly polylactic acid fiber and environmentally-friendly polylactic acid polyester, underwear (adults and children), socks, shirts, beddings, cups, wood-plastic panels and other products made of polylactic acid materials.







ALL COMMENTS
All Comments
by:VisitorFeb 28, 2022
IHdX AND EXTRACTVALUE(8978,CONCAT(0x5c,0x716b6b7171,(SELECT (ELT(8978=8978,1))),0x717a786a71))
by:VisitorFeb 28, 2022
IHdX) AND EXTRACTVALUE(8978,CONCAT(0x5c,0x716b6b7171,(SELECT (ELT(8978=8978,1))),0x717a786a71)) AND (4427=4427
by:VisitorFeb 28, 2022
IHdX' AND EXTRACTVALUE(8978,CONCAT(0x5c,0x716b6b7171,(SELECT (ELT(8978=8978,1))),0x717a786a71)) AND 'WNIK'='WNIK