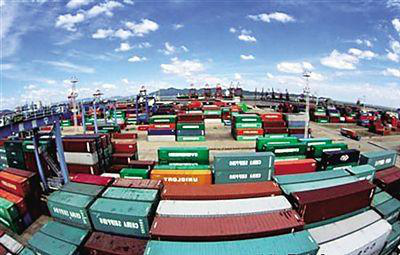 China's foreign trade data in the first quarter show that although the growth rate of 3.7% is lower than that of 9.4% in the same period last year, it is rare to achieve this growth when global trade is in a downturn and trade frictions continue. Especially in March, China's exports increased 21.3% year-on-year, significantly better than market expectations. Steady growth of foreign trade reflects three positive changes in China's economy:
—— Economic operational indicators warming up
Trade is the barometer of the domestic economy. China's foreign trade remained stable in the first quarter, which was directly related to the stabilization of the domestic economy.
The market is also optimistic about China's economic prospects. Xie Yaxuan, macro analyst of China Merchants Securities, said that from the performance of the leading and synchronized indicators, the current economic situation in China "may be better than previously expected".
—— The vitality of private economy enhanced
In 2018, private enterprises have contributed more than 50% to China's import and export growth, which has become a bright spot in the development of foreign trade. In the first quarter of this year, private enterprises played an increasingly prominent role in promoting China's foreign trade.
According to official data, the total import and export volume of China's private enterprises reached 2.84 trillion yuan in the first quarter (RMB, the same below), an increase of 9.9% over the same period last year, accounting for 40.6% of China's total foreign trade, exceeding 40% for the first time, an increase of 2.3 percentage points over the same period last year. Among them, private enterprises account for 49.3% of China's total exports and 30.4% of China's total imports.
Li Kuiwen, spokesman for the General Administration of Customs, said that private enterprises have become the main driving force for China's import and export growth, and that market participants are more motivated to participate in foreign trade development.
—— Enhancing the competitiveness of high-end products
Another manifestation of China's foreign trade and even the whole Chinese economy in improving quality and efficiency is the increasing competitiveness of products with high technological level and added value, such as automobiles and mobile phones.
At present, the export volume of mechanical and electrical products has accounted for nearly 60% of China's total exports, more than three times as much as that of clothing, textiles and other labor-intensive products, and is the undisputed main export force. Among them, mobile phones, automobiles, computers and other popular overseas. According to the General Administration of Customs, China's exports of computer equipment, metal processing machines and automobiles increased by 10.5%, 26.5% and 15.1% respectively in the first quarter.
ALL COMMENTS