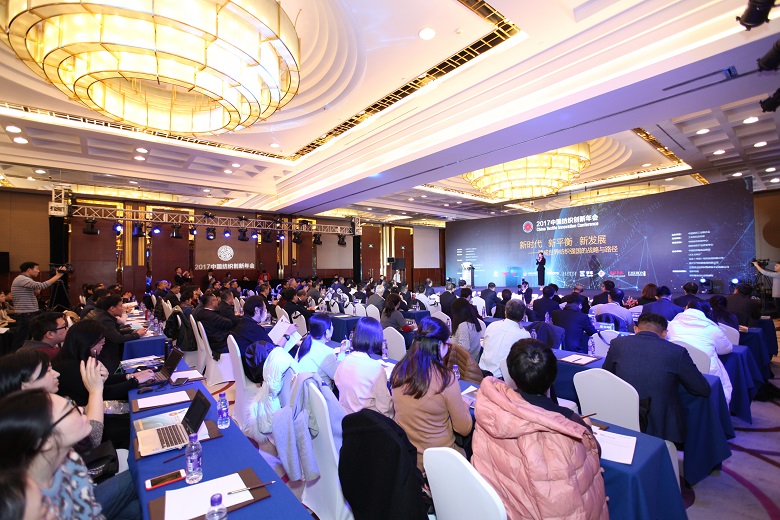 2017 China Textile Innovation Conference was held in Beijing On December 7th. The conference was sponsored by China National Textile and Apparel Council (CNTAC), supported by Ministry of Industry and Information Technology of the People's Republic of China, and co-organized by China Textile Information Center, China Textiles Development Center, China Fashion Creative Valley, COLORO™, Rieter (China) Textile Instruments Co., Ltd., Zhejiang Yuhua Holding Group, and Jiangsu Kailing Textile Technology R&D Center Co., Ltd.
Themed on "New Era, New Balance, New Development - Strategy & Route to Build A Textile Power", the conference focused on the following aspects: industry trend, progress in science and technology, raw material resources, fashion creativity, brand building, social responsibility, consumer demand, product competitiveness, and continuous innovation, to share annual innovation achievements and discuss the strategy and path of establishing a world textile power in the "13th Five-Year Program" period.
To speed up the innovation of textile and garment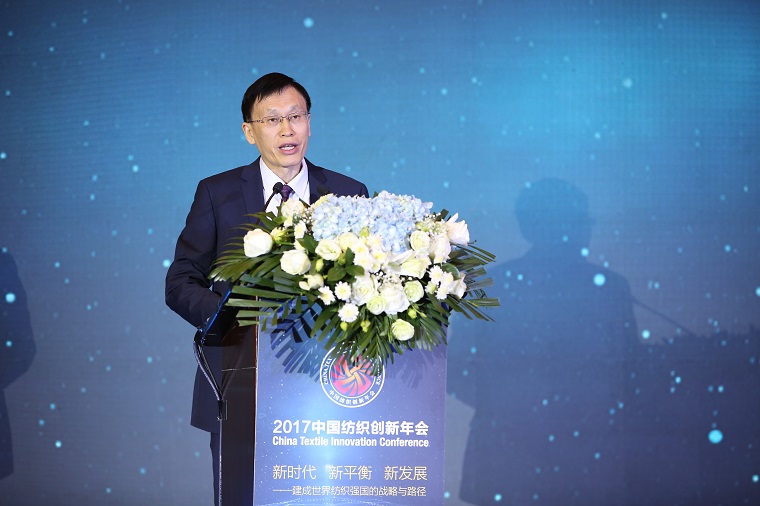 Gao Yanmin, Director of Consumer Goods Division of Ministry of Industry and Information Technology of the People's Republic of China addressed the meeting, stating that building an innovation center for manufacturing industries and raising the level of creative design in the context of "Made in China 2025" is one of the important strategies and contents for the "Sanpin Strategy" (A national strategy to increase varieties, improve quality, and build brands) of national manufacturing and consumer goods industries. Promoting smart manufacturing and collaborative innovation are an important way to accelerate the development of textile and garment innovation. He pointed out that it is necessary to further give play to the role of industry alliance, arousing the enthusiasm of various links in the industrial chain, promoting the development of coordinated innovation, especially the cross-border integration and development, and tackling the common problems in the industry.
He also introduced the basic considerations of MIIT's implementation of the "Sanpin Strategy" of consumer products in 2018. An important way to increase product varieties is to carry out a wide range of "Internet + personalized customization". The focus of quality improvement is to enhance the quality control of the entire process and to study and formulate the leading standard at home and abroad. Creating a brand aims to establish a good corporate reputation and go further towards an international brand based on good faith and social responsibility.
To find a new balance and open a new era for the building of a textile power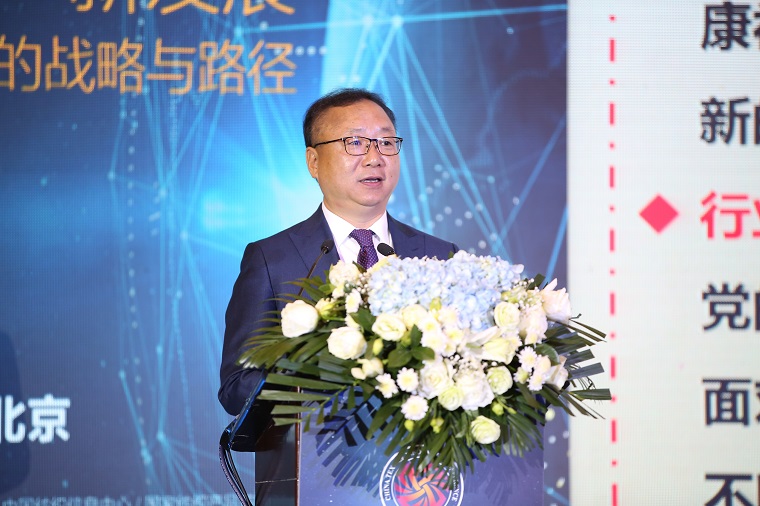 Sun Ruizhe, President of CNTAC, made a keynote speech entitled "New Era, New Balance, New Development - Strategy & Route to Build A Textile Power" in the conference. He pointed out that the strategic plan made by the 19th National Congress of the CPC has provided strategic guidance and fundamental rules for the future of China's textile industry. With the socialism with Chinese characteristics entering a new era, Chinese textile industry has formed new coordinates and a new historical position in the world economy, national economy and historical development. With the historical transformation of major social contradictions, the development of the industry is suffering imbalance and inadequacy, including unbalanced structure between supply and demand, imbalanced development among regions, and unbalanced returns among industries, as well as inadequate application of innovation, inadequate industrial integration and inadequate environmental construction.
Therefore, it is required to find new balance: to achieve the balance of quality and speed through standardization, modularization, and scale; to be balanced between the actual and the virtual in line with business development strategy through focusing on competitiveness enhancement; to realize the organic unity of economic interests, environmental interests, and social interests as well as the balance between the duty and the benefits based on a healthy relationship between economic development and industrial ecology as well as short-term income and long-term value.
He also pointed out that to open a new era for the building of a textile power is necessary to establish a new orientation of innovation-driven science and technology industry, responsibility-oriented green industry and culture-led fashion industry, to open up a new pattern of development. Focusing on the strategic goal of building a modern industrial economy, it is a must to continuously emancipate and develop productive forces, promote quality change, efficiency change and dynamic change in the industry based on scientific and technological innovation, integration of IT application with industrialization, social responsibility, industrial clusters and cultural self-confidence.
Theme Forum
Interpretation of the strategy to build a textile power from technology, raw materials, and fashion
In the theme forum, Chen Dapeng, Li Lingshen and Duan Xiaoping, Vice Presidents of China National Textile and Apparel Council interpreted the developing trend and direction of domestic and foreign science and technology, raw materials and fashion during the 13
th
Five-Year Program period from the aspects of scientific and technological progress, material resources, fashion ideas, brand building and social responsibility.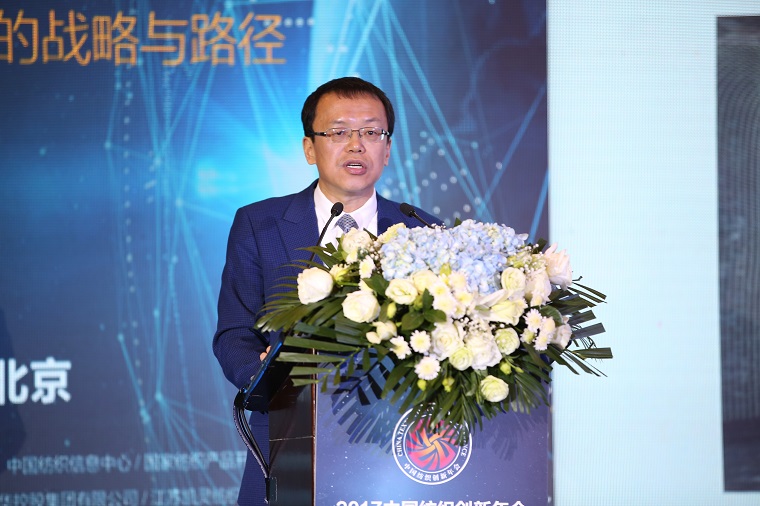 In his keynote speech entitled "Interpretation of China's Textile Science and Technology Strategy", Li Lingshen introduced that in the past five years, China's textile science and technology focused on "10 key categories of 50 key technologies and 110 advanced and applicable technologies", achieving a series of innovation in the fields of fiber materials, textiles, dyeing and finishing , Industrial textiles, textile equipment, and information technology, and making breakthroughs in key and common technologies across the industry. The industry also witnessed overall enhancement in the capability of independent innovation, technology and equipment, and product development.
Till 2016, the target completion of the program for strengthening the nation by science and technology had basically met our expectations. He pointed out that in the new period, China's textile science and technology innovation will start from the strategic goal of "high-end, high technology, diversification, ecology and opening up unknown areas".
We will focus on new textile materials, high-tech textiles, high-end equipment, intelligent manufacturing and green manufacturing to strengthen basic research, promote integration and innovation, improve the evaluation mechanism, aim at the global textile science and technology front, collect wisdom and force, and work together to speed up the construction of a textile power based on science and technology.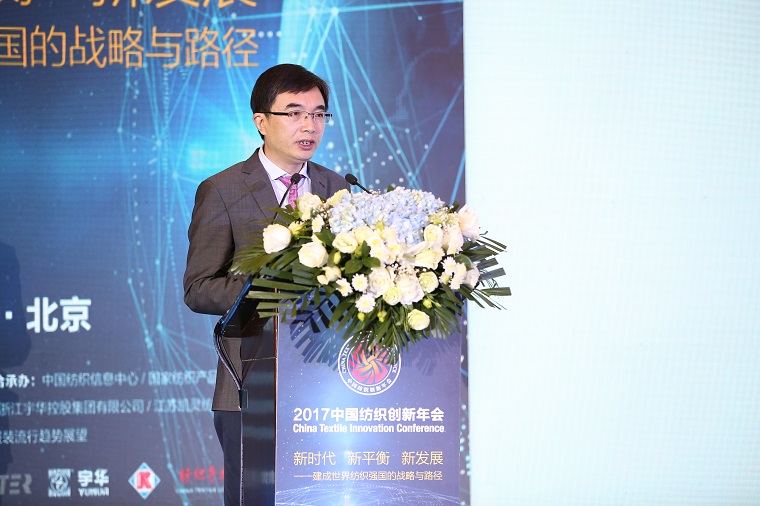 Duan Xiaoping
pointed out in the keynote speech entitled "Balance and Innovation of Raw Materials" that the supply-side structural reform is crucial for China's textile and chemical fiber industry to achieve a stable and favorable operation and enjoy leading high quality.
In recent years, the raw material industry has lowered its pace to cut overcapacity and has seen certain results, while the relation between supply and demand has witnessed somewhat improvements with continuous rising of market prosperity.
It is predicted that there is still certain growth potential of fiber consumption in China and even all over the world; however, it is a must to accelerate the supply-side reform and prevent the risks from the imbalance between supply and demand.
Besides, focusing on the development concept of "innovation, coordination, green, open, and sharing", Duan Xiaoping mainly introduced the concrete practice of the "Sanpin Strategy" and green development, including the fiber trends, green fibers and Green Development Alliance.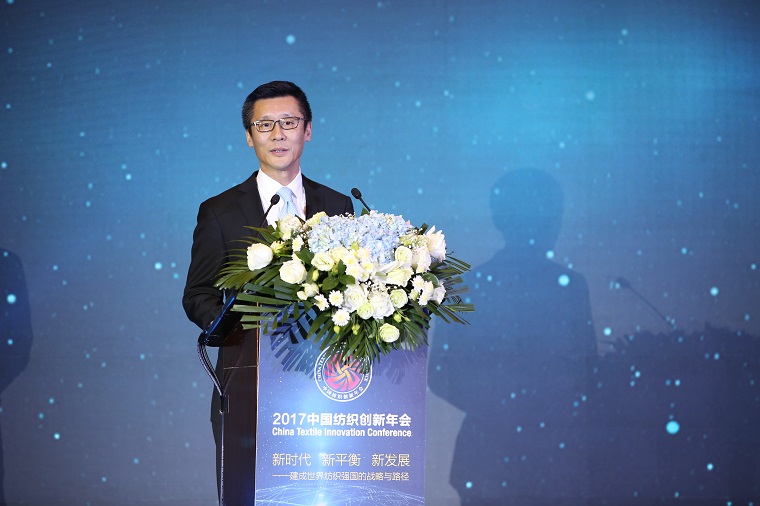 Chen Dapeng made a keynote speech entitled "A New Era, Empowering Cultural Force to the Building of A Textile Power". He stated that the 19th National Congress of CPC placed cultural confidence in the precondition of great rejuvenation and emphasized the significance and function of culture from the perspective of national strength. He said that textile and garment is a carrier of culture which is our shortcomings and weaknesses.
There are a lot of tasks to be done in building a powerful nation, but more attention should be paid to the creation of culture and the creation of value. "The 19th National Congress talked about Chinese spirit, Chinese strength and Chinese the value which are very meaningful. In the new era, the three new position of our textile industry should be based on a very important connotation that is culture. In the building of a powerful nation in the future, we will get more strength from culture, while cultural self-confidence must also be a necessary sign of a powerful country. To achieve cultural self-confidence in the industry is also the necessary contribution that our entire textile and apparel industry should make for the great rejuvenation of the nation."
Innovation Forum
Grasping the current hotspots to explore the path to a textile power
In the afternoon, the Innovation Forum focused on such topics as consumer demand, scientific and technological progress, product competitiveness and sustainable innovation. It not only gave professional consideration to the new trends, new situations and new technologies in the new era, but also thought deeply about the new ideas, new models, and new ecology derived from the development of enterprises themselves. The forum was presided over by Li Binhong, Director of China Textiles Development Center.
l Consumer demand and technological progress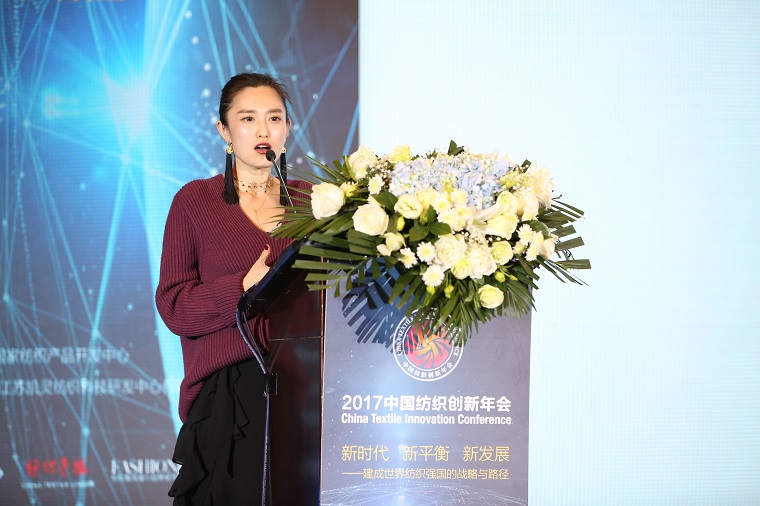 Cao Xiaowen,
a senior researcher in the trend department of China Textile Information Center, took "New Life and New Consumption" as a theme to discuss new changes in consumption from the three dimensions of fluctuating consumers, lifestyle and moral consumption; how lifestyles influence consumers' purchasing decisions; how companies grasp the consumers that have a diversity of interests lower willing to cooperate; what is the new business competition rules in a era of lifestyle.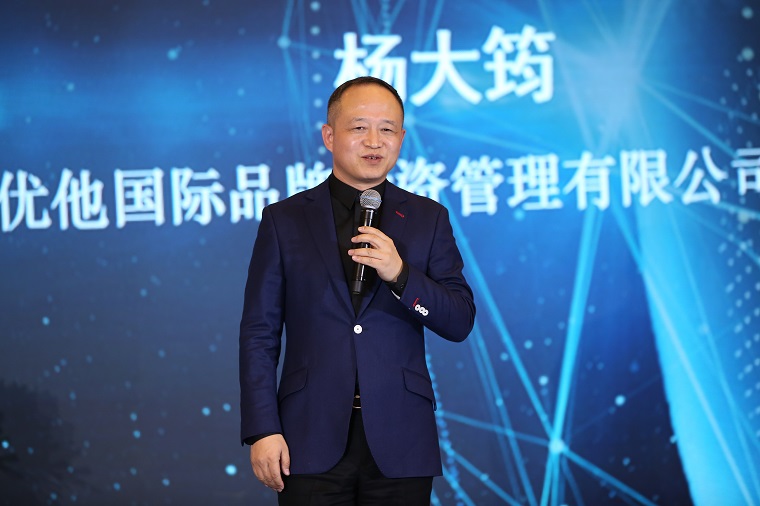 Yang Dajun, CEO of UTA Fashion Management Group, pointed out that in the Internet era, the future trend of consumer market must be depth combination of offline and online, while the from of pure retail has long been broken and the pure e-commerce era will finally come to an end; however, new retail will lead the following new business model. In the future, textile and garment enterprises should focus on creativity, digital, network and intelligence to reconstruct people, things and the spot.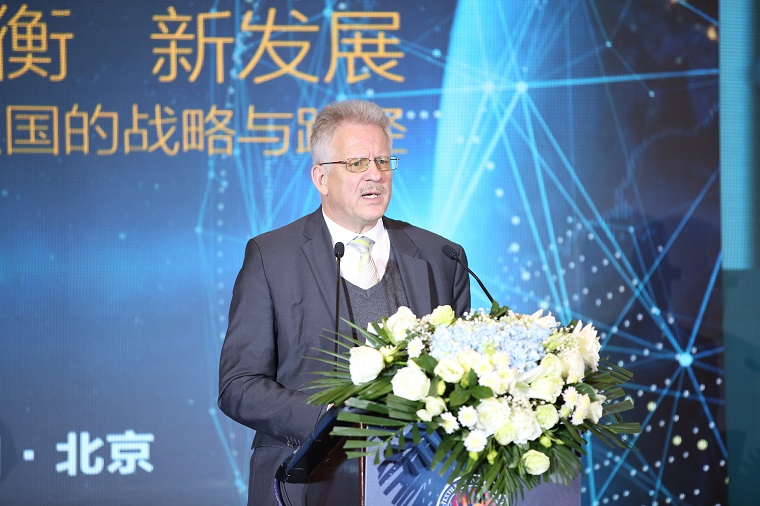 Michael Hubensteiner,
Managing Director of Rieter (China) Textile Instruments Co., Ltd., talked about the "Intelligent Manufacturing in Spun-Yarn Production", introducing Rieter's latest equipment and intelligent spinning solutions and applications, including highly automated full-process cotton spinning equipment, automatic material transportation, new spinning system solution and SPIDERweb - mill information system. Rieter, as the world leading supplier of spinning systems, has always been committed to the research and development of automated and intelligent equipment, key components and spinning technologies. With intelligent manufacturing as a tool, Rieter helps transform and upgrade the textile industry.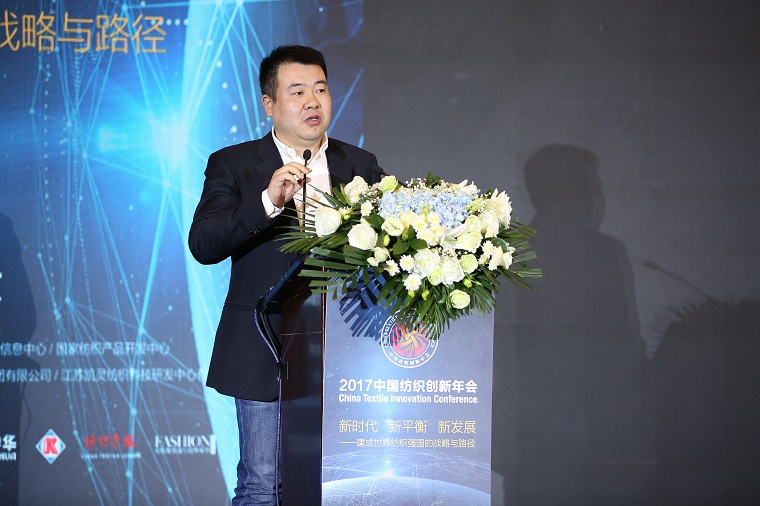 Gao Peng,
co-founder and CEO of Convert lab, pointed out that in the era of mobile Internet, the environment with high information has brought huge changes for consumers and market forms. Under this tide, many enterprises have to face the challenges and pressures caused by such sections as data, channels, transactions and production. Setting a case study during the domestic and foreign digital transformation as an example, he made an analysis with detailed data and started from the pain point of business marketing, emphasizing that the core of marketing lies in large-scale exploration, insight and influence to users.
l Product competitiveness and sustainable development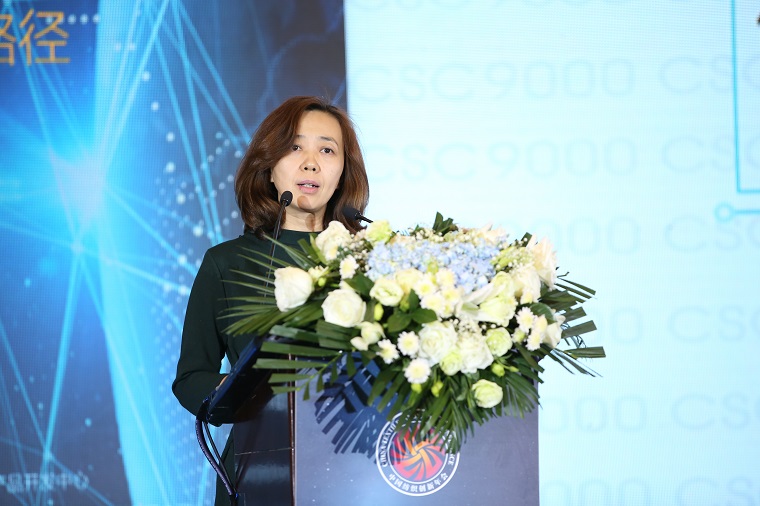 Yan Yan, Director of the Social Responsibility Office of CNTAC, introduced the new release of CSC9000T and the development direction of industry responsibility. She pointed out that over the past decade or so, the implementation of the CSC9000T management system has effectively improved the performance of business and stakeholders, improved the management capability and endogenous competitiveness of enterprises, and effectively improved the international image of the industry.
The CSC9000T (2018 version) is based on the new orientation of the industry "technology, fashion and green" and in line with the development trend of the Belt and Road Initiative, and absorbs the accumulated the experiences during the implementation of the past ten years as well as the recent developments and good practices in the field of social responsibility and sustainable development both at home and abroad. It has appropriately increased the code of conduct requirements on the basis of ensuring the relevance and applicability of the industry and has placed greater emphasis on proactive management conscientiousness.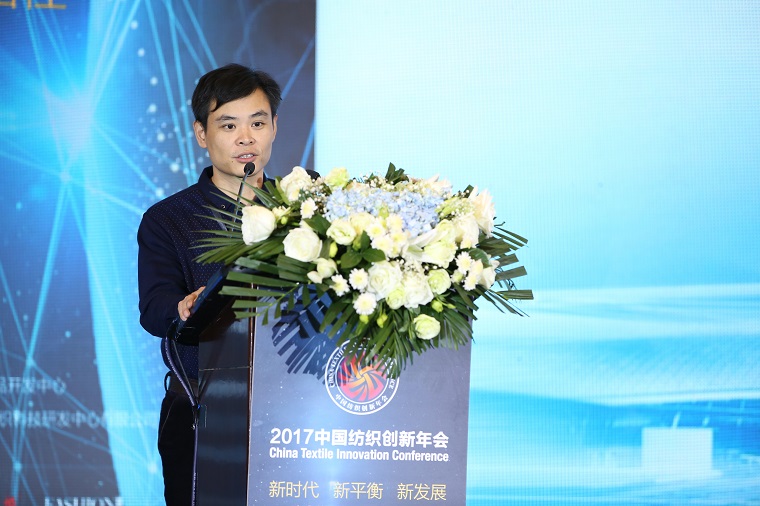 Shi Huagang, Deputy Director of Equipment Power Department of Jihua 3542 Textile Co., Ltd., made a speech entitled "Excellent Energy Efficiency Boosts Long-Term Development of Enterprises", describing the scientific and technological progress achieved and long-term development and practical interests in terms of energy saving and emission reduction, upgrading and upgrading of equipment, and the comprehensive improvement of energy efficiency. He also shared valuable practical experience as a conservation-oriented enterprise and winner of "China National Textile and Apparel Council Sustainable Textile Product Development - Excellent Efficiency Award" .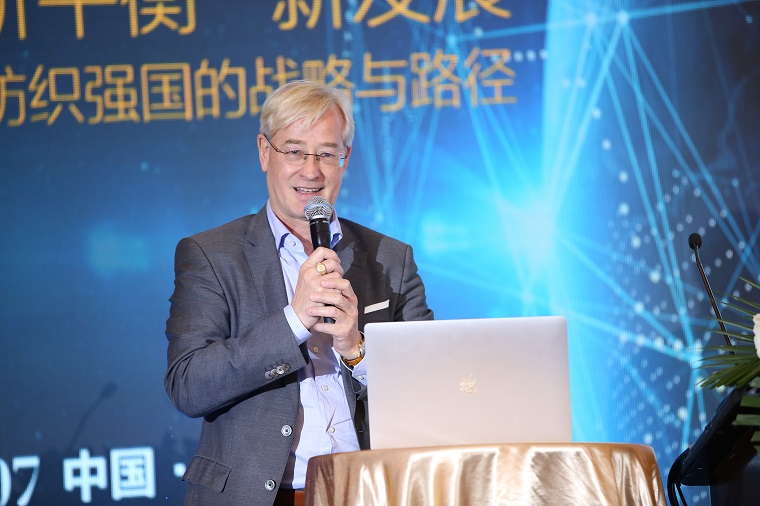 Detlev Pross, Executive Director of COLORO, China Textile Information Center, said the importance of color to the textile and apparel industry goes without saying. Color management is a complete system covering color planning, color design, color transfer, color realization and color marketing. To achieve high efficiency, we need to rely on scientific color systems, tools and methods. He interpreted the mystery behind color management in his speech themed on "Color Management - The Core Challenges for China's Textile and Apparel Enterprises".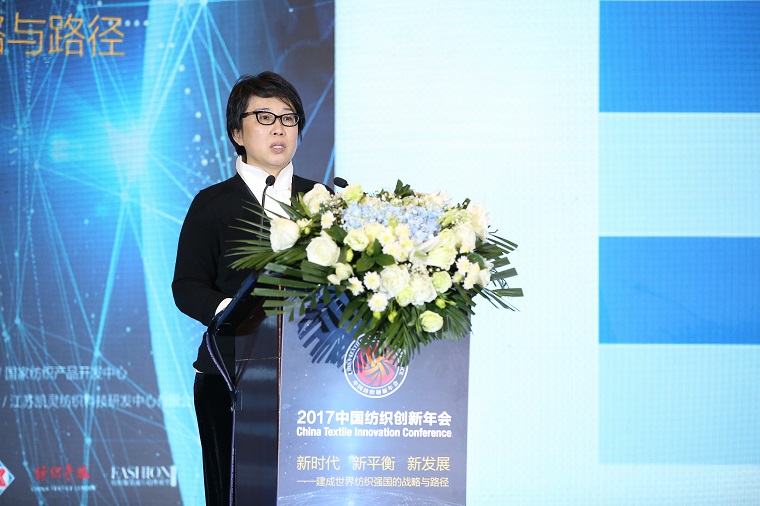 Yan Huaying, Managing Director of Guangdong Jianye Textile Group Co., Ltd., talked about the transformation and upgrading of Jianye Textile in the new era from three aspects: new organization, new ecology and new pattern. She said that today we are not doing business alone, but facing fully co-competition development. Therefore, companies must continue to focus on recycling of internal resources to deepen their own competitiveness through the integration of extension resources. The era of mobile Internet makes each business and personal integrity more transparent, and the development of enterprises has ushered in a new opportunity. All in all, this is an era of rapid changes, and then it is also an era of rapid upgrading and more of an era of perseverance.
Award ceremony
One important section of the conference is the award ceremony to the enterprises, including "2017 Top Ten Innovative Textile Products", "2017 China National Textile and Apparel Council Sustainable Textile Product Development - Excellent Efficiency Award", and "2017 China National Textile and Apparel Council Product Development Contribution Award / Product Development Promotion Award".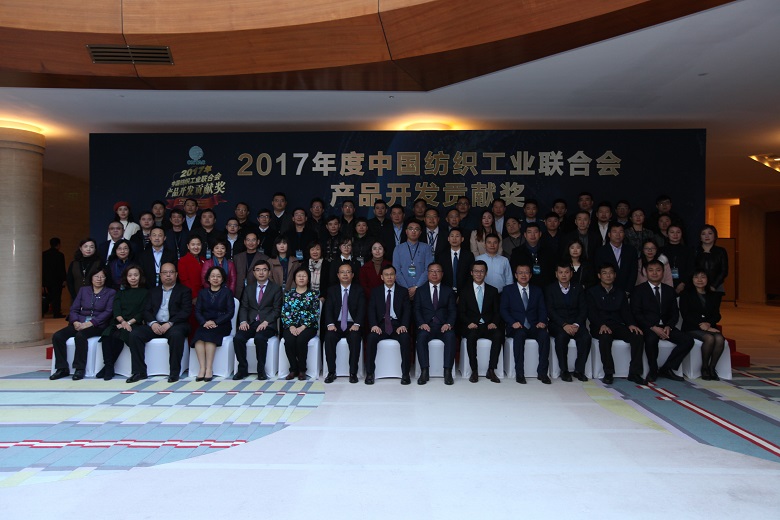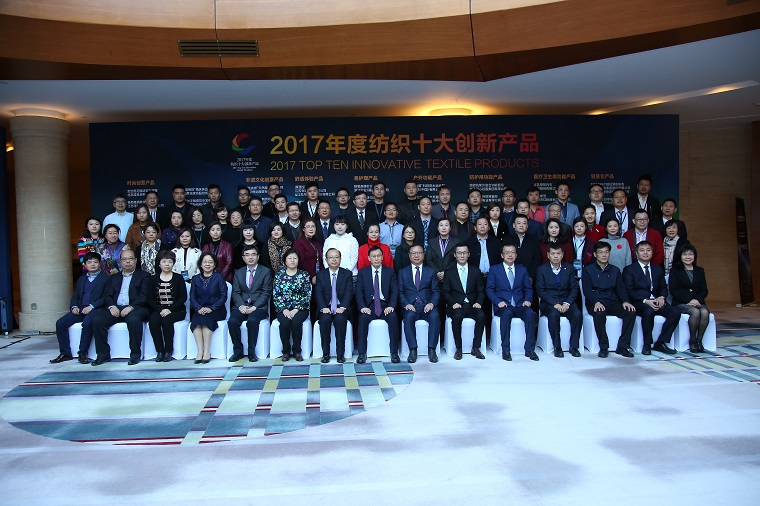 ALL COMMENTS