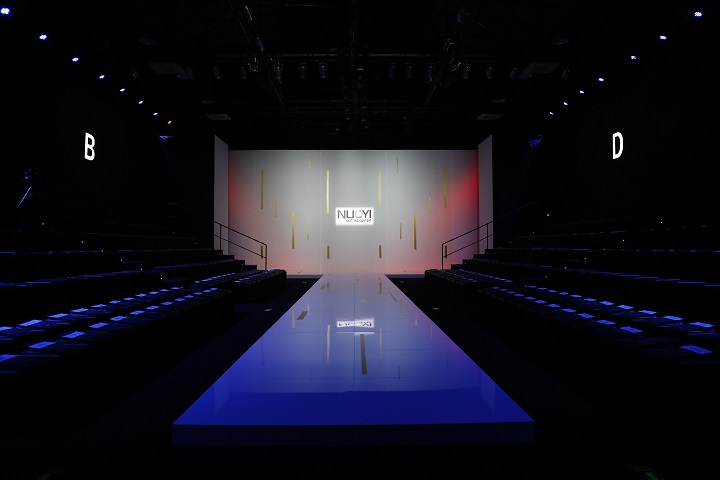 "NUOYI · Simplicity for Elegance" Knitwear Show 2018 S/S was staged on the platform of China Fashion Week on October 31st, 2017. Zhang Qinghui, Chairman of China Fashion Association, Yang Jian, Secretary-General of China Fashion Week Organizing Committee, Qu Jing, Vice President of China Knitting Industry Association, Su Baoyan, Former Vice Chairman of China Fashion Association, Li Binrong, General Branch Committee Secretary of Shanghai International Fashion Creative Institute, Donghua University as well as brand business representatives, well-known institutions, fashion icons, and the news media, nearly 400 people, attended the show.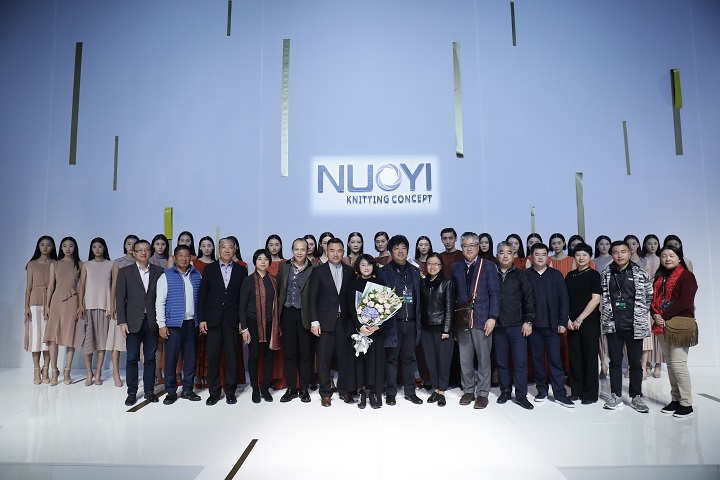 According to Ms Qin Wanyu, Design Director of NUOYI Fashion, the show mainly highlights the following two aspects: simplicity and elegance, which aims to give a full display of such contemporary feminine characteristics as gentle but full of strength, simple but full of elegance, through the contrast and integration of the two different styles.
Show on scene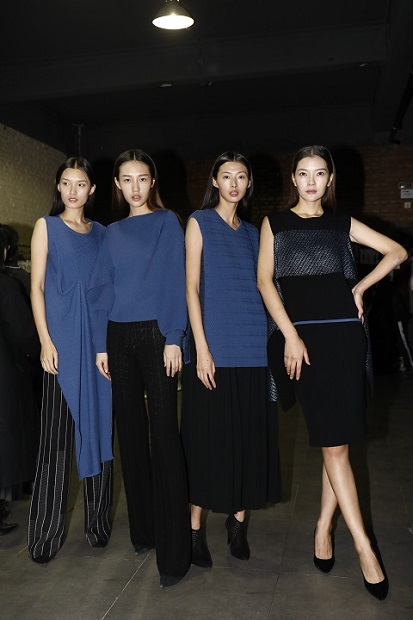 l Simplicity
As for this series of the show, the simplified comfortable profile and the exquisite design have the clothing present a concise and yet elegant style.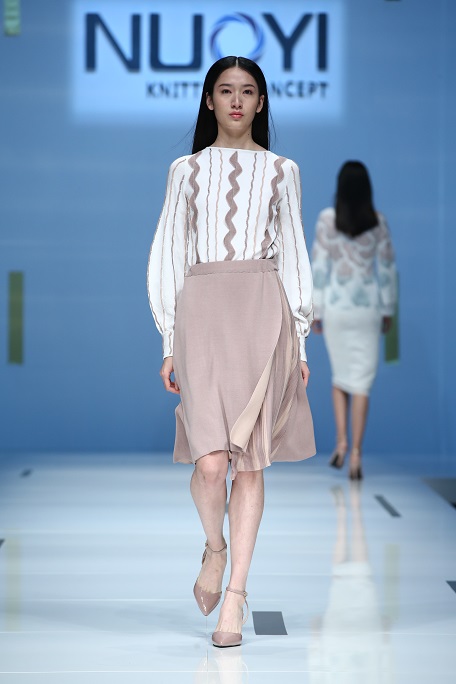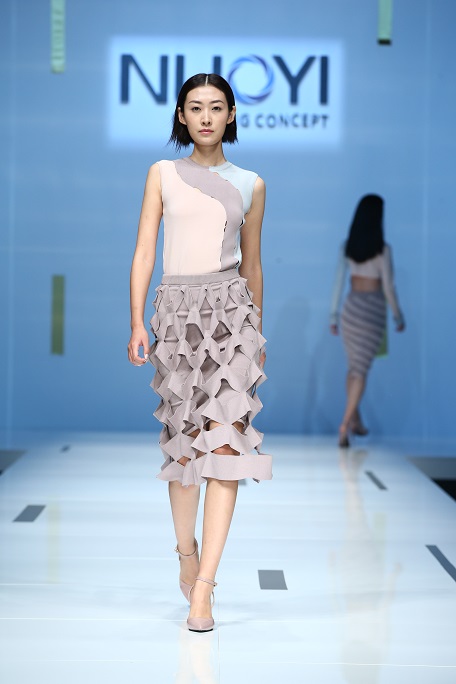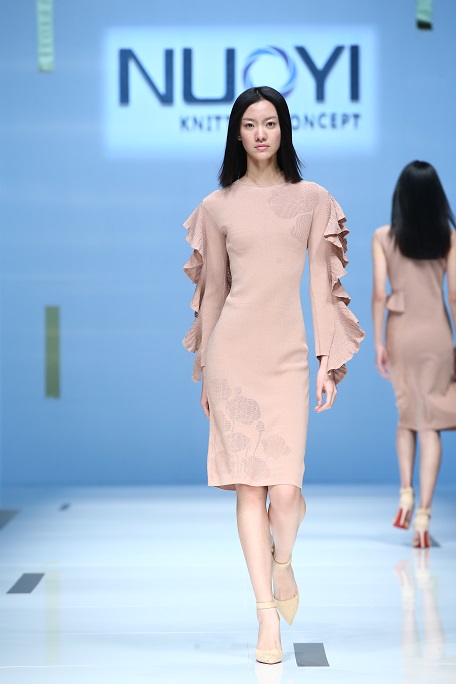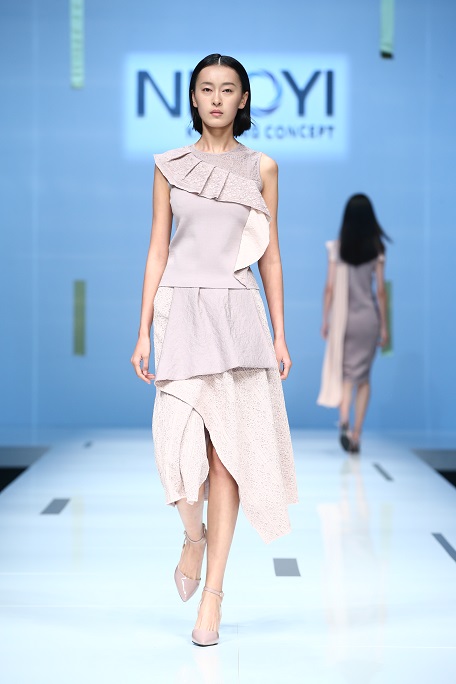 The combination of star blue and paint fog black, the bright contrast of glacier green and water duck wing gray blue, ... simple and pure. The overlapping use of such textures as local weaving, plaiting, cable knitting, pointelle, and rib transfer, combined with exquisite technique, showcases a rich yet orderly clothing texture effect.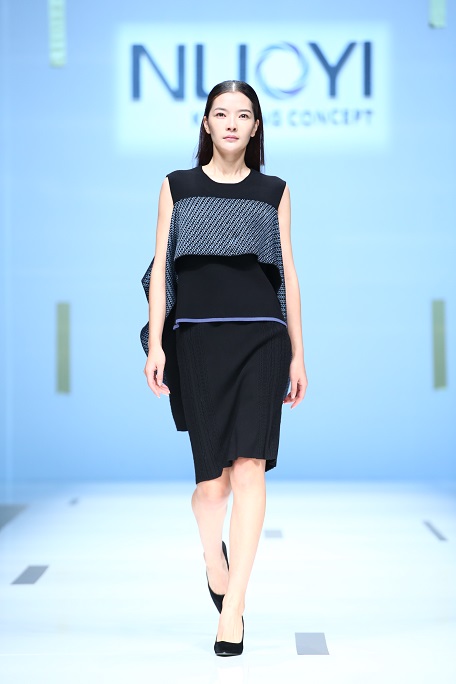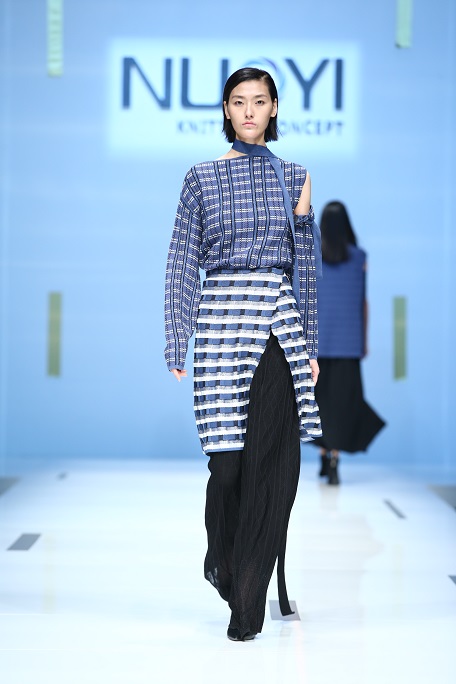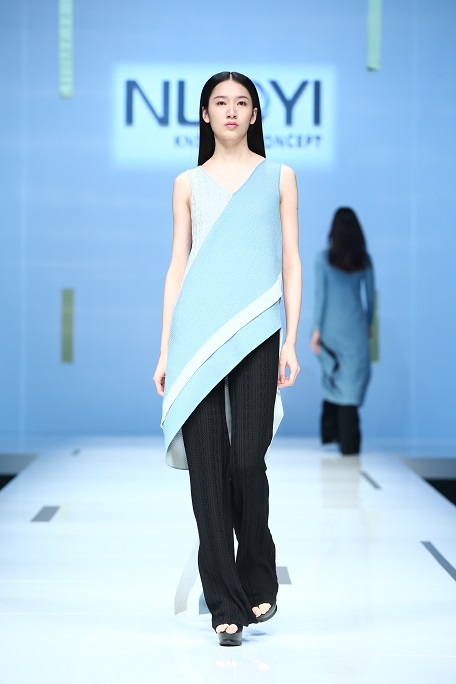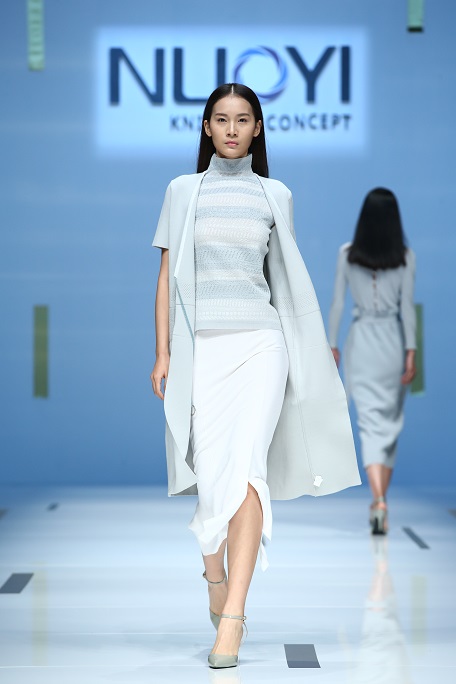 l Elegance
In this series, the soft and gentle curves build up the unique feminine grace and elegance. Ms. Qin Wanyu selected retro orange as the dominant color of the series, plus the ancient books red, peony pink and other color that are full of Chinese classical beauty, highlighting the inherent feminine beauty.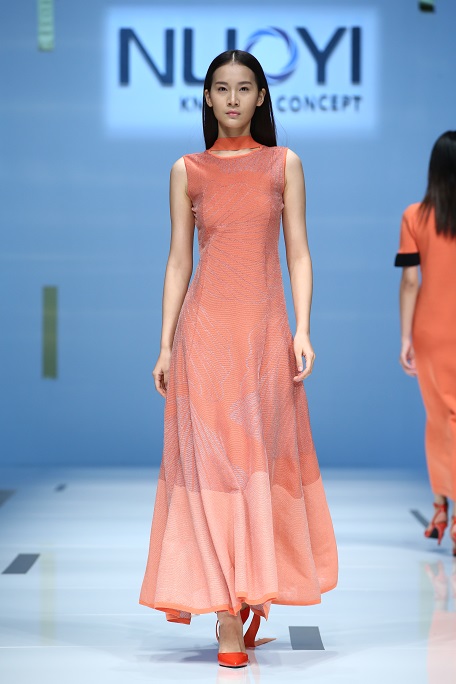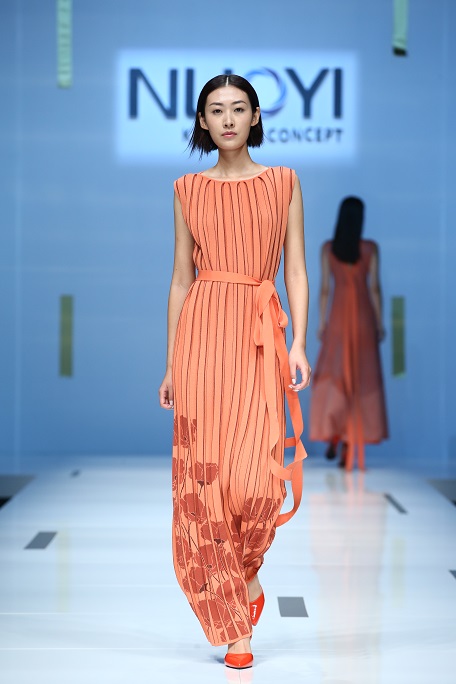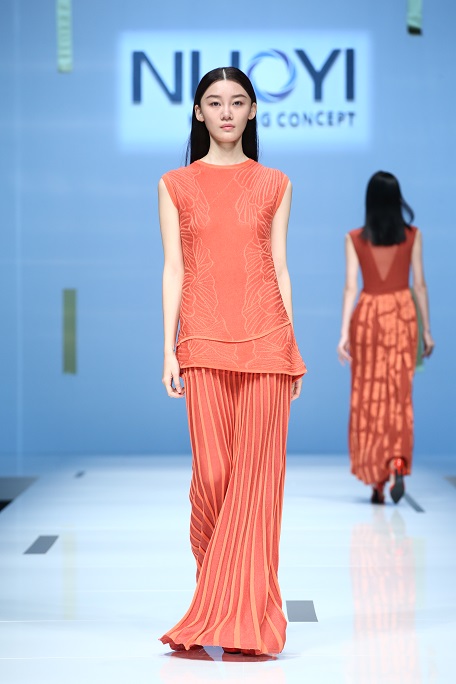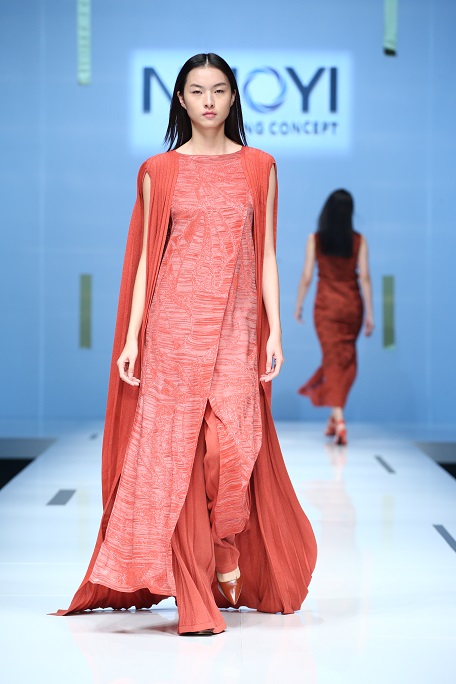 Graceful dress with a good-looking falbala sees retro elements for harmony and supplement, making a full interpretation of contemporary women's elegant temperament. The complex and detailed patterns woven with speckled exposure, air layer rib transfer jacquard, warp-laid-in stitch and other textures, as well as the virtual and real contrast of transparent mesh and high-quality lace-like weaving, creates different visual effects with rich layers and various transformations.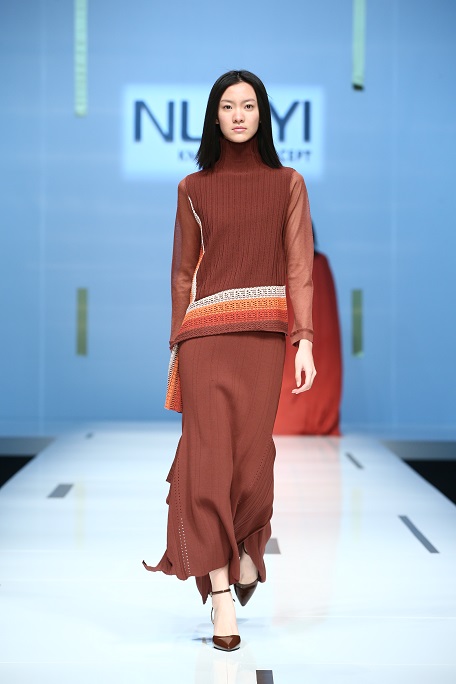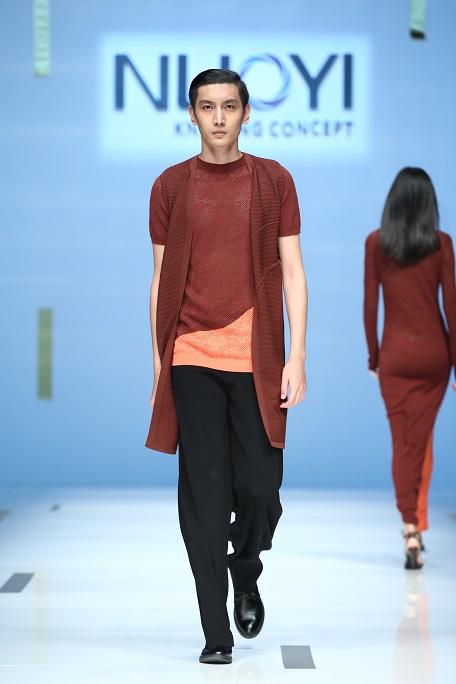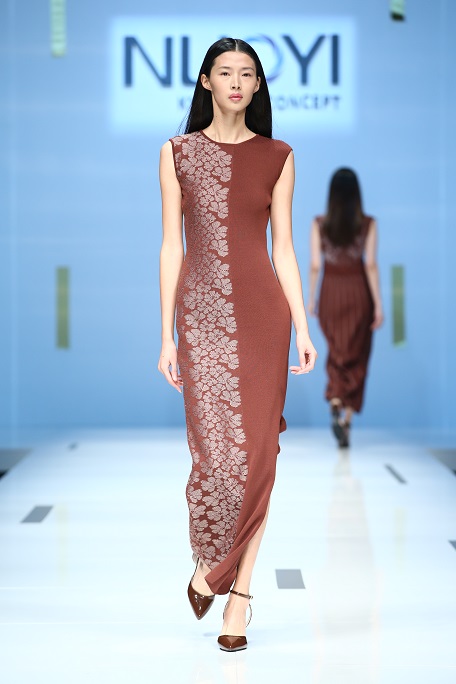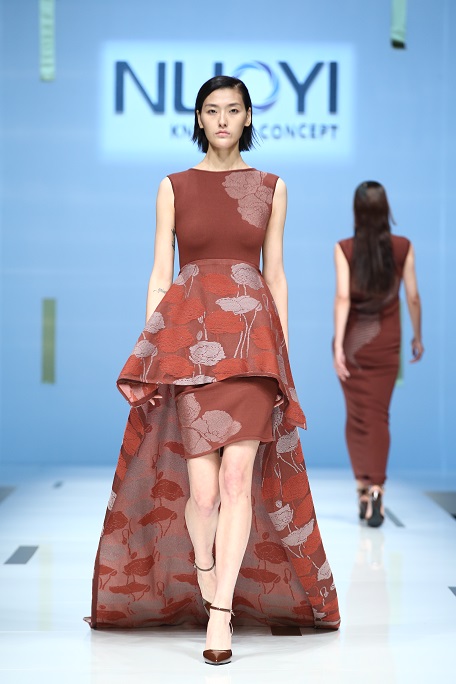 In addition, from October 29th to November 1st, 2017, NUOYI also participated in China Fashion Week Static Exhibition in DHUB, showcasing its finished garments, Xinnuo yarns, and NUOYI customized service process, which is to exhibit its unique temperament "Simplicity for Elegance" to clothing brands, independent designers, buyers and the media from around the world.
Interpretation of NUOYI
NUO, which means promise in Chinese, comes from an old saying "A person must speak faithfully, act decisively, and promise sincerely." YI, which means to inherit etiquette system and show graciousness in Chinese, comes from the Confucian system "Observance".
Since established in 2015, the company has been focusing on "details show sincereness" service awareness, "quality displays technique" research and development awareness, and "concept exhibits fashion" design awareness, in the pursuit of an overall concept that knitwear is integrated with own expression, showing the unity of knowledge and practice of famine inner cultivation and external style and manner.
"NUOYI · 2018/2019 Autumn & Winter Fashion Knitwear Design Release Show" was successfully staged during the SPINEXPO Shanghai in Shanghai Expo Exhibition & Convention Center on August 29th, 2017, which is not only a show of the achievements within its first anniversary, but also a show of both technology and fashion, demonstrating its strong capability of integration in the field of knitting.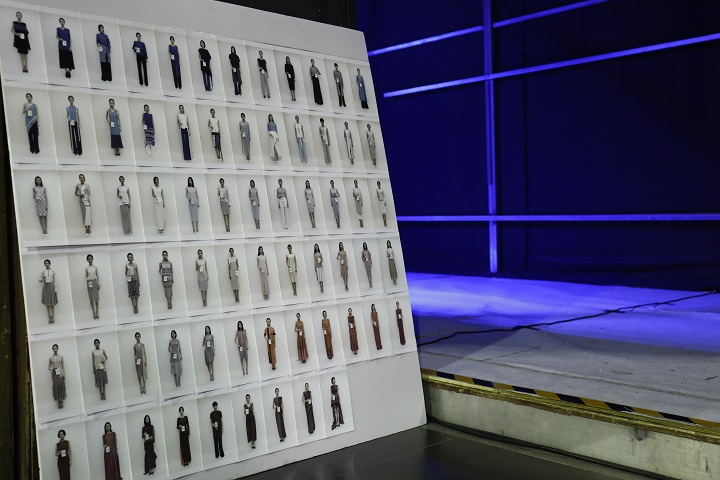 All along, NUOYI has been committed to the knitted garment industry chain operation services, focusing on knitwear design and pattern R&D to integrate yarn manufacturers, textile equipment manufacturers, knitted garment manufacturing enterprises, clothing brands and other related resources in order to build an open communication platform for China knitting clothing industrial chain.
"Good tools are prerequisite to the successful execution of a job." The company also introduced advanced equipment to build exquisite craftsmanship. The meticulous process technology has provided a strong support of "intelligent manufacturing" for the continuous innovation in recent years.
About the designer


As Design Director of NUOYI, Ms Qin Wanyu, who is graduated from Donghua University, is also a member of China Fashion Association and a contract designer of China Fashion Alliance. She has won a lot of awards such as the gold medal of the Fifth "Sanli Cup" China Wool Knitting Design Competition and the Silver Medal of the First Textile College Knitting pattern Design Competition.
For several decades of working experience, Ms Qin Wanyu served a number of domestic and overseas first-class knitting equipment businesses, proficient in knitting pattern structure design, fabric design and display clothing design. Moreover, she has been in cooperation with a number of knitted sweater brands at home and abroad, showing a unique and profound understanding of knitted garment chain market.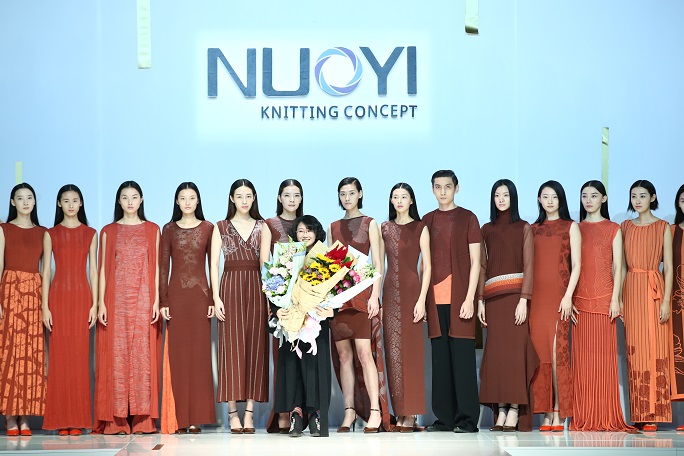 ALL COMMENTS