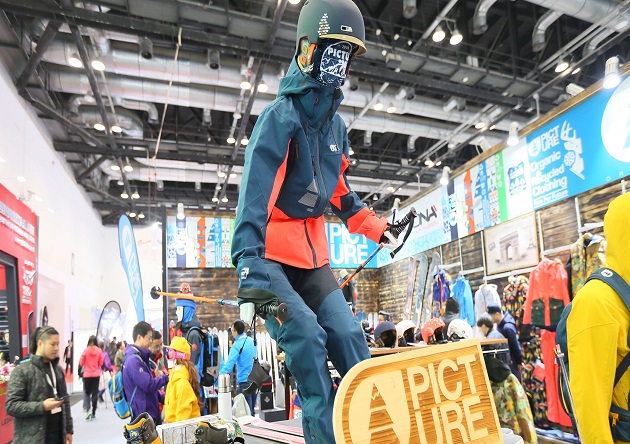 From February 15 to 18, a total of 502 exhibitors presented their latest product developments at ISPO BEIJING 2017. More than 40,000 visitors (2016: 38,600) gathered information about the innovations and exhibits of 728 brands. The supporting program, which included highlights such as the Asia Pacific Snow Conference (APSC), helped to keep the aisles full.
Klaus Dittrich, Chairman & CEO of Messe München, is pleased about how ISPO BEIJING is developing: "The growing significance of sports in the Chinese population can be seen in the development of ISPO BEIJING. In addition, major sports events like the 2022 Olympic games are spurring on the industry. That was clearly noticeable during the four days of the exhibition."
Of the 728 brands, 357 were international brands. The international pavilions from Austria, Korea, Switzerland and the Czech Republic show how important the Chinese market is. All halls were booked to capacity in 2017, so even more exhibition space at the China National Convention Center (CNCC) will be made available for ISPO BEIJING 2018.
The exhibition's success is also the result of long-term partnerships including that with Alpitec China. Organized by Bolzano Trade Fairs, the International Trade Fair for Mountain and Winter Technologies allows it to present the entire value chain, from infrastructure to sporting goods — that is, from international mountain and winter technologies such as ski lifts and machines to products such as clothing and equipment.
China a driving force behind innovation – Startup Village off to a successful start
The ISPO AWARD showed how much innovative strength the Asian sports industry has. More than 500 participants from around the world submitted applications. The applicants are a clear indication of the enormous potential that Asian sports brands have to offer. More than 100 brands from Asia submitted their product innovations, and 73 of those innovations were from China alone. To support the potential of young companies, for the first time ever the Startup Village took place. A total of seven newcomers presented their latest products there. As a result, ISPO BEIJING is one step closer to establishing ISPO BUSINESS SOLUTIONS—which are already well known in Europe — in Asia.
Strong supporting program
The extensive supporting program also helped to keep the aisles full. One of this year's highlights was the Asia Pacific Snow Conference (APSC). For those who has missed the conference, the lectures are available online. The China Ski Resort White Book 2016, which examines the status quo of ski resorts in China, was presented there. A tour of ski resorts that took place after the exhibition and allowed participants to get an impression of Chinese ski resorts on location, also generated a great deal of interests.
Another event on the agenda was the ISPO Sports Industry Forum, which featured information on the latest trends and developments in the Chinese sports industry. Finally, the Sports Fashion Trend Forum gave designers and products managers an opportunity to gather information about current international trends in sports fashion for the 2018 Spring/Summer collection.
The next ISPO BEIJING takes place from January 24 to 27, 2018.
This summer, ISPO SHANGHAI takes place at the Shanghai New International Expo Center (SNIEC) for the third time from July 6 to 8.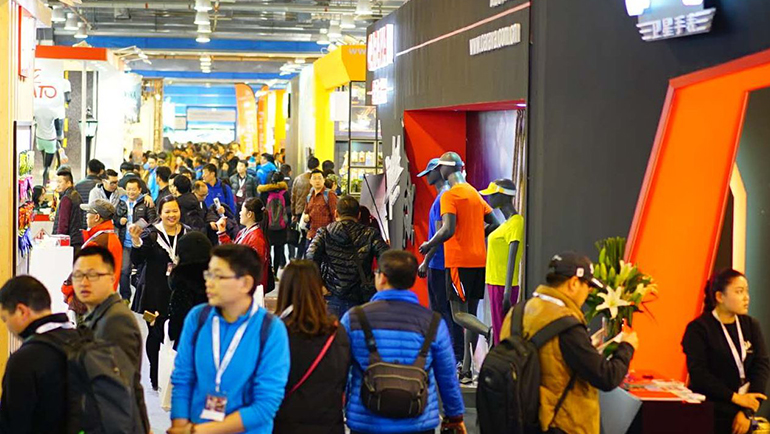 ISPO BEIJING - Statements about the fair
l Ms. Marion Tschernutter, Project Manager of Austrian Federal Economic Chamber (Austrian Pavilion)
ISPO BEIJING is by far the biggest winter sports trade fair in China. If you have any stakes in the market and you want to grow your business in China I can definitely recommend coming to Beijing. For Austria and international companies in general ISPO BEIJING is the ideal platform to enter the Chinese market.
l Mr. Gaosheng Wu, Deputy General Manager, Chang Bai Mountain International Ski Resort
We have joined in ISPO BEIJING every year. This year we can see there are clearly more exhibitors and new innovative products. I have learned a lot at ISPO BEIJING 2017. In terms of skiing, there are more snow resort consultancy companies than last year. We talked a lot with the exhibitors and it is very helpful for our purchase decision.
l Ms. Kateřina Ďurove, Director of CzechTrade Beijing (Czech Pavilion)
I would say that ISPO BEIJING is the most influential sports business show in China. All big Chinese brands exhibit at the show and they attract a lot of distributors. Smaller companies can benefit from the high quality of visitors. For our Czech brands a trade fair like ISPO BEIJING is the perfect opportunity to enter the Chinese market and get a feeling of the current market situation. What we recently noticed is that there are not only Chinese distributors but also buyers from Japan, South Korea and other Asian countries which makes it even more attractive for us and other international brands to come to Beijing.
l Mr. Eddie Chu, Marketing Manager of Great China, Gopro
GoPro has participated in ISPO BEIJING every year, because this is where we can find our core customer group. As outdoor enthusiasts, the visitors are also fans of GoPro. They can see the latest GoPro products here at ISPO BEIJING. We always have really good time at ISPO BEIJING with our customers of outdoor, snow and ice sports.
l Ms. Catherine Hou, Marketing Director of China, GORE-TEX® Brand
As ISPO BEIJING's old friend, we think it is a very important platform. Through ISPO BEIJING, we can meet with retailers, customers and partners to share new trends in the industry and opinions of the market. We can also show our latest products and technology to the customers of sports products. We are really happy that there are so many people here today and we have gained a lot.
l Mr. Soo-hoon Chae, Executive director of KOIA - Korea Outdoor & Sports Industry Association (Korean Pavilion)
Companies that join ISPO BEIJING can generate valuable market insights within a very short time. The conferences and forums help our partners to get more information about the current needs and trends in the market. It is also a very good place to meet with new buyers and build new relationships. ISPO BEIJING is one of the very view places where you can get a full market overview and discover the latest developments first hand.
l Mr. Mathijs De Vries, B.U. Export Manager, oberAlp Group
We chose to be here in ISPO BEIJING because we are quite new brand for the Chinese market. And for us it is so important to show the most important retailers in China our products. For the first day in ISPO BEIJING 2017, as far as I can see now, there's a lot of traffic and I've already met a couple of retailers. And I absolutely enjoy ISPO BEIJING; it's really good to be here. I look forward to coming back here a couple of time more.
l Mr. Dean Gu, Sports Channel Sales Manager, OAKLEY
The amount of visitors in ISPO BEIJING 2017 is quite bigger than last year, and much more professional. This year, we have met not only some long-term cooperation partners but also more new clients in and out of our appointed plan. We're quite satisfied with ISPO BEIJING 2017.
l Mr. Michael Wang, Deputy General Manager, PELLIOT
ISPO BEIJING is an important event for the outdoor industry. We hope that, through ISPO BEIJING, we can exhibit our new products and brand concept to outdoor fans. We will come again next year to meet our friends.
l Mr. Victor Li, Managing Director, Shanghai Setino Sportswear Inc. / Chairman of China Selected Outdoor Association (SOA)
More than ten brands from SOA are exhibiting at ISPO BEIJING 2017. The visitor traffic is terrific. ISPO BEIJING is also a great channel for store managers, brands and retailers to exchange ideas. For us, the brands can make efficient promotions and present their latest products to the customers at the same time, making resourceful B2B matching.
l Mr. Cornel Grämiger, Project Manager of BTO Solutions, Schürch (Swiss Pavilion)
Switzerland is for the first time with a pavilion at ISPO BEIJING. Five partners exhibit at the show. All companies want to profit from the huge potential in Asia and from the successful bid of Beijing for the Winter Olympics in 2022. ISPO BEIJING is the perfect platform to research the market opportunities and to establish valuable contacts. Our exhibitors at the Swiss Pavilion like Dahu, Glice, Jetset or Litrax are very satisfied with the visitor quality. Many distributors are looking for fresh brands and high quality products.
l Mr. Ulf Bjerknes, President & CEO, SWIX SPORT AS
ISPO BEIJING is definitely the place to be for winter sports in Asia, and we've been following for the ten past years. This year, it looks like a very nice fair with a lot of visitors. We're really happy with the development of ISPO BEIJING here.
ALL COMMENTS