Black Yak, South Korea's leading outdoor apparel and gear brand has partnered with innovative textile fibers Hyosung to develop next generation collection of outdoor clothing including base layer tops and pants for 2017s.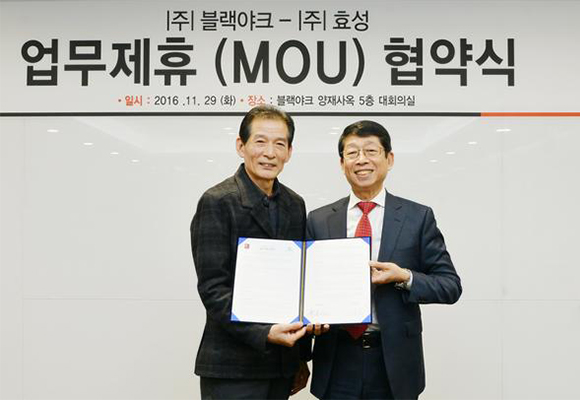 Black Yak Corp. chief executive Jung Woon-suk (on the left) and
Hyosung Corp. Nylon Polyester Fiber PU division chief executive Park Byeong-sun
"As Black Yak is targeting growth in Europe, China, and the USA, we wanted a partner like Hyosung who is a leader innovative fibers that would support our continuous development "said Woon Suk Jung, President of Black Yak "Black Yak has traditionally been a mountaineering brand so the focus of development had been on outerwear. Our first initiative in this partnership is to create a new Yak Free collection as our consumer is going from mountaineering to other, more leisure activities"
"Greater synergy expected when Hyosung's textile technology meets Black Yak's brand power" said Hyun-Joon Cho, Head of Hyosung Textile PG "The MOU includes our commitment to provide Black Yak with both short and long term technologies to enhance their competitive position globally."


Hyosung recently commercialized revolutionary new technologies in nylon and polyester (PET) "Freshgear" and spandex product "creora® Fresh" to neutralize body odor and deliver consumer confidence. The Fresh platform of technologies can be combined with moisture management, cooling, etc. to further expand the seasonal developments of Black Yak.