On May 31st, the opening ceremony of the 2023 Shengze Silk Tourism and Culture Festival was held at the Silk Expo Tourism Industry Park. This year's festival focuses on the theme of "Weaving Clouds and Embroidering Brocades, Shengze in Full Bloom" and connects silk culture with a fashionable lifestyle, promoting the high-quality development of Shengze's cultural tourism industry and helping with the upgrading of its industries and urban quality.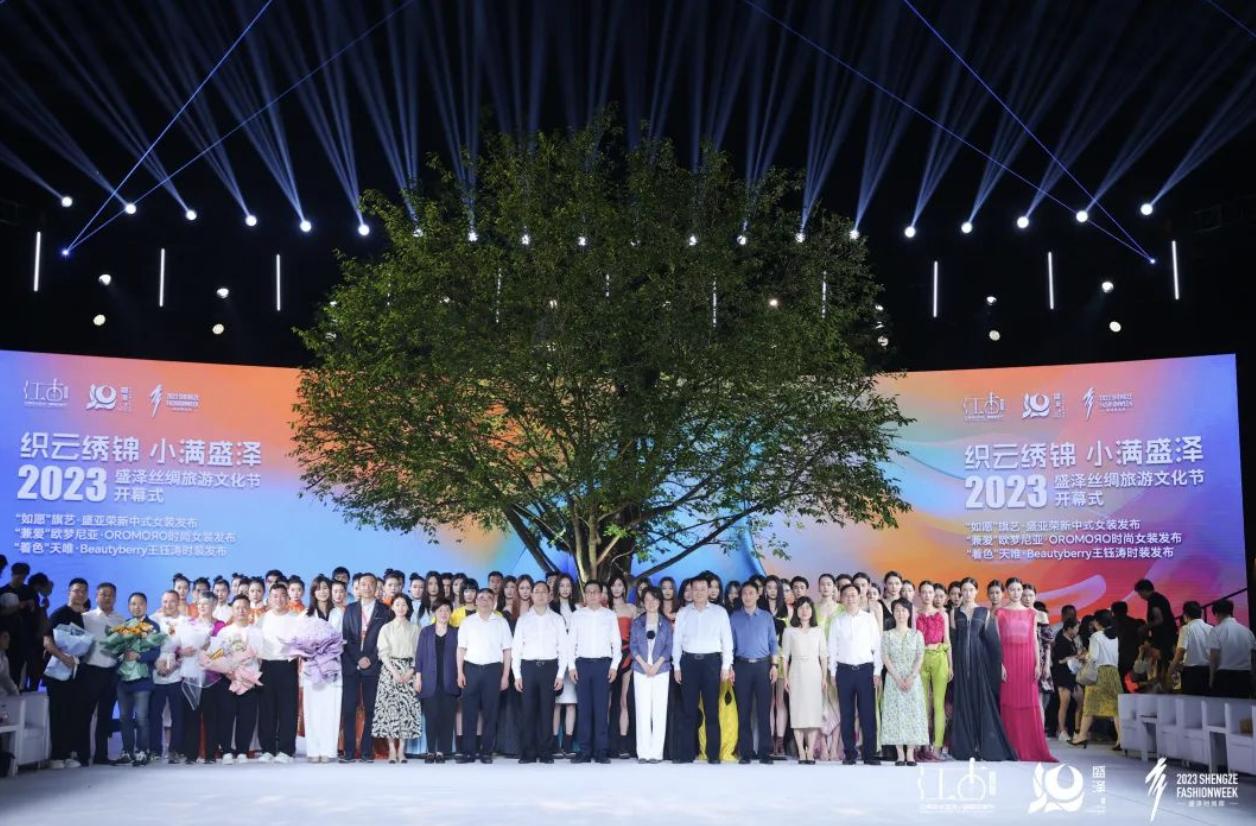 This 2023 Shengze Silk Tourism and Culture Festival will last throughout the year, including cultural exhibitions, intangible cultural heritage performances, and aesthetic exhibitions, providing citizens with a year-round cultural feast.
Shengze is an ancient silk town that has lived and grown with silk since ancient times. It has a profound silk cultural heritage and a strong silk industry foundation. In recent years, Shengze has continuously held fashion weeks and textile expos while protecting, inheriting, and promoting its silk culture, giving it new connotations for the times.
During the event, the "Sleepless Dream of Shengze" Silk Aesthetics Exhibition was officially launched, connecting silk with aesthetics and life, paying tribute to the eternal dream of the Silk Capital, Shengze. Shengze designed unique city souvenirs by rejuvenating and abstracting its characteristic silk culture and iconic architecture.
In the past year, Shengze Town has persisted in the integrated development of cultural industry and cultural undertakings, winning recognition from society. For example, Shenghong Group was awarded the 2022 Suzhou City Copyright Work Demonstration Unit Promotion Plan Project, and Shangjiukai Silk was approved as the third batch of Jiangsu Province's intangible cultural heritage creative base.
At the opening ceremony, the three Shengze brand enterprises, CHIAYI, OMNADEGA and TIANWEI, joined hands with China's top ten fashion designer Sheng Yarong, and Wang Yutao, winner of the JINDING Award, respectively, to release their latest couture works to the world. The beautiful fashion show was set against the night scenery of the Silk Expo Park, with dynamic and interesting designs, which was a totally visual feast!
ALL COMMENTS