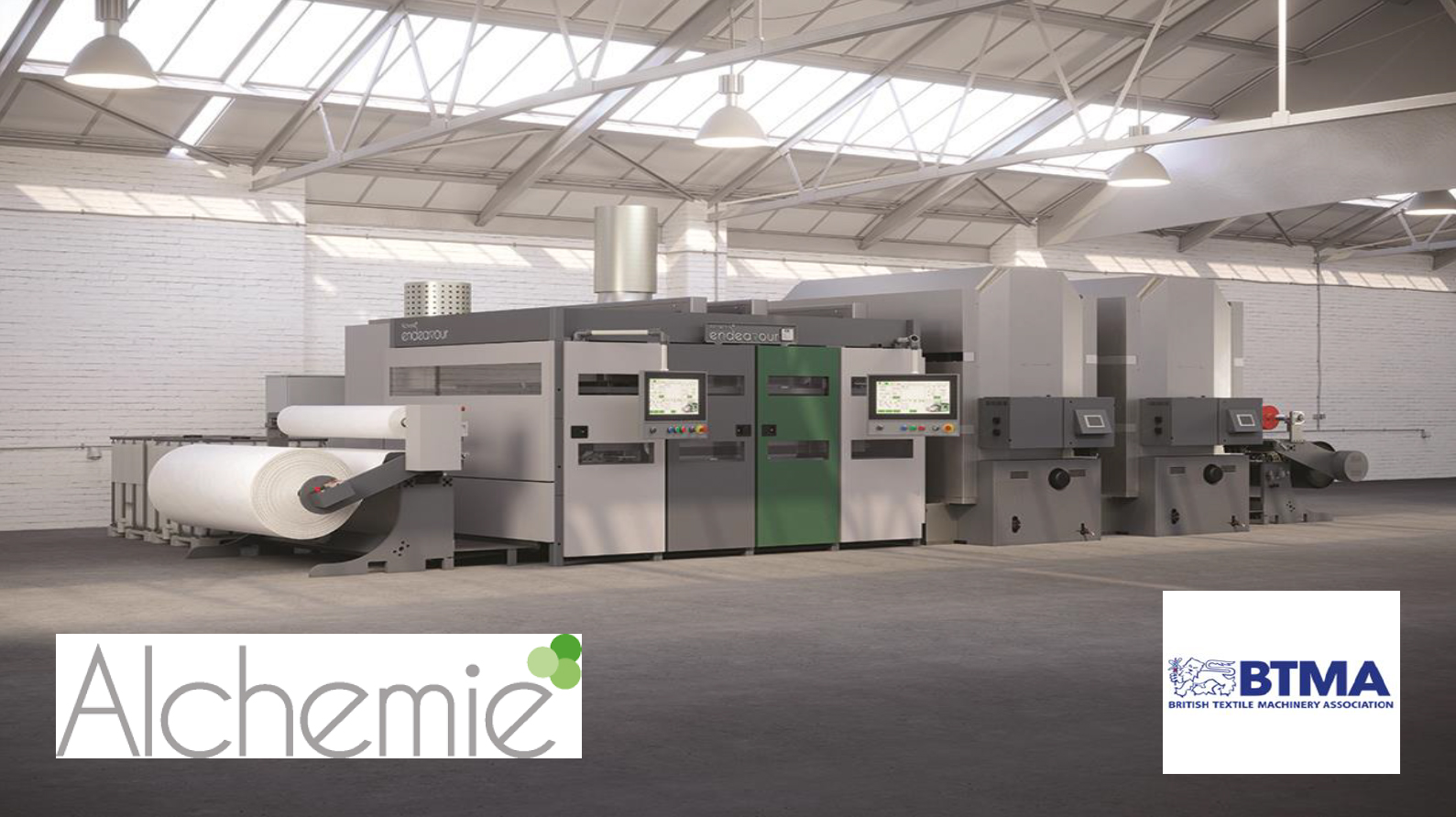 Alchemie Technology is the latest fast-rising company to join the British Textile Machinery Association (BTMA), as all of the organisation's members gear up to showcase an array of new innovations at ITMA 2023 in Milan from June 8-14 this year.
Cambridge-headquartered Alchemie is the inventor of two ground breaking technologies – EndeavourTM and NovaraTM.
The Endeavour digital dyeing system produces no wastewater and reduces water consumption by up to 95% compared to traditional dyeing. The virtually waterless process delivers dyed fabric with high colour consistency and colour fastness and does not require post dyeing washing steps which leads to an energy reduction up to 85%. It can deliver any colour shade required and enables on-demand digital colour changeovers in any run length, from a few metres to several kilometres.
Similar energy savings can be achieved with the Novara precision finishing system which utilises a nozzle array to deliver finishing chemistry with millimetre resolution. Finishing chemistries penetrate deeply into the fabric due to the combination of high velocity liquid jetting and precisely-controlled vacuum and textile finishes are applied only where needed, reducing chemistry usage and enabling multi-functionality.
In the past year, Alchemie, backed by Swedish fashion giant H&M, has established a first demonstration hub at customer JSRTEX in Taiwan. It is now progressing plans to set up further centres at customer sites around the world.
"The textile manufacturing industry has a significant impact on the environment, and with our Endeavour, waterless, low energy dyeing and Novara, low energy textile finishing technologies, we are disrupting manufacturing processes that are responsible for over 3% of global CO2 emissions and 20% of global water pollution," says Alchemie founder and CEO Dr Alan Hudd. "Our solutions both dramatically reduce the environmental impact and the cost of dyeing and finishing, which has proven to be a compelling combination."
"The time for Alchemie's technologies is surely now," adds BTMA CEO Jason Kent. "International brands and textile producers from around the world have been flocking to see these new highly automated and sustainable technologies in action we're very pleased to welcome Alchemie to the association. We're also really looking forward to rewarding discussions in Milan about the range of new sustainable solutions our members will be introducing at ITMA 2023 – from technologies for the production of fibres to those for finished products."
ALL COMMENTS