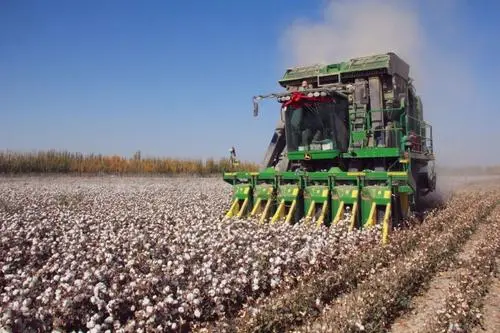 A few days ago, the national cotton market monitoring system on cotton sowing area launched a nationwide special investigation. The survey results show that in 2021, the national cotton sown area is 42.463 million mu, 3.219 million mu less than the same period last year, a decrease of 7.0 percent.


Actual cotton sown area in Xinjiang remained stable. The actual sown area of inland cotton region in Northwest China was 35.018 million mu, 621,000 mu less than that of last year, or 1.7 percent less. Among them, the actual cotton sown area in Xinjiang was 34.762 million mu, 564,000 mu less than last year, or 1.6 percent less.
The actual sown area in the mainland declined considerably. The actual sown area of cotton in the Yellow River Basin was 4.562 million mu, a decrease of 1.441 million mu, or 24.0 percent, compared with the same period last year. The actual sown area of most provinces (cities) decreased by more than 10 percent compared with the same period last year, among which Shandong and Hebei decreased by 25.5 percent and 27.5 percent, respectively.
The actual sown area of cotton areas in the middle and lower reaches of the Yangtze River was 2.610 million mu, a year-on-year decrease of 1.076 million mu or 29.2 percent. In comparison, the decrease of actual sown area in Jiangsu Province was relatively small, 12.5 percent, and the actual sown area in other provinces decreased significantly year-on-year, including 27.4 percent in Hubei Province, 33.5 percent in Anhui Province, 26.2 percent in Hunan Province, and 35.3 percent in Jiangxi Province.
The main reasons for the decrease in the actual sown area of cotton in Xinjiang include the following three aspects: First, with the gradual implementation of the policy of returning farmland to forest and pasture in Xinjiang, some cotton growers had to give up cotton planting; second, the government has called on farmers to plant a variety of grain crops, and with grain prices at a record high, some cotton growers have switched to wheat and corn this year; third, in the early stage of cotton planting, there were many windy and rainy days in some regions of Xinjiang, and the temperature was low. Some cotton growers were worried that the delayed planting would lead to a longer growing period of cotton, so they planted other crops instead.
In addition, prices of corn and soybeans, which compete more strongly with cotton, have held up well during spring sowing, rising sharply from a year ago and at historic highs. Cotton prices are also up significantly from a year ago, but remain at historically normal levels. In response to the price, many inland cotton farmers switched to corn and soyabeans.

ALL COMMENTS