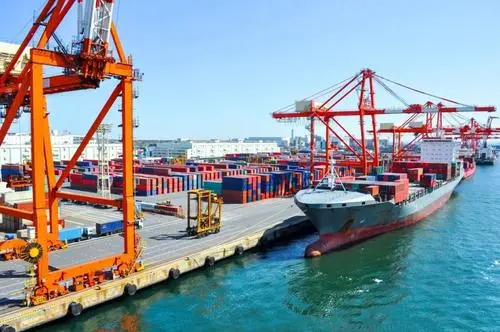 From January to April, China's foreign trade continued to grow, with the total value of imports and exports reaching 11.62 trillion yuan, up 28.5 percent year-on-year and a record high in the same period. The main features are as follows:


First, the growth rate of import and export reached the highest level in the same period of 10 years. From January to April, China's import and export, export and import (the same below) increased by 28.5 percent, 33.8 percent and 22.7 percent respectively, among which the growth rate of import and export was the highest since 2011. Compared with the same period in 2019, imports and exports increased by 21.8 percent, exports by 24.8 percent and imports by 18.4 percent. Imports and exports in April were 3.15 trillion yuan, the second highest monthly figure on record.
Second, positive results have been achieved in deeply cultivating the traditional markets and expanding emerging markets. From January to April, exports to the European Union, the United States, Japan, Hong Kong and other traditional markets increased by 36.1 percent, 49.3 percent, 12.6 percent and 30.9 percent respectively, driving up the overall export growth by 16.8 percentage points. Exports to ASEAN, Latin America, Africa and other emerging markets increased by 29 percent, 47.1 percent and 27.6 percent, respectively, pushing up the overall export growth by 8.6 percentage points.
Third, foreign trade players continue to grow, and private enterprises continue to play a major role. From January to April, 61,655 new foreign trade operators registered. The export of private enterprises reached 3.53 trillion yuan, up 45 percent, driving up the overall export growth rate by 23.2 percentage points, up 4.4 percentage points from the same period last year to 55.9 percent.
Fourth, "In-house Economy" products continue to drive the export growth, some labor-intensive products export recovery growth. From January to April, the export of "In-house Economy" products, such as computers, mobile phones, household appliances, lamps, and toys, increased by 32.2 percent, 35.6 percent, 50.3 percent, 66.8 percent and 59 percent respectively, driving up the overall export growth by 6.9 percentage points. The rapid progress of vaccination in developed economies has increased people's demand for travel. Exports of clothing, shoes, and bags have recovered by 41 percent, 25.8 percent and 19.2 percent respectively.
Fifth, new forms and models of business are thriving, and internal driving forces are growing stronger. Cross-border e-commerce maintained rapid growth, with imports and exports reaching 419.5 billion yuan in the first three months of this year, up 46.5 percent. In April, the 129th Canton Fair was successfully held online, attracting 26,000 enterprises and buyers from 227 countries and regions, bringing new business opportunities to exhibitors from all over the world.
Sixth, China's import growth was driven by the steady improvement of the domestic economy, and the rapid rise in the prices of some bulk commodities boosted the growth of imports. Since the beginning of this year, the manufacturing PMI has remained in the expansion range, boosting the import demand of energy, resources, raw materials and spare parts. From January to April, imports of crude oil, iron ore and integrated circuits increased by 7.2 percent, 6.7 percent and 30.8 percent, respectively. The prices of some bulk commodities rose rapidly, contributing 4.2 percentage points to the overall import growth.
Recently, local governments have focused on foreign trade services to build a new development pattern, put forward practical measures to ensure market players, market share, stability of industrial and supply chains, and promote innovative development of foreign trade, and played an important role in enhancing the comprehensive competitiveness of foreign trade.

ALL COMMENTS