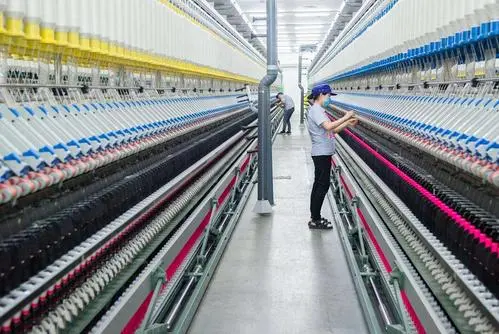 The main business income of enterprises above designated size in the textile and apparel industry in Henan Province is about 400 billion yuan, ranking the sixth in China and the first among the six provinces in central China. The output of cotton yarn and clothing ranks the second and sixth in China respectively.


Henan has formed a relatively complete industrial chain system of textile industry, including spinning, chemical fiber, weaving, dyeing and finishing, clothing, home textile, textile machinery manufacturing and other industries. It has become a major province of textile and apparel manufacturing in China and an important transfer and undertaking place of textile and apparel industry in central China.
It is reported that there are more than 530 apparel enterprises above designated size in Henan province, with annual main business income of about 150 billion yuan and output accounting for about 7 percent of the country.
In addition, in terms of industrial clusters, Nanyang, Shangqiu, Zhoukou, Zhengzhou, Anyang, Xinxiang, Xinyang, Pingdingshan and other textile and apparel industrial clusters have been formed; there are traditional characteristic apparel industrial clusters and transfer-aggregated brand apparel processing industrial clusters.

ALL COMMENTS