Jiangsu Wuyang Textile Machinery co., Ltd.
Wuyang Textile Machinery co., LTD., founded in 1986, as a global leader of double needle bed warp knitting machine, producing series of warp knitting machine, warp knitting fully-fashioned apparel, is national comprehensive high and new technology enterprise. It has six subsidiary entities:
Wuyang Textile Machinery, Wuyang Saide Science and Technology Co., LTD, Wuyang Chengzhong Textile Printing, Aishili 3D Warp-knitted Apparel, Digital Factory, Global Warp-knitting Tech. Co., LTD.
The company, combined with Chinese Academy of Sciences, Jiangsu Institute of Automation, Shanghai Jiaotong University, Donghua University and so on many domestic colleges and universities established multiple technology research and development institutions, such as the double needle bar warp knitting machine development center, enterprise technology center, the engineering technology center for motion control of the warp knitting machine in Jiangsu province, business graduate workstation, are capable of designing and developing high-speed, high efficiency, intelligent power series products. Company obtain altogether 5 software copyrights , 9 international patents, 11 national invention patents and 115 other patents.
The implementation of the strategy, "Made in China 2025", hitting of industrial 4.0 wave, our company actively involved in the transformation and upgrading of the digital and intelligent development direction, in 2012, planning to set out the Chinese textile machinery industry's first digital factory, in accordance with the "made in China 2025" and German industrial 4.0 requirements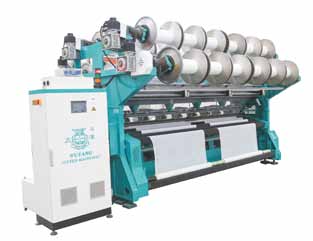 GE2295 Single Layer Mesh Cloth Warp Knitting Machine
GB2886 Plush Pattern Fabrics and Blanket Warp Knitting Machine
planning layout, with a total investment of 150 million yuan, the construction area of 35000 square meters, introduce world-class production equipment, such as joint robot, AGV car, three-dimensional warehouse facilities, with advanced management method, combined with large data environment industry, built first digital communication technology factories, completely changed the traditional stand-alone production mode.
"Smart technology, 3d woven, integration, personalization." ASHLEY 3D warp knitting apparel interpret fashion aesthetics by modern cutting-edge technology, subvert traditional clothing production, created a new warp knitting smart mode of fully fashioned apparel production. Three-dimensional fully-fashioned intelligent warp knitting equipment has realized the fully fashioned knitting technology, which the computer knitting machine, flat knitting machine, hosiery machine and other equipment are not capable to achieve, meet the urgent need of the knitting industry transformation and upgrading. It is completely changed the garment production from fabric weaving to traditional pattern of cutting and sewing, leading the industry from single equipment yarn finishing to weaving of apparel production new era!
We gather the elements of the warp knitting industry chain resources around the world, realize the value of the whole industry interaction and ecological benefit, cooperate with "Universal Warp knitting Net" in terms of complementary advantages, resource integration, fusion of data and all channels , efficiently helped us to develop new markets, achieve subversion and reconstruction of commercial mode.
ALL COMMENTS