Wuxi Hongyuan Electromechanical Technology Co., Ltd.
Since 1956, Hongyuan's business is manufacturer of electrical products in use of chemical fiber, cotton and other kinds of high-end textile machinery in China. This Company awarded one of 500 China's comprehensive evaluation industrial enterprises, China quality credit enterprise, national high-tech enterprise, China high-tech excellent enterprise, China's textile industry outstanding contribution, the national textile industry advanced collective etc., obtain the national post-doctoral workstation.
Our company participated in Singapore ITMA many times, This is the first time in Europe ITMA. By attending the highest level for textile machinery exhibition could let more foreign customers know more about Hongyuan technology development and application in product, to expand brand influence and improve the market share.
As the Olympic Game of textile machinery exhibition, the ITMA both in terms of the exhibitors/audience professional degrees and advanced technology of exhibits is beyond compare.
The production and sale of "Hongyuan" brand series of chemical fiber high-speed stretch yarn machine ranks first nearly 30 years, domestic and overseas, with the market share of around 40%.
The products of our company has two major categories, including the exhibited chemical fiber stretch yarn machine, logistics production line, as well as cotton spinning roving frame, combing machine series products, our overseas markets are mainly distributed in Southeast Asia, South Asia, the Middle East, Africa, parts of Europe and America, such as Bangladesh, Pakistan, India, Vietnam, Cambodia, Uzbekistan, Turkey, Syria, Egypt, Morocco, Croatia, Slovenia, Argentina, Brazil and so on. The proportion of sale abroad share in total is 20%, compared with the same period last year, the export share grow slightly.
Over the years, Hongyuan Electromechanical Technology Co., LTD is dedicated to promote textile industry modernization in our country, implement the strategy of "developing enterprise through science and technology" technological innovation, Our company commit to customers requirement, with customized design ,adopts modularization.
After 60 years of arduous pioneering, the well-equipped and advanced technology company mainly produces FK6, HY series high-speed stretch yarn machine, FA series, HY series cotton spinning roving frame, HY series comber etc.
The technological level of filament post processing equipment and production scale are close to the international advanced level, as well as the product key technology, leading the development trend in the industry. We are the first drafting unit of false twist texturing machine in People's Republic of China, and the research and development center evaluated only in China textile machinery industry.
Features
Saving energy, reducing pollutants discharge, reducing use-cost: through technology innovation, Hongyuan has developed the serial models of draw-texturing machine and cotton spinning roving frame, could save 10% energy, fully satisfy the requirements of the customers. Unique technology, achieving differential function: through technology integration, the draw-texturing machine achieves differentiation design, modularization combination, unique technology, special function to meet the customer's requirements and realize unmanned production. Intelligent control, improve production efficiency: pioneering technology development, Hongyuan both draw-texturing machine and roving frame adopt auto-doffing technology, real-time on-line tension monitoring technology, high-precision multi-motors control technology, remote malfunction analysis technology, make the machine reach a new intelligence level.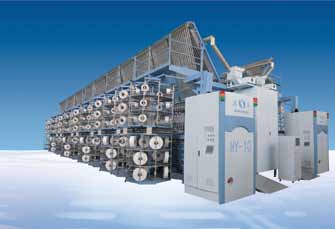 HY-10 high-speed stretch yarn machine
ALL COMMENTS