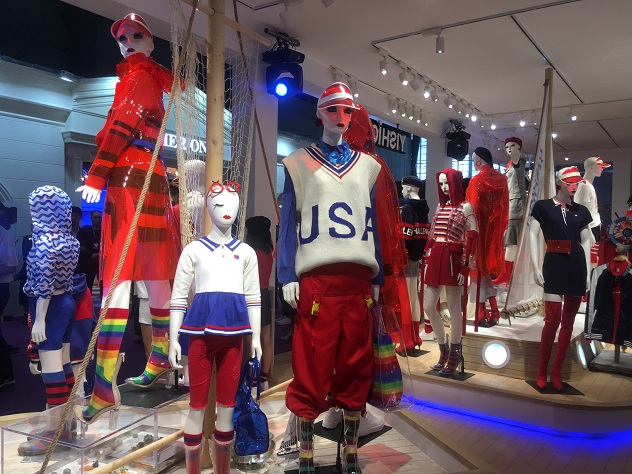 On November 20th, 2017, the 22nd China (Humen) International Fashion Fair & 2017 Humen Fashion Week (hereinafter referred to as "Fashion Fair") made a perfect curtain call at Humen. Within four days, the main venue attracted 120,000 professional buyers and ordinary visitors from over 20 countries and regions such as the United States, Russia and Dubai. The current trade fair transaction results were significant with obvious innovative features and rich fashion atmosphere, showing a booming moment of innovation and development of Humen garment ecosystem.
Sun Ruizhe, President of China National Textile and Apparel Council, Xia Lingmin, Vice President of China National Textile and Apparel Council, Zhang Guanzi, Vice Mayor of Dongguan Municipal Committee, Zhong Ganquan, former vice chairman of CPPCC of Dongguan City, Ye Kongxin, secretary of Humen Town Committee, Deng Weihong, Deputy Secretary & Vice Mayor of Humen Town Committee, Sun Jingsen, Chairman of Humen Town People's Congress, Qiao Yanjin, Director of the Productivity Promotion Department of China National Textile and Apparel Council, and Director of China Textile Information Center, Xing Guanlei, Secretary General of China National Textile and Apparel Council - Industrial Cluster Working Committee, and other relevant leaders and guests attended the opening ceremony .
Buyers from home and abroad gathered at Humen
The Fashion Fair was featured as a variety of matching forms, rich contents, and outstanding results. The Fashion Fair made the layout of global marketing, inviting global apparel buyers from more than 20 countries, such as the United States, Russia and Dubai, as well as thousands of professional buyers from all over China, including Shanghai, Chengdu and Wuhan, for accurate matching with the exhibitors, successfully setting up a "zero-distance & high-efficiency" cross-border procurement platform to reach a great deal of trade orders.
In addition, 2017 Humen Fumin Original Fashion Clothing Purchasing Festival and the First Humen Original Design Buyers Festival helped the enterprises harvest full. According to the responsible person from the Fashion Fair, "First, the transaction is very hot, and exhibitors have received different sizes of on-site orders, for example, ANOTHER ONE got orders of 580,000 RMB; Mr. alee men's wear and merchants from Saudi Arabia signed a contract of 300,000 RMB. Second, the marketing network is expanded, and many companies have seen the agency contract, such as MOMIANDAO, AMANLIN, and Mr. alee signed respectively 16, 12, and 10 agents from all over the country including Hunan, Hubei, and Shandong provinces."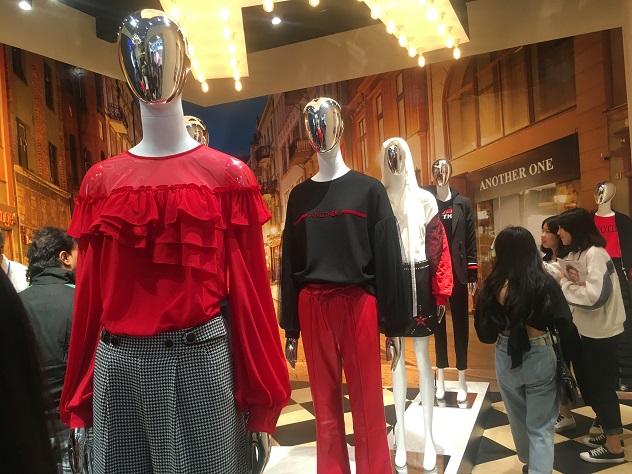 New platform made its debut
Two new industrial development platforms made their debut during the Fashion Fair. One is Creative Fashion Commune (formerly Humen Clothing Cloud). The project officially put into use on the opening day of the fair was dominated by Humen Apparel and Garment Industry Management Committee and undertaken by Vanke. The project was transformed from the original old factory building in Jinzhou No. 1 Industrial Zone of Humen and introduced the high-quality resources. It gathered thousands of well-known designers and buyers to join, aiming to promote the in-depth integration and development of creative fashion and Humen clothing industry and to create a multi-functional park gathering a set of creative offices, culture and commerce, education and training, art galleries, industry incubation and catering facilities.
The second one is a sharing service platform of mutual-benefit fashion and clothing industry. On November 18th, 2017, the shared platform was officially launched on the 19th floor of Fumin Fashion Business Center. It is a large-scale integrated clothing industry shared service platform, with a new generation of information technology, cloud computing, industrial automation and other high-tech as the core competitiveness, and global trade supply chain management, joint design, sharing cutting, sharing sample room, crowdsourcing manufacturing, crowdsourcing design, business incubators and other new services as the main business .
At the press conference about Humen economic and social development results held on the eve of the Fashion Fair, a new signal about the development of the Humen clothing apparel industry is that at present Humen is making great efforts to develop the clothing wholesale market centered on Fumin Fashion City, a comprehensive industrial innovation platform with Fumin Clothing business center as the core, an e-commerce market led by Humen E-commerce Industrial Park, a shared service platform represented by Creative Fashion Commune, a commercial complex represented by Wanda, and a garment brand avenue based on Vanke Cloud City. The garment industry is to see an accelerated transformation from manufacturing industry to such industries as fashion, creation, and art, through the strengthening of brand cultivation, enhancement of R&D design, and integration of superior resources.
Creative fashion competed in high profile
The final of the 18th "Humen Cup" International Youth Design (Women's Wear) Contest was held on November 17th, 2017, including a total of 30 works selected from 3,122 entries from over 10 countries and regions including Russia and the United States.
The 4th China (Humen) Fashion Micro Film Contest received a total of 104 works from Beijing, Xinjiang, Chongqing and other places. The contest was again successfully held, in another perspective, giving an interpretation of the strong industrial base and innovative vitality behind the successful Humen apparel industry.
2017 Humen Fashion Week actively attracted international forces to join in and held "China New Designers Joint Release Show", while Ming Xue and Zhao Tiantian presented their personal shows. In addition, two well-known Ukrainian women designers also gave brand release shows. Local well-known brand companies also showcased their own style, including YISHION, NewFound, ANOTHER ONE, MOMIANDAO, Zimple, Eall.cz, ECA and other brands. 12 great shows brought the audience a top fashion feast. For example, the works exhibited at the special release of Zhao Tiantian won numerous awards and the Zimple X Motorcycle Bicycle Cross-border Environmental Art Exhibition launched by Zimple Show attracted wide public debate.
Creative Garment Printing Exhibition become a new highlight
One of the highlights of the Fashion Fair was the 2nd China Creative Garment Printing Exhibition jointly organized by China Dyeing and Printing Industry Association, Dongguan Humen Garment and Garment Industry Management Committee, and Humen Garment Technology Innovation Center. The exhibition covered an area of more than 240 square meters, including static exhibition and on-site customization.
About 600 exhibits from nearly 40 companies were selected among a large number of registered enterprises, which basically tells the overall development of China's garment printing industry from the following six aspects: special screen printing, digital inkjet coating printing, digital transfer printing, customization of cultural clothing, rapid response garment printing, IP new authorization mode and flexible garment production .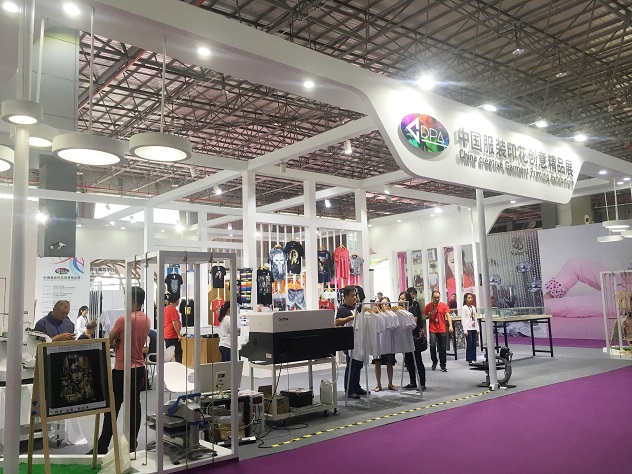 The garment printing booth attracted more than 1,000 visitors from brands, professional buyers, independent designers, fashion design companies and studios, purchasing groups, internet buyers and upstream and downstream clothing enterprises. In the Customized Zone of personalized products on the spot, Hangzhou Atexco brought its competitive lRIS2000 T-shirt clothing digital inkjet printing machine which won an order of 5 machines. Moreover, two foreign customers also initially signed purchase intention. A foreign friend from Mauritius showed great interest in Xiamen BATENG SOUTHTEC'S specialty printing materials and expressed his hope to cooperate with them in depth. AR image interactive printing also attracted a large audience. Exhibitors generally said that they had made great achievements.
Focusing on the supply chain to find new impetus
2017 China Textile and Apparel Supply Chain (Humen) Forum was held during the Fashion Fair, focusing on "clothing brand rapid response, supply chain strategy and product design" to make an depth analysis on how clothing brands to achieve rapid response in the fierce competition, how to develop brand supply chain strategy and product design.
Qiao Yanjin, Director of China Textile Information Center, said that China Textile Information Center for many years has long been committed to improving the industry's supply chain management capabilities. In the past ten years, based on the Global Textile and Apparel Supply Chain Conference, we have created an international collaborative platform for the exchange of supply chain management in the industry and proactively provided thinking-oriented and methodological innovation for supply chain management to related enterprises.