Fong's Launches His Campaign in Barcelona
The Fong's group, with more than 4,700 employees and serving over 7,000 customers worldwide, is known as one of the big players in the textile machinery industry. Having had a reshape of the organization in the past years, the Hong Kong based company now covers profound knowledge and experience of the continuous as well as the discontinuous finishing processes with the well-known brands Fong's, Goller, Then and Xorella in their portfolio.
One stop – green innovation
Covering the leading companies of both the continuous as well as the discontinuous processing Fong's uniquely offers a "one stop"- strategy to their customers: with only one supplier, one agent and one contact customers now can gain a wide knowledge and vast informations of the entire production chain in the field of wet processing.
It goes without saying that the focus of all the group members is set on "green innovations": Products, which are not only saving our resources like water and energy, they also provide a huge potential to save money with short setup times and improved washing techniques. In hall 4, booth C121, Fong's, Then, Goller and Xorella in Hall 1, booth A104 will show their latest innovations in this field.
This year is the 60th anniversary of ITMA and the R&E (Research & Education) Pavilion has been first set up to provide research institutes and universities. The Hong Kong University of Science and Technology (HKUST) and Fong's will jointly display in Hall 5, booth D164 with their cooperation of the water reuse treatment for the dyeing industry.
It once again demonstrated Fong's "green innovation" and sincerely provide "one stop" complete solution in the range of "Pre-treatment, dyeing and after-treatment."
ITMA Barcelona 2011 Product Preview
l THEN – LOTUS (Hall 4, Booth C121)
The first choice for sensitive fabrics: LOTUS
LOTUS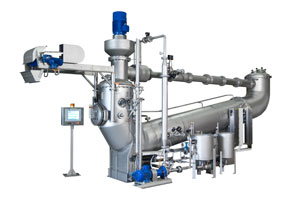 stands for "long-tube sensitive", indicating the major benefits of this new type. As the worlds' first and only long tube machine with AIRFLOW technology, the LOTUS operates with liquor ratios down to 1:2, saving water, energy and chemicals.
The other advantage of this new type is the versatility of fabrics to be processed. Nearly 50% Spandex, spacer fabrics, anti-ballistics, parachutes, all kinds of automotive textiles or even functional sportswear are no restriction for this new generation.
l THEN – AIRFLOW®
The classic in piece dyeing: THEN-AIRLFOW®, state of the art
The latest version of the legendary THEN-AIRFLOW®,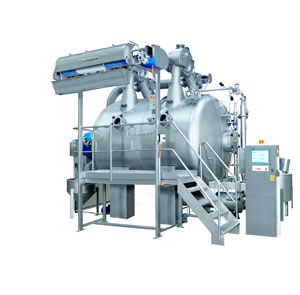 ,the SYNERGY 600 G2, is suitable for all kind of fibres (except pure wool), making it the perfect high temperature choice for every dye house. The machine with the lowest liquor ratio in the market satisfies the highest demands in terms of efficiency and ecology due to the patented AIRFLOW- technology.
In addition, the latest model benefits from extra features, like for example the self-cleaning filter system or the "hot drop" facility, saving additional 25% of process time and giving the customer one batch more per day- not to mention the savings in chemicals, energy and water.
l THEN – TDS
The master brain of the production: TDS Dye House System
Introducing the full monty of dye house management, TDS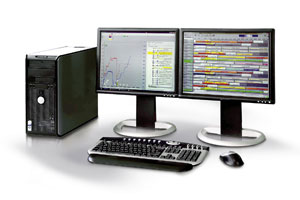 is not only reporting the right data at the right time, it also coordinates all kind of systems- no matter whether Then or any other brand. The dye house system at the ITMA is linked to a Colour Kitchen Manager (CKM) system, operating for example weighing station, barcode scanner and other features, a Chemical Dispensing unit (CHD) for massive savings in money and providing a safe environment to the dyehouse staff as well as an Automatic Dissolving Station (ADS) for clean, safe and efficient dissolving of dyestuff and chemicals.
l GOLLER – SINTENSA PLUS (Hall 4, Booth C121)
Continuous success: Goller Sintensa Plus
The recent benchmark for gentle and low tension processing regardless of the article is named Sintensa Plus
. Whilst Sintensa ever since its introduction stands for low tension, crease free and fibre preserving continuous treatment for all kind of goods, the plus is reflecting the extra mile in this field of application. Consequently, the exhibit is consuming far less water, energy and chemicals than before, contributing actively to savings in terms of resources as well as money.
Load cells react far more sensitive towards differences in tension, allowing to process most delicate fabrics with the lowest linear tension possible. From knitted goods to technical textiles: The Sintensa Plus always is the right choice.
Dosing of chemicals is based on the Multidata system. The combination of flow meter and computerized dosing provides a high degree of automation, leading to savings in chemicals, higher quality and safer work environment.
The Sintensa Plus produces top grade quality and supports ambitious textile solutions.
l FONG'S - ALLWIN (Hall 4, Booth C121)
ALLWIN High Temperature Package Dyeing Machine
The ALLWIN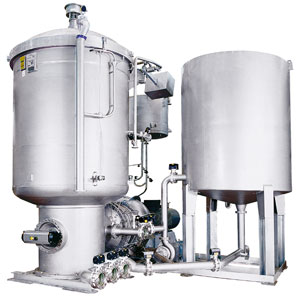 High Temperature Package Dyeing Machine offers an unprecedented liquor ratio as low as 1:4 with its integrated design of REV-pump, heat exchanger and the flow reversing system (patent granted). The newly designed integrated circulating system results in space saving by approx. 30% as compared with conventional machine arrangements.
The versatile machine is suitable for various types of fibres: natural and man-made fibres and their blends: 100% cotton, polyester, polyester/cotton, acrylic, polyamide (nylon), wool, ramie/cotton etc. Different forms of yarns can be dyed such as packages, cheese, cones, hanks, loose fibre, etc. The capacity range goes from 28 kg to 9129 kg.
According to the test conducted by Fong's National Engineering Co., Ltd, ALLWIN dyeing machines shorten the total processing time for cotton yarn down to 276 minutes, saving electrical and water consumption respectively by over 40% and chemical cost by 19% compared with conventional machines. The ILC Intelligent Levelling Control System monitors the flow through the package from outside-in to inside-out and vice versa. The ILC improves the levelling of colour through out the whole package thereby reduces yarn loss and increases reproducibility from batch to batch. The outstanding performances of these features save total production cost by 30%, making it a premium choice for yarn dyeing facilities everywhere.
The main features of this series machine are:
- Compact Piping Layout:The compactness of piping achieved to reduce 25% space saving and extreme low liquor ration of 1:4;
- Fuzzy Logic Temperature Control: This exclusive design can control the temperature inaccuracy within +/- 0.3oC;
- ILC: Intelligent Levelling Control System improves levelling throughout the whole package layer and reduces yarn lost;
- AIR: Advanced Intelligent Rinsing System shortens the rinsing time and reduces water consumption.
Fong's will exhibit their ALLWIN-145 9A High Temperature Package Dyeing Machine.
l FONG'S – TEC SERIES (Hall 4, Booth C121)
TEC Series High Temperature Dyeing Machine
The requirements for the ecological and environmental protection and increasing cost of energy in the global textile market, it becomes the most essential factors that the dyeing and finishing industry must concern for operation. As well as the dye house owner must maintain the highest quality products simultaneously. As such, "Low Cost, High Quality, Environmental Protection" which are the interlink criteria and how all this aspects can be put into the production line?
New generation of TEC series High Temperature Dyeing Machine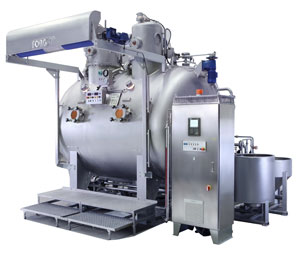 , the state-of-the-art design achieved the above aspects. It is suitable for different dyeing process with various types of natural, synthetic, blended fibers. Aiming to provide complete solutions: "Efficiency, Energy Saving, Environmental Friendly".
- Efficiency (Versatile Application): TEC series is specially designed for fabric which is having tight and crease marks sensitive structure, such as 40S/2, 26S/1, 20S/1, tightly knitted fabric, and sensitive shade (E.g. Turquose)
- Energy Saving: With various new functions, cotton reactive dyeing process takes about approximately 248 minutes for light color
- Environmental Friendly: The water consumption for reactive dyeing cotton fabric is lower to 27.5, 37.8 & 47.6 L/Kg for light, medium & dark shade respectively.
- Capacity: The new TEC Series is offered at loading capacity of 300kg, 250kg 200kg per tube. Customer can choose in range of 1-12 tube.
- FC30 color multi-function controller: By the Fuzzy Logic temperature control function, the dye liquid temperature deviation can be minimized at + / -0.3 ° C.
- Patented design - "Lint Collector": Specially designed for loose structure type such as terry towel and fleece;the collector can accumulate lint at the bottom and discharge it during draining.
Fong's will exhibit their Jumbotec2-2T with FC30 color multi-function controller.
l FC30 Program Controller
New generation of FC30 program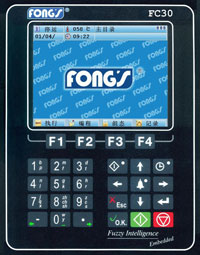 controller has a 6.5-inch 640x480-pixel, TFT color LCD display together with novel control functions, provides the most cost-effective dye cycle control. FC30 can also integrate with FONG'S ViewTex and THEN TDS central computer system, providing comprehensive control management.
1. TFT color LCD display
6.5-inch 640x480-pixel, TFT color LCD display
2. Schematic Diagram
The Schematic diagram clearly shows most of the important operating parameters of each batch in the same screen.
3. Processing Curves
FC30 program controller can store up to 8 different processing curves. User can select displaying maximum of 4 different processing curves on the same screen. User can also define 4 sets of processing curves with their own combinations.
4. Utility Consumption Report
Estimated utility consumption report of water, electricity and steam of each batch is provided as standard. Actual consumption values can be shown if the machine equips with metering devices of water, electricity and steam.
5. Navigation Function
Navigation function provides a number of pre-set dyeing procedures and the corresponding operation parameters. User can simply select just the product code (type of fabric or yarn), and all the operation parameters can be automatically inputted into the dyeing procedure and the batch starts immediately.
User can also create custom database, defining different product codes (type of fabric or yarn) with required operation parameters and dyeing procedures. User can then simply select pre-set product code to operate the machine, minimizing repetitive inputs and human error.
Appendix:
Picture 1: Textile finishing without limits: Gentle treatment with minimum consumption.
Picture 2: Best of class in high temperature piece dyeing: SYNERGY 600
Picture 3: The master brain of the production: TDS Dye House System
Picture 4: SINTENSA PLUS represents the recent benchmark for gentle and low tension processing.
Picture 5: ALLWIN High Temperature Package Dyeing Machine offers an unprecedented liquor ratio as low as 1:4 with its integrated design
Picture 6: New generation of TEC series High Temperature Dyeing Machine, the state-of-the-art design achieved various aspects: "Low Cost, High Quality, Environmental Protection"
Picture 7: New generation of FC30 program controller has a 6.5-inch 640x480-pixel, TFT color LCD