As the seventh largest economy in the world, China's fashion industry accounts for up to 40%. The "climate action power" of China's fashion industry is of immeasurable significance to the achievement of the 2030 U.N. sustainable development goals.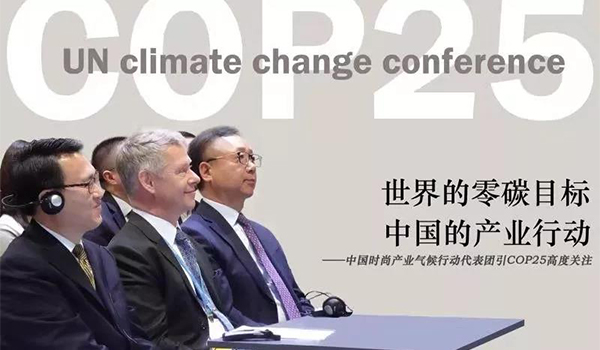 Recently, Sun Ruizhe, the president of China National Textile and Apparel Council (CNTAC), led a total of 16 Chinese fashion industry climate action delegations (representing all stakeholders in the industry chain) to Madrid, Spain, to participate in the United Nations Framework Convention on Climate Change (UNFCCC) Twenty-Fifth Conference of the Parties (COP25). The delegation fully demonstrated the climate leadership of China's textile and apparel industry to the world in terms of climate innovation, climate empowerment, climate youth, sustainable fashion, sustainable consumption and other areas of practical innovation, as well as participation in the governance of global climate.
The responsibility background of global climate change has caused Chinese fashion companies to bear double pressures for a long time: on the one hand, they must respond to the fluctuations in the interests of policies and customer needs; on the other hand, they must adapt to new business rules and seek initiative for their development space. As the industry guidance and service organization, the Social Responsibility Office of CNTAC shall start with the ideology of the Chinese fashion industry, and through a series of professional training, innovation and practice to help enterprises from "passive" turned into "active". In recent years, China's textile and apparel companies have made amazing progress in areas such as energy saving and emission reduction.
Sun Ruizhe, the president of CNTAC, said in a speech at the "Enterprise Climate Action: Enabling and Innovation" conference that the fourth industrial revolution in the future will be the green industrial revolution plus artificial intelligence. Scientific and technological innovations such as energy and recycling materials solve the problem of sustainable development productivity. Tackling climate change is not only a new opportunity for the global fashion industry, but also a direction for shared responsibility across industries.
Global issues such as climate change, resource shortages, and population pressure are moving towards specialization and subdivision. For China's textile and apparel industry, which contributes to sustainable fashion, climate change will no longer be a burden and "cost", but a new business development opportunity. The performance of the Chinese fashion industry climate action delegation at COP25 is also a clear signal from China to the world that new perspectives and new models for global climate leadership will be in China.