On April 11, the 12th Asian Chemical Fiber Conference, the highest-level professional meeting of the Asian chemical fibre industry, was held in Bali, Indonesia. The theme of the conference was "Sustainable development of chemical fibers". It was represented by chemical fibre associations from nine countries and regions in China, India, Indonesia, Japan, Korea, Malaysia, Pakistan, Taiwan China and Thailand attended the meeting.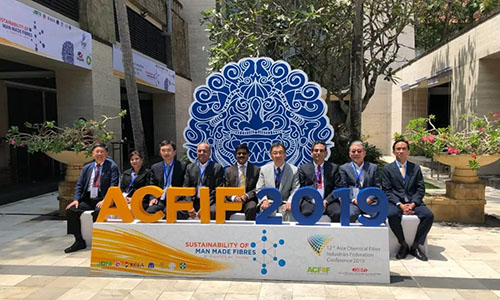 The representatives of the chemical fibre industry introduced the development status, structural adjustment and challenges of the textile and chemical fibre industries in their respective countries, and predicted and discussed the future development of their respective industries.
China: As the largest manufacturer and consumer of chemical fibers in the world, China's chemical fibre industry has been running well in 2018. Its production has maintained a good growth and its economic growth has been stable in a relatively high range. However, the operation of various sub-industries has been differentiated. The overall performance of polyester and nylon industries is good, and the operation of viscose, acrylic and spandex industries is more difficult; there is also a differentiation among enterprises, and resources are further developed concentrate on advantageous enterprises.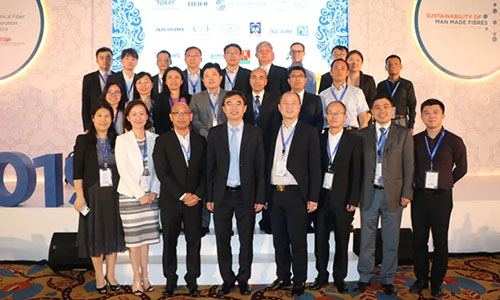 India: From 2017 to 2018, India's GDP growth rate is 7.2%, which is the fastest growing economy in South Asia. In the future, India's economic growth is expected to be more stable and higher than the global average. The relatively young average age of India's population and its unique position of demographic advantage over a long period of time are powerful factors in promoting investment and consumption, which makes the Indian market very potential.
Japan: Chemical fiber products began to be produced in 1950s. Since then, it has gone through the process from the expansion of quantity to the growth of quality. After the global economic crisis in 2008, the scale of chemical fiber production has declined. During this period, structural reforms have been carried out. Every enterprise has chosen its own advantages and focused on the production of high value-added products. Beginning in 2015, the industry warned again that in the fiscal year 2017 (from April to March), the consumption of chemical fibers was 949,000 tons, the proportion of non-apparel applications increased to 82%, showing signs that the industry has come out of the trough.
Korea: In 2018, the output of chemical fibers was 1,363,000 tons, and the annual growth rate decreased by 1%. Compared with the previous year, polyester staple fibers increased by 1%. However, polyester filaments, polyamide fibers and polyacrylonitrile decreased by 1.5%, 5.6% and 10.8% respectively. Sales volume was 1,344,000 tons, and the annual growth rate decreased by 3.1%. Polyester filaments, polyester staple fibers, polyamide fibers and polyacrylonitrile cotton decreased by 3.6%, 1.5%, 5.3% and 9.9% respectively; domestic sales accounted for 47.6%, while export accounted for 52.3%, polyester filament / nylon mainly for domestic sales, polyester staple fiber / polyacrylonitrile mainly for export.
Malaysia: In 2018, the textile and garment industry exported 2.921 billion US dollars, with an average compound annual growth rate of 3.86%. The United States is the largest export market of its products, accounting for more than 18% of the total textile and apparel exports annually, while imports amounted to 3.327 billion US dollars, with an average compound annual growth rate of -3.35%. In 2018, the output of chemical fibers was 250,000 tons of polyester filament and 116,000 tons of polyester staple fiber. The starting rate was 94%. Among them, 133,000 tons of polyester filament and 103,000 tons of polyester staple fiber were exported.
Pakistan: Textile industry accounts for 8.5% of GDP. It is the fourth largest cotton producer in the world and has the third largest spinning capacity in Asia. It is the fourth largest consumer of polyester staple fibers in the world, second only to China, India and the United States. Over the past six years, Pakistan's polyester staple fiber manufacturers have shrunk to three, thanks to the diversification of their business. In 2018, the three producers together produced about 537,000 tons of capacity. Pakistan is the eighth largest textile exporter in Asia, with textile products accounting for 58% of Pakistan's exports. Household textiles, cotton fabrics, knitted clothing and woven clothing are its four major export products. In 2018, Pakistan's textile export value was 13.55 billion US dollars, an increase of 10.43% over the same period of last year. In the next five years, the entire textile industry chain is expected to invest 7 billion US dollars, and exports will multiply.
Taiwan, China: From 2005 to 2018, Taiwan's textile industry output value ranged from NT$372.1 billion to 501.2 billion. In 2018, the output of man-made fibers reached 2.39 million tons, and the output value of man-made fibers manufacturing reached NT$95.8 billion, accounting for 25% of the total textile industry NT$389.4 billion. The fiber textile industry in Taiwan has always taken differentiation development as its strategic thinking and differentiation thinking, strategy, product and market as its growth momentum.
Thailand: It has a complete industrial chain from fiber manufacturing to garment production. Since 1985, Thailand has been one of the largest textile and apparel exporters in the world. The United States is its largest buyer, accounting for one third of all textile exports in Thailand, followed by the European Union, Southeast Asia, East Asia and the Middle East.
Indonesia: The economic situation is relatively healthy. The government will speed up the construction of infrastructure and promote the development of logistics. The next step is to pay attention to the development of human resources and improve the skills of workers in order to keep up with the needs of industrial development. Redma Gita Wirawasta, Secretary-General of the Indonesian Fiber and Filament Weaving Association, said that Indonesia's textile exports are 10.5% of the total export volume of manufacturing industry and the driving factor of export, but still face challenges in terms of trade balance. It is necessary to improve domestic consumption and increase exports, which can specifically encourage upstream and downstream textile enterprises to increase investment and achieve some short-term goals. To encourage foreign enterprises to invest in Indonesia's textile industry, so as to reduce the trade deficit.