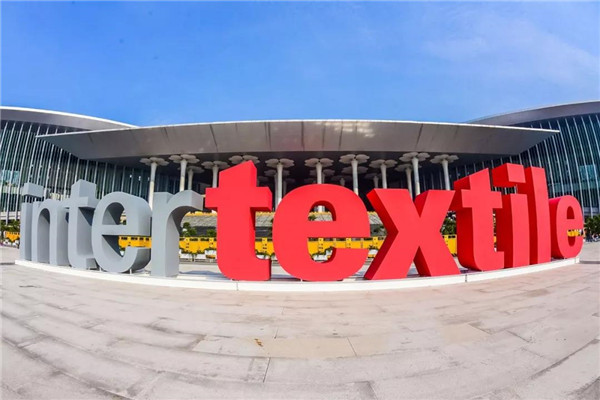 On the occasion of the 70th anniversary of the founding of the People's Republic of China, from September 25th to 27th, the joint exhibition (Autumn Edition) of China National Textile and Apparel Council gathered CHIC 2019 (September Edition), Intertextile Shanghai Apparel Fabrics (Autumn Edition), Yarn Expo Autumn 2019 and PH Value (A/W), four professional exhibitions, with nearly 340,000 square meters of exhibition area, nearly 6,000 exhibitors, opening at the National Exhibition and Convention Center (Shanghai). The three-day exhibition area welcomed a total of 54,202 professional visitors, once again demonstrating the ability to absorb and integrate professional and quality resources in this industry event.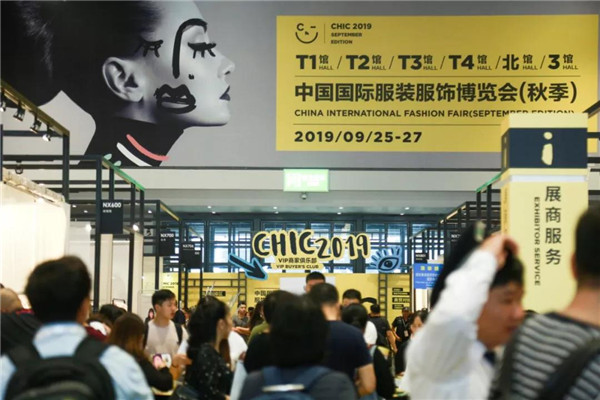 CHIC2019 (Autumn)
Grand opening, reconstructing Chinese clothing innovation and upgrading
From September 25th to 27th, China International Fashion Fair 2019 (September Edition) (hereinafter referred to as CHIC 2019 September Edition) arrived as scheduled. Today, China's textile and apparel industry is facing unprecedented changes in a century. Although it has maintained a stable development trend in general, China's apparel industry will have more glorious missions, more arduous tasks and more severe challenges as it enters a new round of strategic restructuring and accumulation development. At this moment, CHIC shoulders the mission and walks forward. This year, CHIC welcomed 675 exhibitors and 718 brands in 11 countries and regions including Italy, South Korea, Belgium, India, Poland, Canada, Japan, Russia, Ecuador, China mainland and Hong Kong, China. The exhibition area covers 62,000 square meters. It will cooperate with Urban View, New Look, Heritage, Impulses Showroom, Fashion Journey, ODM Superior Factory, Secret Stars, Bags & Shoes, and Future Link professional exhibition areas and four exhibitions - CHIC Young Blood, CHIC - Kids, CHIC - Tailoring and Korea Preview in China, blooming at National Exhibition and Convention Center (Shanghai) T1 - T4 Hall, 3 Hall and North Hall, together with many high-quality apparel brands and enterprises, reconstructing the innovation and upgrade of Chinese apparel.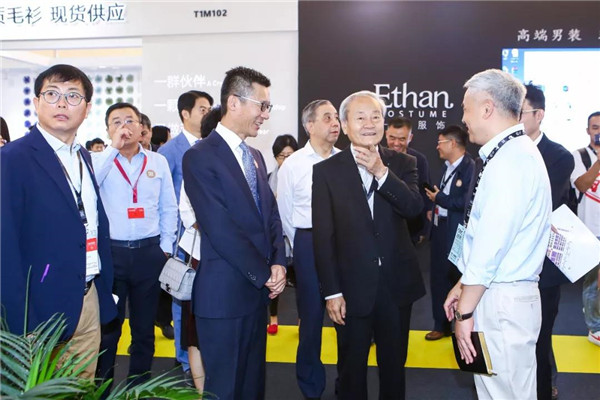 On the first day, Du Yuzhou, former president of China National Textile and Apparel Council, Chen Weikang, deputy party secretary of China National Textile and Apparel Council , Chen Dapeng, vice president of China National Textile and Apparel Council and president of China National Garment Association, Chen Shujin, former vice president of China National Textile and Apparel Council and other leaders visited the exhibitors.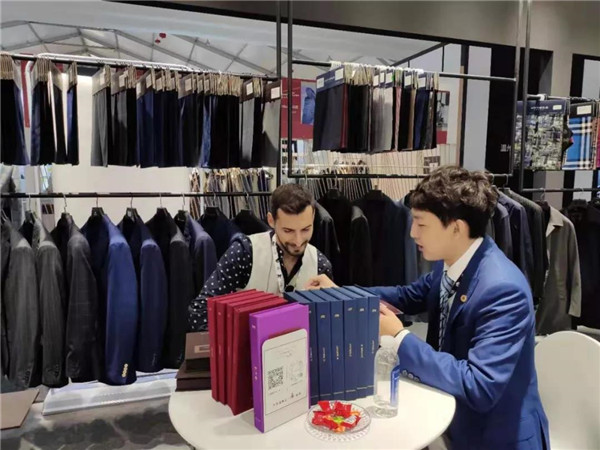 The "urban view" exhibition area, a group of business, leisure, outdoor and other categories of high-quality men's wear enterprises. They are not satisfied with traditional fabrics, using various innovative ways to tap the market potential of new materials. Beauty is the foundation, comfort is the key, and environmental friendliness is the breakthrough. Technological fabrics such as wind-proof, rain-proof, high elasticity, rapid moisture absorption and sweat elimination are widely used to adapt to the modern life of male consumers.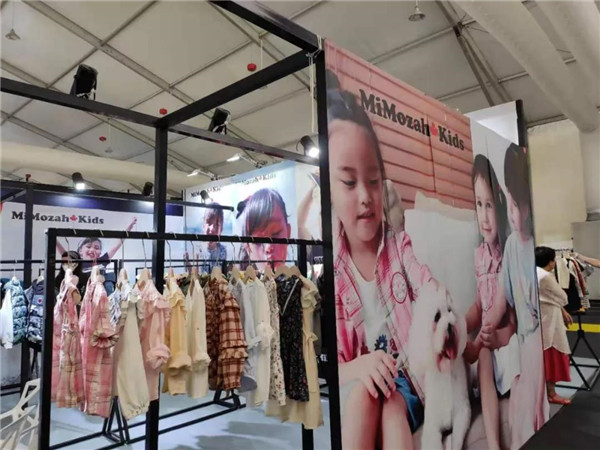 The "Fashion Journey" exhibition area is full of multi-national fashion, among which the Italian pavilion showcases its unparalleled position in the world's footwear industry with its unique craftsmanship; the South Korean pavilion continues to bring cutting-edge design that represents Asian fashion; The Hong Kong pavilion will feature leather fur as the theme, bringing together 10 brands to showcase.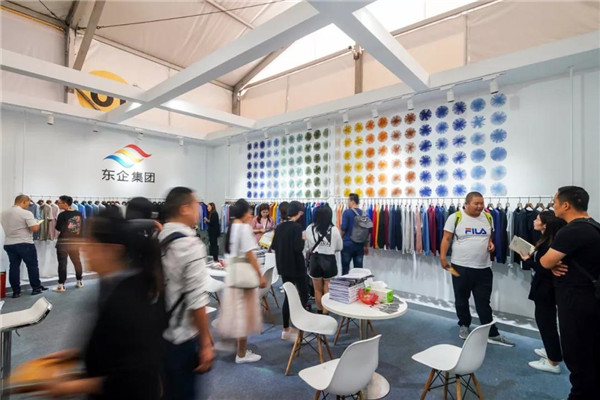 According to the needs of consumers and the current market situation, CHIC - Kids will realize the convergence of more categories, more fashionable kids' wear design, more environmentally friendly quality, and promote the innovation and upgrading of fashion wear, trend design and technology fabrics.
CHIC - Tailoring concentrates on customizing related brand enterprises, processing enterprises, accessories, solutions, supply chain upstream and downstream resources, providing a platform for exhibition, exchange and cooperation for domestic and foreign customization enterprises.
The "New Look" exhibition area presents a world of diverse styles and brilliance. Selecting a representative high-quality women's brand, bringing together mature, elegant, intellectual and other women's styles, rich brand style and product categories to explain the fashion charm of contemporary women's wear.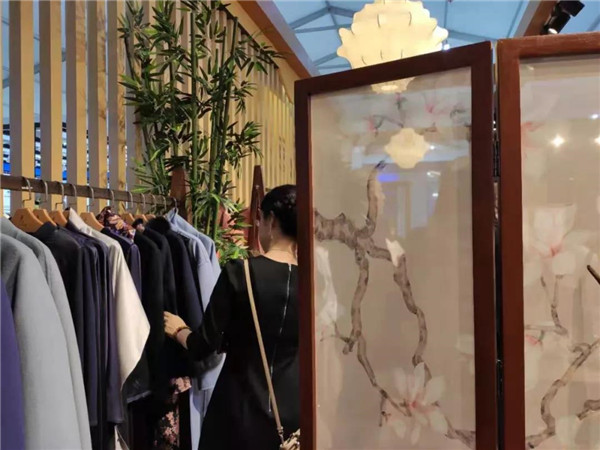 Consumer upgrading, continuous innovation of mobile e-commerce, the rise of fashion demand, and the growth of buyer system... These changes have a profound impact on the changes in the consumer market. The "Impulses Showroom" exhibition area will continue to create a precise and efficient business platform for designer brands at home and abroad, transforming fashion ideas into commercial values.
Bringing together fashionable gadgets such as jewelry, hats, scarves, silk scarves, watches, glasses, makeup, belts, etc., the "Secret Stars" exhibition area in the display of accessories trends, but also will become the best platform for accessories business channel development, brand cooperation, business promotion.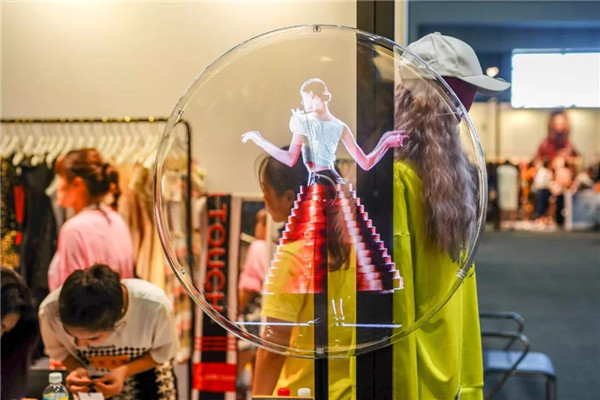 Release youthful vitality, highlight personality life, CHIC Young Blood gathers rich fashion products, the most cutting-edge fashion design, to meet the demand of one-stop shopping of individual fashion buyers, designers and C stores, showing a three-dimensional platform of commerce, trade, and fashion.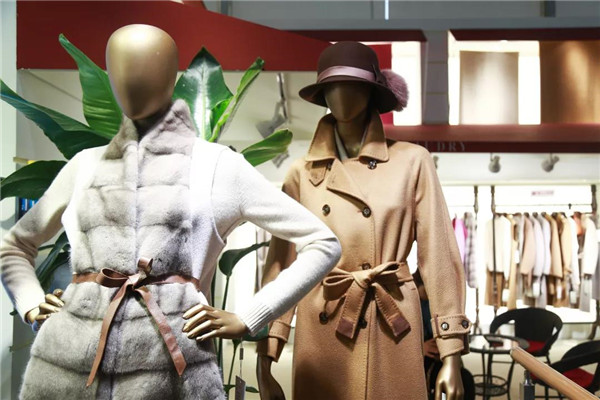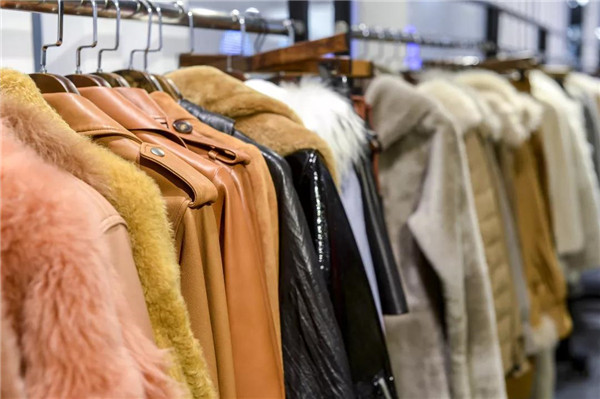 "Heritage" exhibition area once again gathers high-end leather, fur, down enterprises and industry authorities at home and abroad, sharing a brilliant feast of business, brand promotion and processing cooperation. Understand the new trends in the fur and leather industry, experience the rich and colorful new design style, and experience the craftsmanship spirit in the exquisite quality.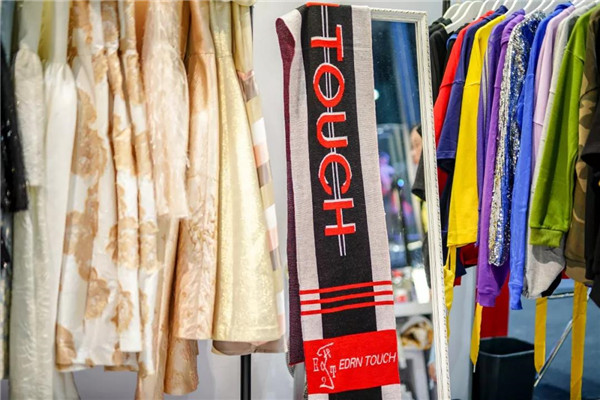 "ODM Superior Factory" is a collection of ODM companies with excellent technology, leading intellectual technology, rich creative design, intelligent and efficient industrial chain resources, providing high-quality producers choice for traditional brand enterprises, and providing high-quality OEM services and high-quality products for emerging brands.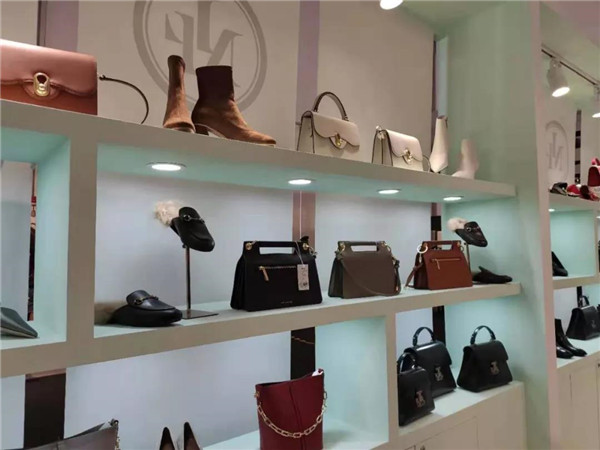 "Bags & Shoes" will show the popular bags & shoes products at present, gather many bags & shoes brands and enterprises, show the trend of bags & shoes, create more fashion possibilities, and help bags & shoes exhibitors to solve the problem of channel expansion and open up more new business opportunities.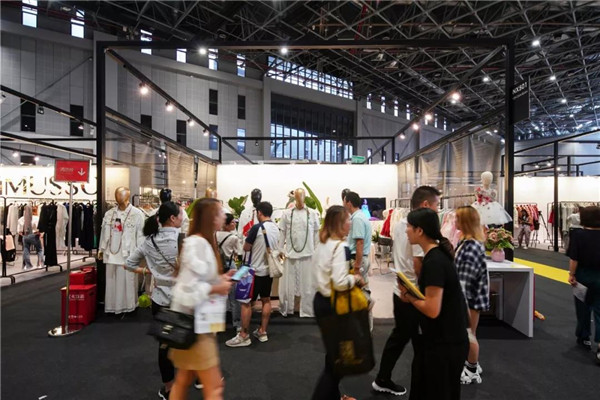 "Future Link" provides the front-end garment related industries, to provide garment enterprises with practical and useful industrial chain solutions. It covers all links from design to production to sales. It helps to optimize the industrial chain and integrate resources in the informative, scientific and intelligent way.
In September, CHIC, the business service has been improved, and it has become one of the business cards of the CHIC multi-brand composite integrated business platform.
With the goal of "improving the effectiveness of the exhibition", the new version of the APP for CHIC 2019 (September Edition) has been launched, and nearly 700 exhibitor information has been included in the APP database. Exhibitors and visitors can meet the business needs in advance.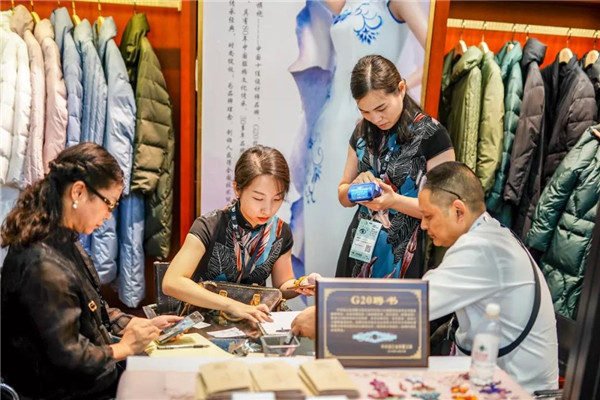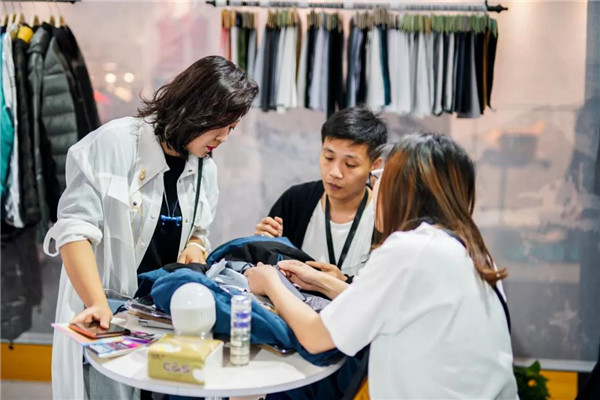 During the Fair, VIP buyer's lounge in North Hall also arranged E-commerce Purchasing Demand Conferences, One-on-one Accurate Trading Matching Meetings for Overseas Buyers, Large-scale Retailer Procurement Demand Matching Meetings, many other types of business matching events, and the CHIC lecture, will enhance the business results of the three-day exhibition.
CHIC will help the target merchants and exhibitors to carry out effective and accurate business matching through refined services, and understand the new needs of the merchants in the consumption upgrade process, and bring a better visit experience with the new exhibition. Establish an exhibition platform for more accurate and efficient professional procurement and exchange for the apparel industry supply chain.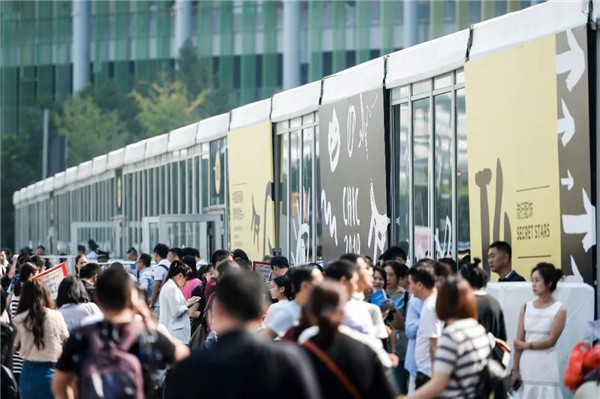 In addition, CHIC 2019 (September Edition) has a variety of exciting events, which will present you with "Zhongshan Dayong Denim Industry Development Plan (2019 - 2023)", "2019 China Textile and Apparel Industry Social Responsibility & Industrial and Financial Cooperation Annual Meeting", "2019 Smart Garment Fashion Innovation Forum" and other large-scale activities. CHIC Business Forum with the theme of "Insight of Business Trends Focusing on Retail Futures", "Renovating Retail with Digital Drive" - Full Channel Digital Innovation Forum, China Apparel Industry Park Congress and Yangtze River Delta Textile and Apparel Development New Motivation Summit Forum, 20/21 A/W Women's Fashion and Buyer Trend Guide and other forums, will bring you a visual and ideological feast.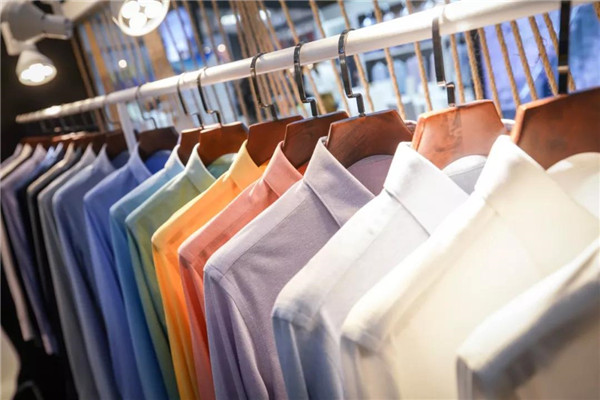 In the period of change, more subdivided brand positioning, innovative business model, diversified design style, flexible and changeable manufacturing methods all show the persistence and belief of China's apparel industry. CHIC will go hand in hand with China's apparel enterprises, face the increasing pressure of the apparel industry, deepen supply-side structural reform, take high-quality development as the direction, deepen the implementation of the new orientation of "science and technology, fashion, green" industry, focusing on innovation drive, social responsibility and cultural self-confidence.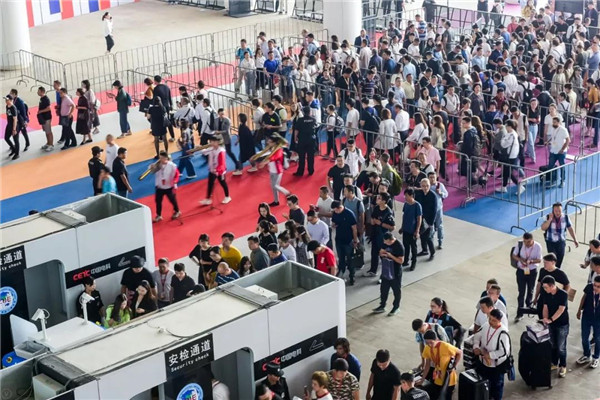 Never forget the first intention and firm confidence
25-year Intertextile Shanghai Apparel Fabrics (Autumn Edition)
On September 25, Intertextile Shanghai Apparel Fabrics (Autumn Edition), the professional textile exhibition in the world co-organized by the Sub-Council of Textile Industry, China Council for the Promotion of International Trade, China Textile Information Center and Messe Frankfurt (Hong Kong) Limited, opened in National Exhibition and Convention Center (Shanghai).
The exhibition lasts for three days, with 9 pavilions and over 236,000 square meters, bringing together more than 4,400 exhibitors from 33 countries and regions, including China, South Korea, Italy, Japan, Britain, Germany, India, Pakistan, Turkey, France, the United States, Switzerland, Taiwan, China, Hong Kong, China and so on, to launch a global textile industry event.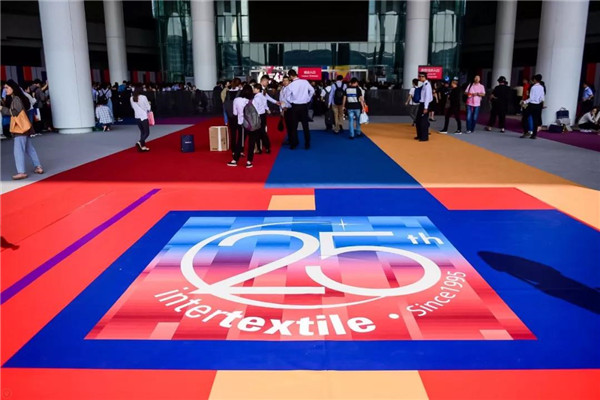 2019 is the 25th anniversary of Intertextile Shanghai Apparel Fabrics (Autumn Edition). After 25 years of perseverance, whether in scale, quality, industry influence and brand awareness, Intertextile Shanghai Apparel Fabrics (Autumn Edition) has become an important channel for world textile and apparel enterprises and brand layout worldwide.
On the first day of the opening ceremony, Sun Ruizhe, president of China National Textile and Apparel Council, Wang Tiankai, former president of China National Textile and Apparel Council, Xu Yingxin, Yang Zhaohua, vice president of China National Textile and Apparel Council, Zhang Yankai, member of the Expert Advisory Committee and other industry leaders attended the opening ceremony and visited the exhibition.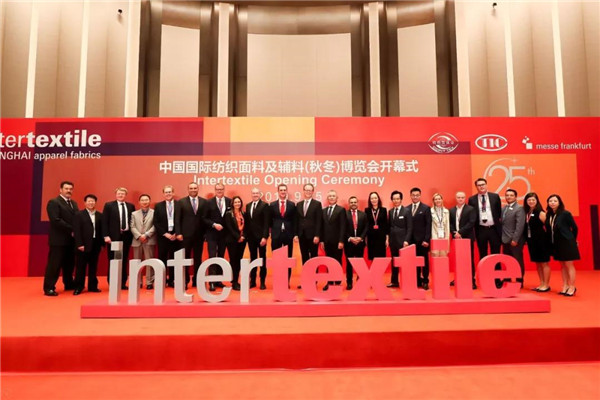 From fashion trend booth to new technology innovation space, from Jinchen Group, Hengnuo Textile, Haitian Textile, Toray and other functional fabric enterprises, High Fashion Silk, Wensli and other silk enterprises, to Sanmao, Natsun, Sunshine and other woolen fabric enterprises, the guests paid attention to key words such as sustainable fashion, dope-dyed, polyester degradability, high-end customization, double-sided precise positioning printing, etc. Sun Ruizhe said, it shows that the development of enterprises should not only conform to the fashion trend, but also to the consumption trend. Starting from the market, they should meet the needs of more consumers, instead of trying to lead the market blindly. Wang Tiankai also said that in recent years, most of the enterprises with good development trend have a thorough understanding of consumption, and grasping the market trend can grasp the development trend.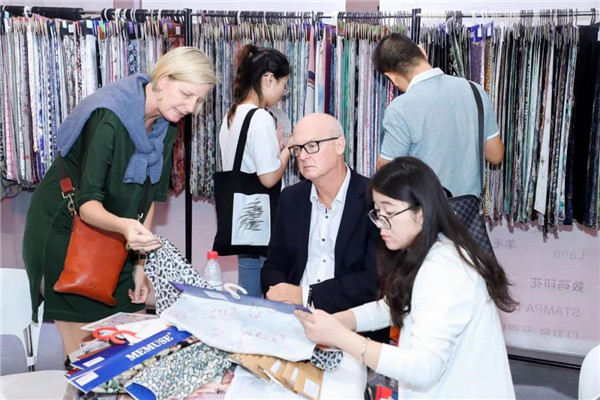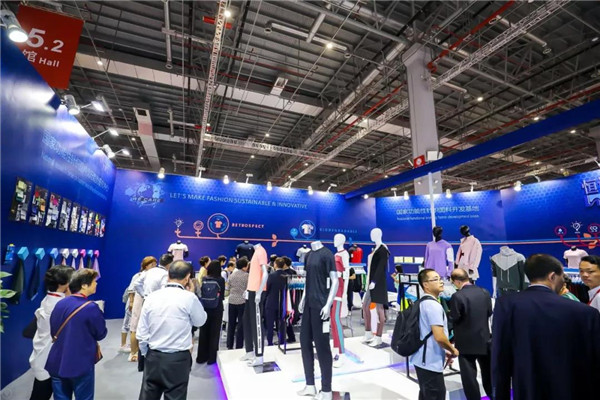 Intertextile Shanghai Apparel Fabrics display product like cotton, wool, silk, linen, ramie, man-made, knitted, coated fabrics, lingerie & swimwear fabrics, functional fabrics, printed fabrics fibers & yarns, embroidery & lace, accessories, and textile-related CAD/CAM/CIM technology and much more. The all-round display of fashion accessories, colorful designs and diverse textures has become a well-deserved market trend vane.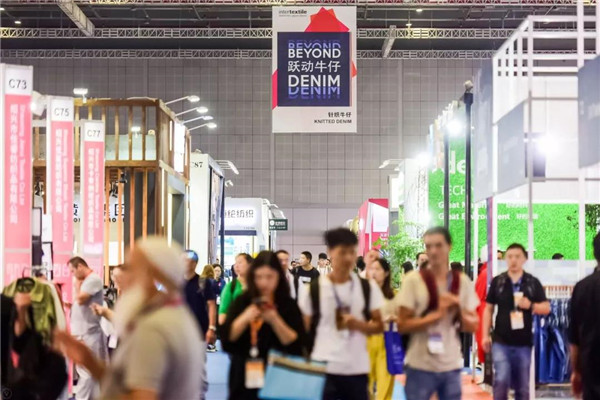 In the beyond denim exhibition area, the accessories are also eye-catching, Hengliang Textile, Jiangsu Landuo, Prosperity Textile, Shandong Daiyin, Black Peony (Group) display color denim, knitted denim, denim embroidery, jacquard craft, Sanding Ribbon, YKK Zipper , Webest Interlining, Weixing Industrial Development, Jiangsu Golden Autumn display luminous zipper, rope, buttons, alternative labels and smashed beaded patches. All of them show their elegance on the exhibition site.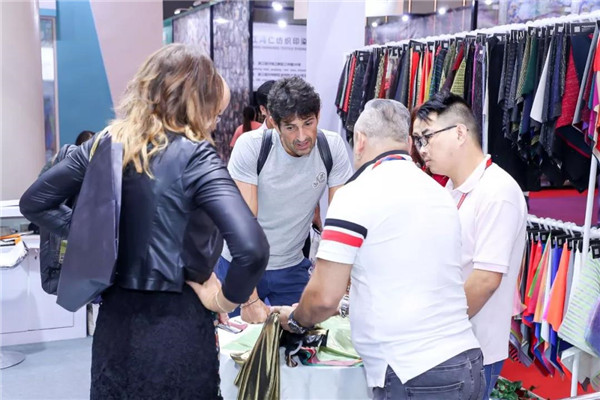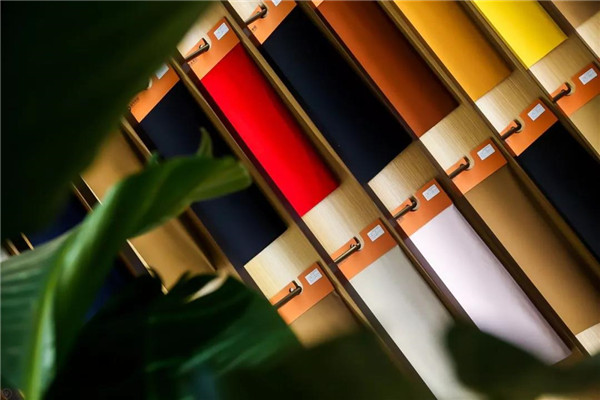 The exhibition attracted high-quality enterprises from Zhejiang Huzhou, Haining, Shaoxing, Xiaoshan, Jiangsu Shengze, Pingwang, Fujian Changle, Shishi, Guangdong Xiqiao, Jun'an and other exhibitions. China Bast and Leaf Fibers Textile Association also organized a group exhibition. With the new attitude of continuous integration and innovation and win-win cooperation, they embody the development mode of science and technology, innovation and fashion in textile industry.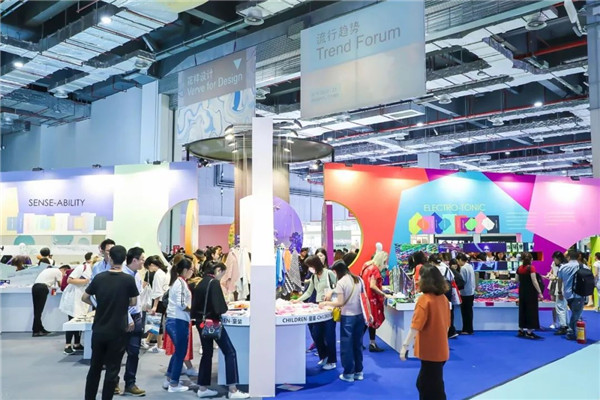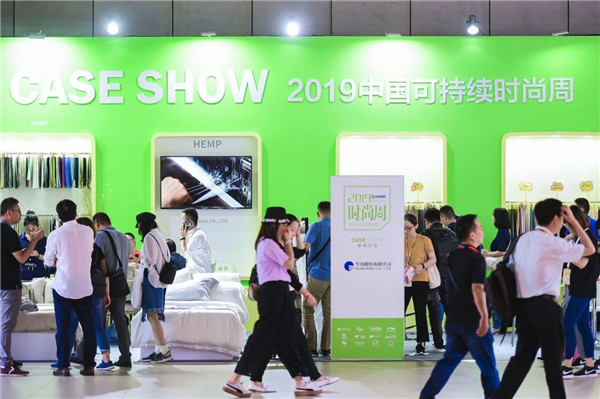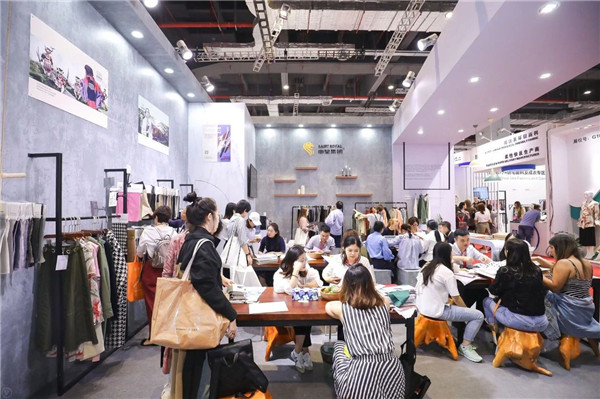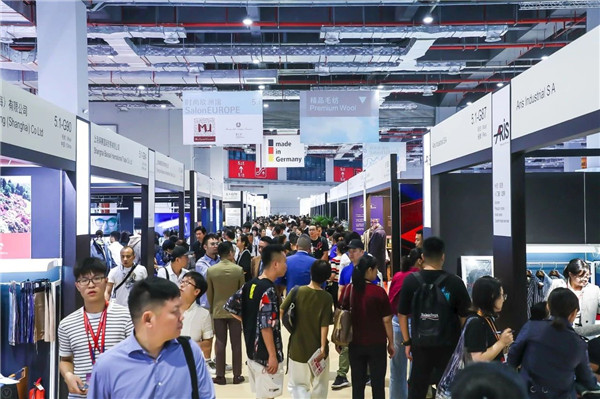 The international pavilion welcomed overseas exhibitors from 33 countries and regions. Many overseas exhibitors from Germany, Turkey, Italy and other Asian countries and regions also appeared in the form of delegations. The materials and fiber suppliers such as DuPont, Hyosung Group, Lenzing Group and INVISTA, the CCI and their users, respectively, form a joint exhibition group, and the large-scale overseas exhibitors 3M, Kufner, Dormeuil, Marzotto Group, Loro Piana, Successori Reda, Toray, etc. were also present.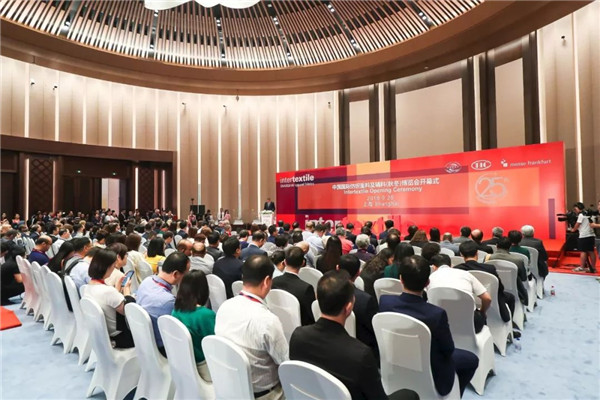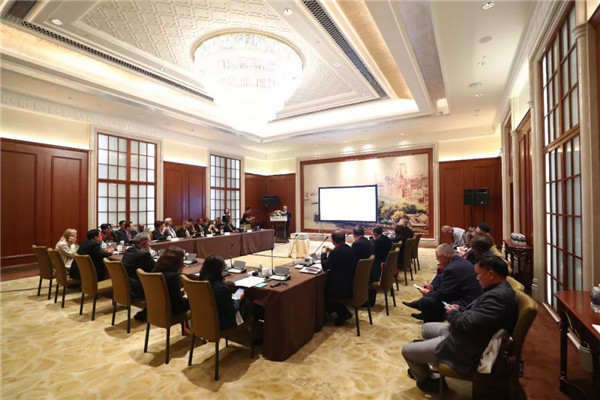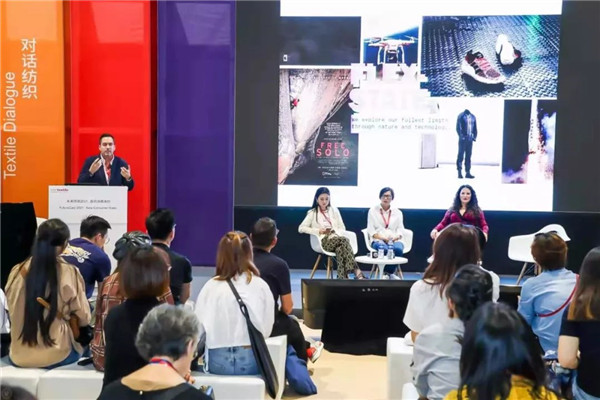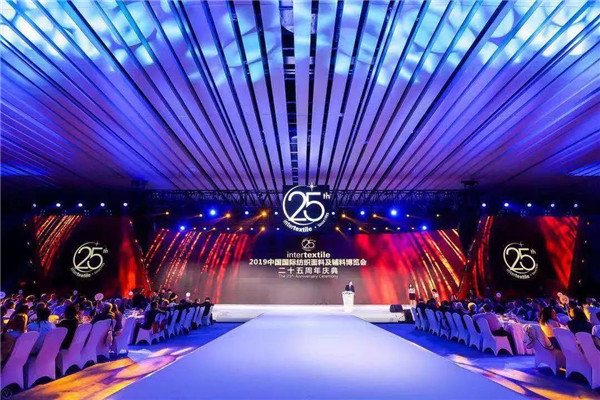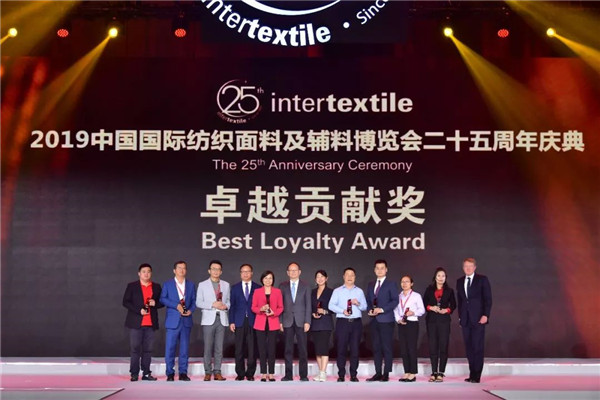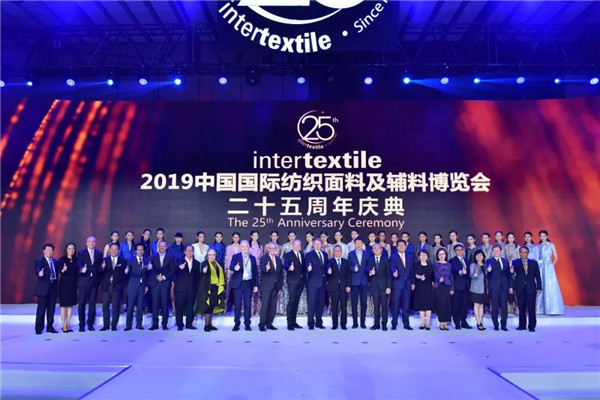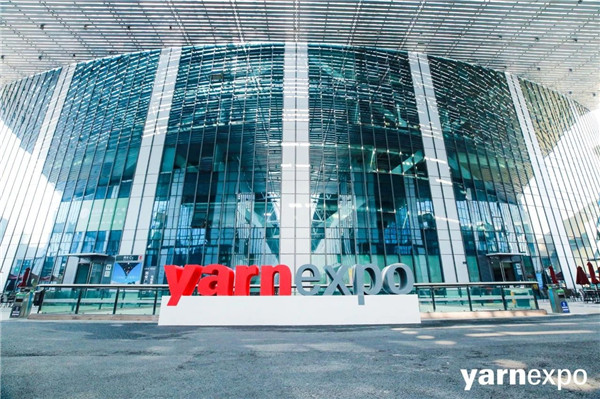 Yarn Expo Autumn 2019
Functional and green products highlights endless
On the opening day of the joint exhibition, Gao Yong, party secretary & secretary general of China National Textile and Apparel Council, Li Lingshen, Duan Xiaoping, vice president of China National Textile and Apparel Council and Jiang Shicheng, academician of the Chinese Academy of Engineering and other leaders visited the exhibition.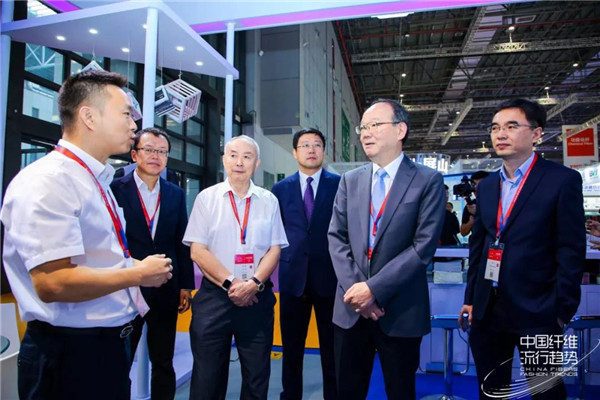 They first came to the booth of Huafon Spandex and asked in detail about the company's spandex production, elasticity and service life. Cai Yiyong, the director of the company's marketing department, introduced that in addition to the conventional spandex fiber, the company also brought functional spandex fibers resistant to high temperature, warmth, antibacterial and degradable.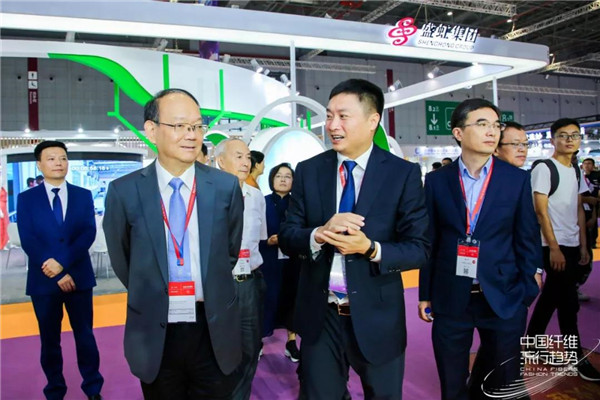 At the Shengquan booth, Gao Yong listened to the introduction of Shengquan's healfiber products. Healfiber is a new type of fiber which is made of biomass graphene and spinning materials and is manufactured by self-patented technology. In addition to the conventional properties of ordinary fibers, the healfiber also has significant far-infrared characteristics. They are known as "epoch-making revolutionary fibers" because of their persistent bacteriostasis, moisture absorption and ventilation, and anti-ultraviolet effects.
At the Jilin Chemical Fiber booth, Xu Jiawei, general manager of Jigao Chemical Fiber, introduced regenerated cellulose fibers and wool spinning technology to Gaoyong. Xu Jiawei said that Jilin Chemical Fiber has always been committed to the production of healthy textile raw materials, and strives to develop green and renewable resources, covering rayon, bamboo fiber, acrylic and carbon fibers. Gao Yong and his delegation highly appraised Jilin Chemical Fiber development concept of green, recycling and low carbon.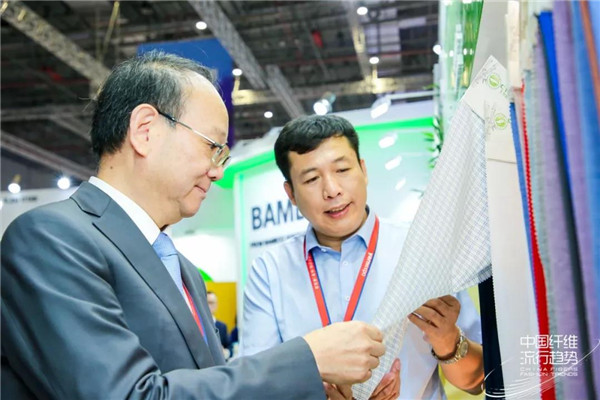 Then, they came to the exhibition area of Hi-tech Group. Wang Lejun, chief engineer of Hi-tech Group, introduced the products on display. The high-strength fiber, flame retardant fiber and full spectrum thermal fiber three functional fibers with its unique function and practicability has become a product of great concern. Gao Yong listened carefully to the introduction and had a detailed understanding of the market application of the product.
At the Xinhuayuan booth, Gao Yong is interested in the Sadaer series of products. Chen Wen, president of Xinhuayuan Group, introduced that the Sadaer series of yarns are made from cellulose fibers made from certified solid wood pulp certified by artificial plantations. 100% bio-based, waste can be naturally degraded, no pollution to the environment, and truly implement the source of environmental protection. Gao Yong also understands the highest count and profit of Sadaer yarn, indicating that he is optimistic about the future market application prospects. In addition to the Sadaer series of products, this year's show also exhibited colorful yarns, which were environmentally friendly through the dope-dyed.

At the Orient International (holding) booth, Gao Yong learned more about the PLA fiber of Shanghai Textile. According to reports, Shanghai Textile and Different jointly developed PLA fiber yarn and designed sweaters. The fiber is derived from nature and can be naturally degraded and environmentally friendly.
At the Litai Xingshi booth, the company's Vice President Liang Yingjun introduced the main product: super soft denim yarn. "How to be super soft?" Gao Yong asked, Liang Yingjun said that the yarn on the one hand is used in good raw materials, to ensure high quality. On the other hand, it is equipped with advanced air spinning equipment. The yarn has the characteristics of high strength and low twist.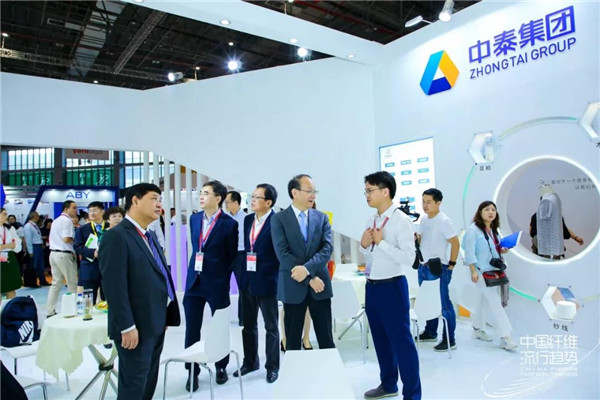 Gao Yong came to the booth of Zhongtai Group. Shen Yaohua, general manager of Zhongtai Group Textile Sales Corporation, introduced the basic situation. He said that at present there are 795 eddy spinning equipments, which are always committed to producing high-quality yarn products.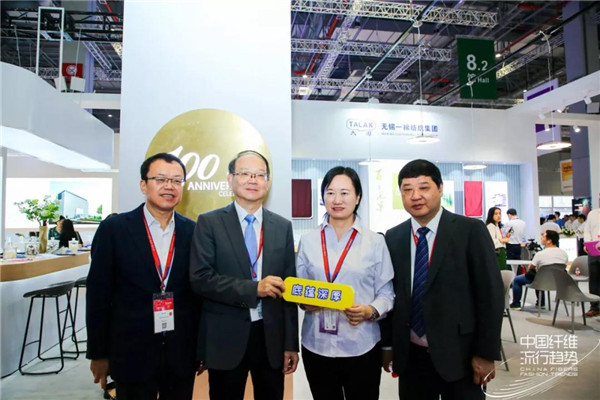 At the booth of Wuxi Yimian, Gao Yong first touched a piece of fabric with a sense of chill and asked about the raw materials. Zhou Yejun, the chairman of the company, said that the fabric products exhibited in this exhibition are mainly divided into five categories: high count and high density fabric, high twist series fabric, green environmental protection fabric, uniform fabric, fashion functional fabric and bedding fabric. As for yarn, Zhou Yejun introduced polyester-cotton ultra-high count compact spinning yarn in particular. "This kind of yarn not only has the characteristics of cotton, but also has the sense of drape, mainly used for women's clothing fabrics."
Then, a group of people came to the booth of Tangshan Sanyou Group. Yu Hanjiang, deputy engineer of Tangshan Sanyou Group and vice president of Tangshan Sanyou Group Xingda Chemical Fiber Co., Ltd., introduced the "Tangsi" products in detail. Tangsi is a new high-end biodegradable regenerated cellulose fiber brand launched by Tangshan Sanyou Group. Its products cover the textile fields of home textiles, clothing, non-woven and so on.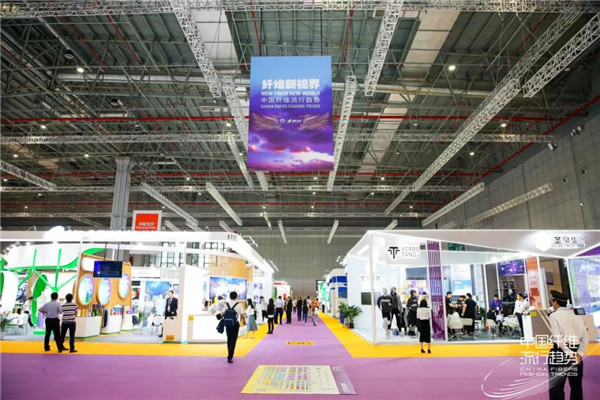 This Yarn Expo, functional products, green environmental protection new products are still the highlights of the exhibition. The three-day exhibition, 542 high-quality fiber yarn exhibitors from 14 countries and regions competed on the same stage in the 26,500 square meters area, highlighting the vigorous vitality of the upper reaches of the textile industry, setting up a "vane" for the high-quality development of the textile industry, vividly compose a glorious chapter of a textile power.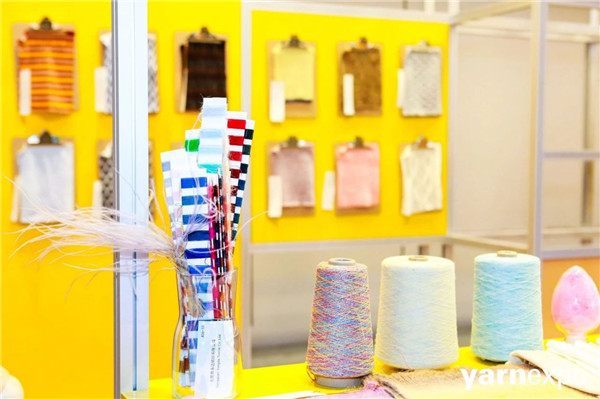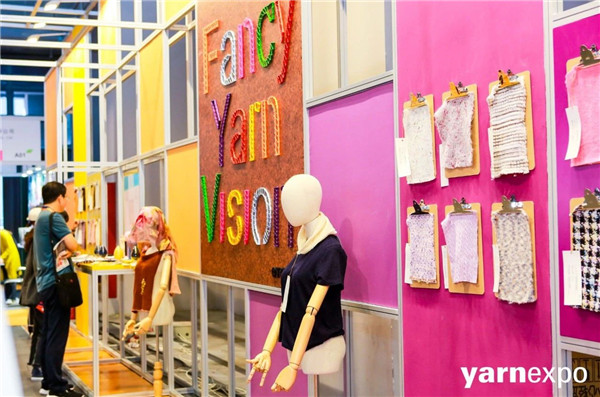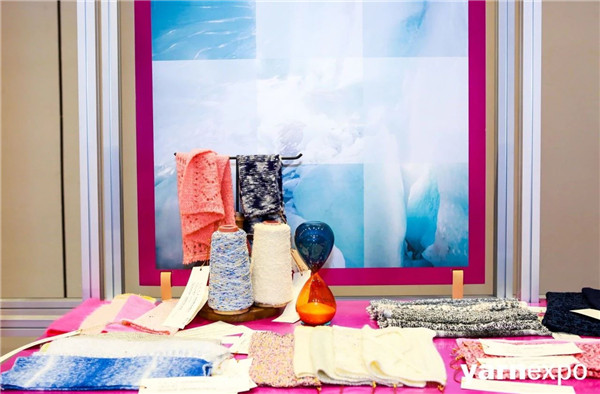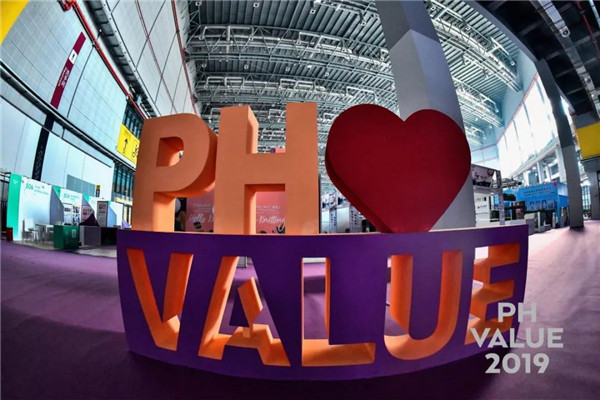 PH Value 2019 (A/W)
Leading fashion knitting
PH Value 2019 (A/W) has firmly grasped the "science and technology, fashion, green" orientation from the source. With an exhibition area of 12,000 square meters and a strong lineup of nearly 300 exhibitors, it has fully demonstrated the current trend of fashion sweater, underwear, loungewear & nightwear, socks, swimwear and other knitted products.


As a highlight of this exhibition, in order to lead the trend of knitting fashion and make knitting better integrate into life, according to the fashion attributes and lifestyle of knitting products, the organizer divides the exhibition area into sweater exhibition area, knitting fancy yarn exhibition area, underwear & loungewear exhibition area, fashion socks area, knitting fashion exhibition area, fashion sports exhibition area, functional knitting exhibition area and so on. They will be presented in an all-round and multi-angle.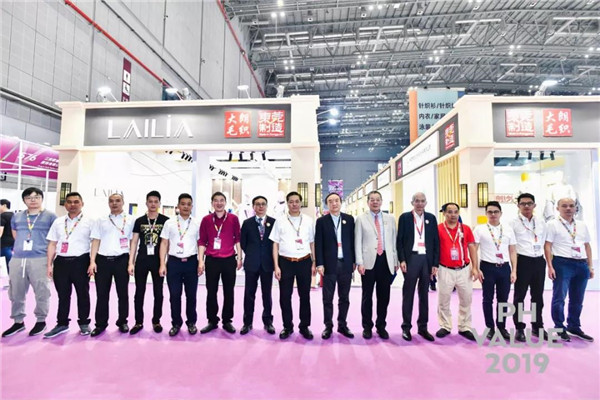 During the exhibition, Xu Kunyuan, former vice president of China National Textile and Apparel Council, Yang Jichao, vice president of China National Textile and Apparel Council, president of China Knitting Industry Association, Xia Lingmin, Sun Huaibin, vice president of China National Textile and Apparel Council, Lin Yunfeng, the Sub-Council of Textile Industry, China Council for the Promotion of International Trade, and Ju Jing, vice president of China Knitting Industry Association, came to Zhang Cha, the popular trend exhibition area of functional knitting products, Dalang, Tmall Home, Puyuan, Huaibin, Henan, Datang Socks, Zaozhuang, Qingshan Lake and other exhibition areas to visit and inquire in detail about the latest technology research and development, brand development, market application and promotion of knitting products.
Silkworm chrysalis protein series, taijishi series, dope-dyed series, graphene conductive series... At Yunping Textile booth, leaders are attracted by a series of knitting "black technology". Xu Kunyuan said that the knitting market has huge potential. Enterprises must strive for technological innovation, so that more consumers can experience the innovation and application of technology in the garment field.
With the continuous extension of the functional knitting product market, in order to better cultivate the quality improvement of functional knitting products in China, the functional knitting product fashion trend exhibition area specially according to the five themes of comfort, health care, protection and easy care, intelligence and multi-function of knitting products. Yang Jichao said that with the upgrading of consumption and the continuous innovation of knitting technology, knitting is popular with consumers for its functionality, environmental friendliness and intelligence. We hope that through such a centralized display, can give consumers a more intuitive understanding, thus leading consumption.
Especially at Jiangyin Fufu and Tongxiang Nalan Warp Knitting Textile booths, cotton staple fiber warp knitted shirt fabrics and suit fabrics once again subverted everyone's perception of traditional knitting. The fabric is breathable and comfortable, comparable to woven fabrics, and has higher production efficiency and broad market prospects.
In the Tmall home exhibition area, Silkings Enterprise uses the world's only wet acrylic core-sheath spinning technology to produce acrylic fiber short fibers with reduced static effect. It is widely used in underwear, with anti-pilling, moisture absorption and warmth, shape retention, etc. It enriches the variety of knitted underwear once again.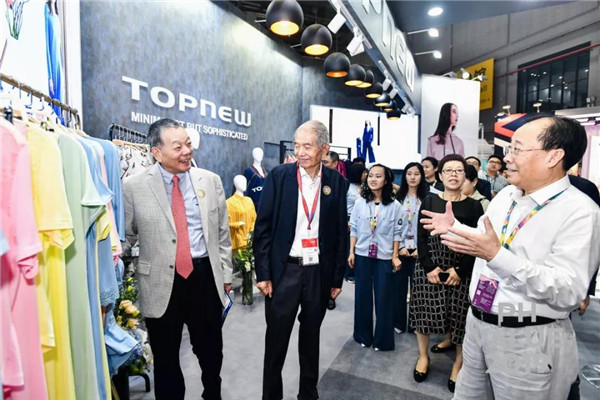 Beijing Topnew has brought the latest TPOEW brand to the market. The brand is mainly divided into outdoor sports, private home and living room furniture and other major series, once again
highlighting the innovation and vitality of the old brand.
Jinlong Technology, as the R&D center of knitting computer flat knitting machine application technology in China, has brought the latest knitting pattern design results. Especially under the cultivation of R&D centers, some knitting designers have earned millions of yuan a year.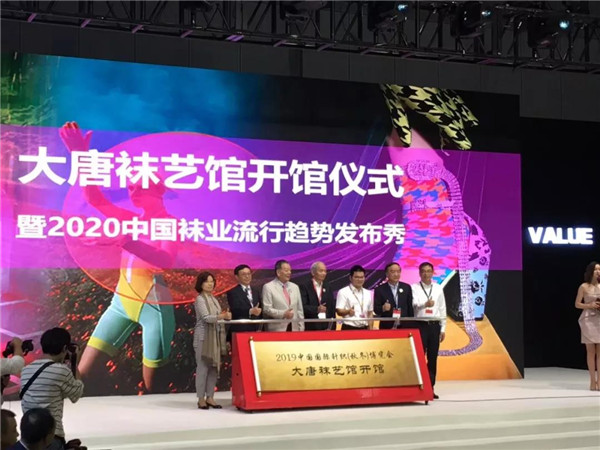 Subsequently, the leaders attended the Opening Ceremony of the Datang Hosiery Art Zone, watched the 2020 China Socks Fashion Trend Show and visited the Datang Hosiery Art Zone. The Datang Socks industry brought 11 innovative enterprises to the exhibition. For example, Kaishili uses nanotechnology for knitting; Wanglai knitting highlights the research and development and innovation of Datang Socks industry with original design.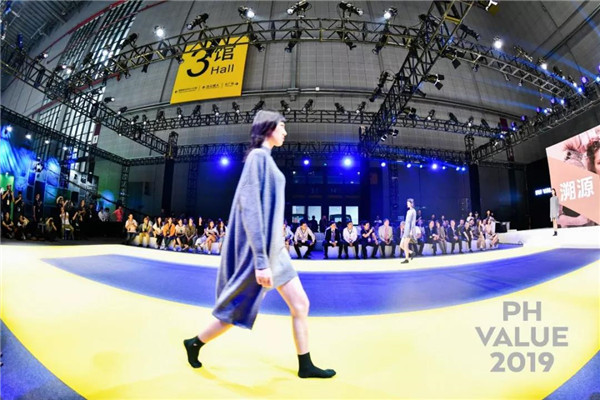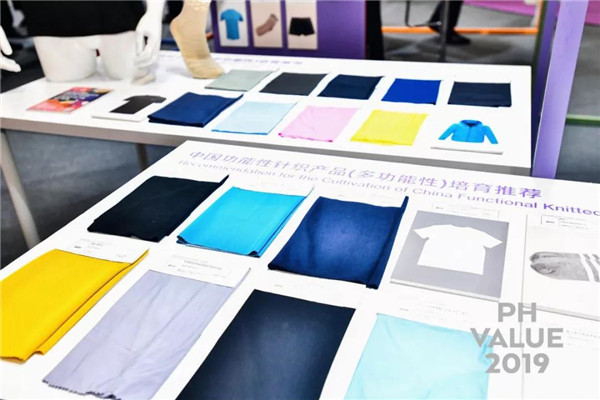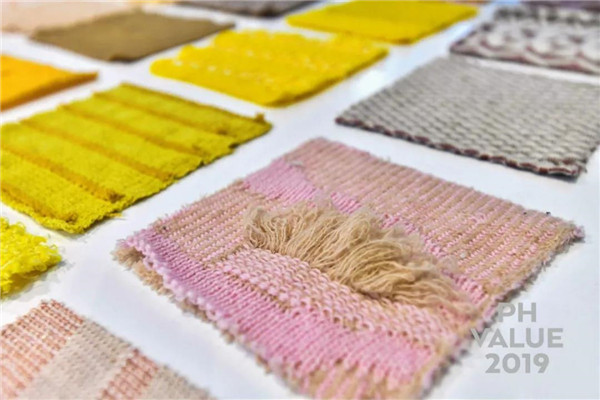 In the three days, "The Recommendation Conference of Henan Huaibin Textile and Garment Industry", "Pearl Life Art and Scientificin Innovation Centre Promotion Conference", "CELWARM Heat-generating Underwear Trend Forum", "the Opening Ceremony of the Datang Hosiery Art Zone & 2020 China Socks Fashion Trend Show", "Fashion Puyuan Publish Conference", "Jiangxi Qingshan Lake Knitted Garment Brand Release Show - Creative Design", Launching Ceremony of "Lining Cup" Chinese Fashion Sportwear Design Contest, functional fashion trend exhibition and other brand release shows, fashion trends display and forums and other exciting activities took turns to fully and vividly present the promising and dynamic Chinese knitting industry to the world.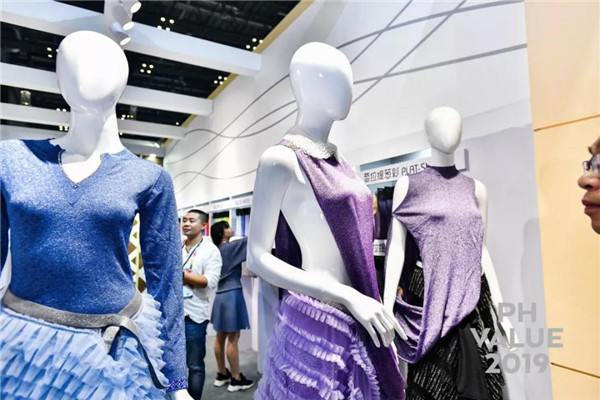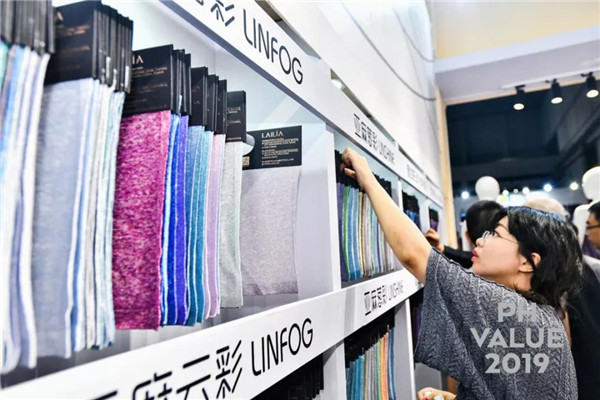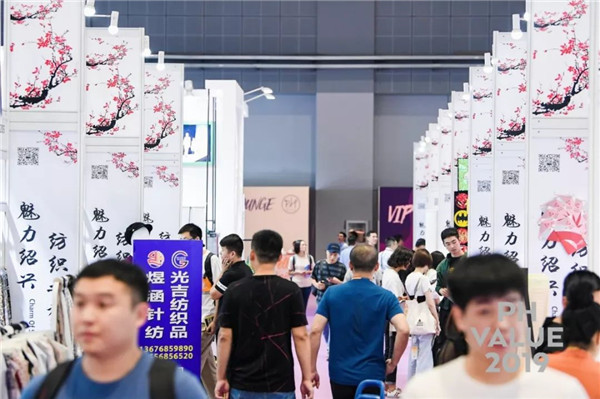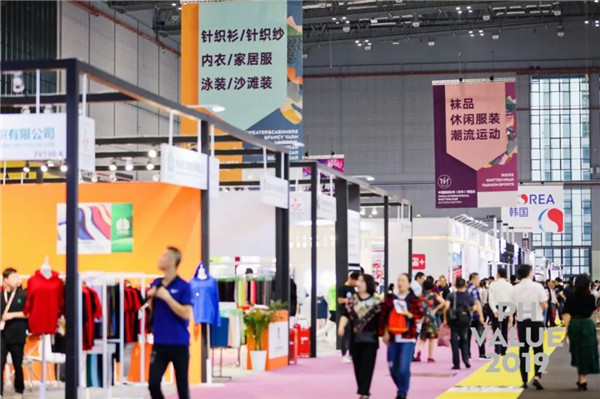 In three days, the four exhibitions are linked, the industry chain resonates, and the industry chain resources are shared. Numerous textile people and knitwear meet here, and numerous business opportunities are triggered here.