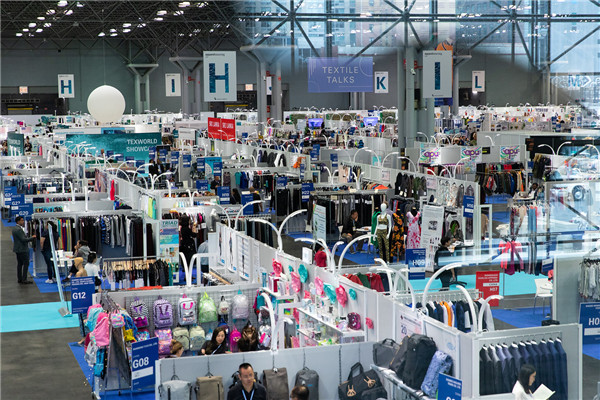 The past one year and a half have witnessed ups and downs of the Sino-U.S. trade. A textile export enterprise just going back from the "20th China Textile & Apparel Trade Show New York" said that their heart seemed to be on a roller coaster over the past half a month.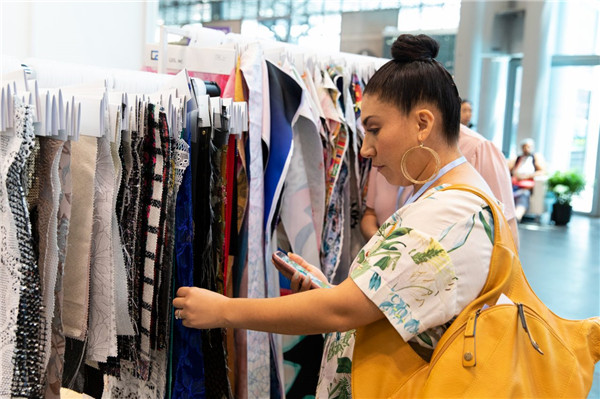 On July 22nd, the 20th China Textile & Apparel Trade Show New York, Texworld USA, Apparel Sourcing USA, and Home Textiles Sourcing Expo (collectively known as "New York Show") with China National Textile and Apparel Council (CNTAC) as the host, and The Sub-Council of Textile Industry, CCPIT (CCPIT TEX) and Messe Frankfurt as co-hosts were held in Javits Convention Center, New York.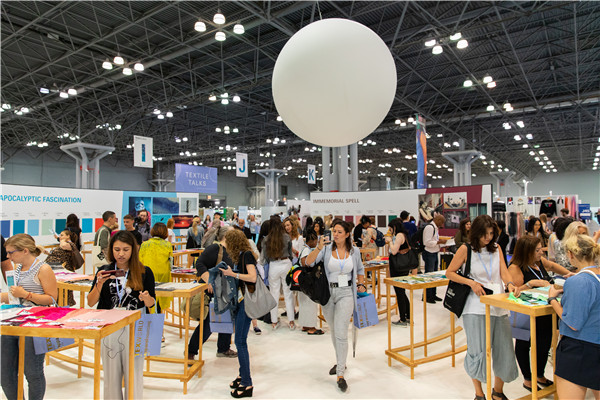 On the "New York Show", exhibitors and buyers from China and the United States both expressed their wish for an earlier end to the Sino-U.S. trade war, and recovery of the Sino-U.S. economic and trade relations to a reciprocal status. After the "New York Show", the news said that, from September 1st on, the U.S. would impose 10% of tariffs on 300 billion USD of commodities imported from China. Following that, the USD-to-RMB exchange rate exceeded 7, which temporarily and partially alleviated the pressure. Though incapable of controlling the bilateral policy and economic trend, Chinese textile exporters gained a better understanding of the current market demands and purchasers in the U.S. through this journey to New York, which could help them better identify and predict trade prospects for the second half of 2019.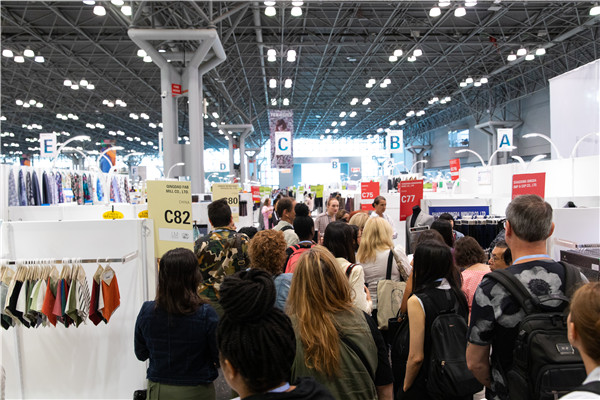 "Made in China" is still irreplaceable
Then, what are the real situations in the U.S. market? Are there a sharp drop in the demand for products "made in China" or do the U.S. enterprises hope their Chinese counterparts can maintain a low-price strategy to benefit bilateral long-term cooperation? Amidst constant changes of events, where are the opportunities for Chinese textile garment exposing enterprise to keep on moving?


It is reported that, since the onset of the Sino-U.S. trade dispute, the market share of Chinese textiles in the U.S. has experienced a substantial drop. This was deeply perceived by many enterprises participating in the "New York Show". In defiance of the drop, the important position of Chinese textiles in the U.S. market is still undeniable. Relevant associations and local purchasing enterprises in the U.S. both have both delivered the message that products "made in China" are still irreplaceable.


We interviewed the head of an enterprise from Shaoxing. He said, "The U.S. clients are downsizing their Chinese suppliers, and reducing their orders from every Chinese supplier." The head of a Jinhua-based home textile enterprise also pointed out, "The number of orders from the U.S. market has been shrinking from May this year. Small clients take a wait-and-see attitude, while large clients are reducing in the number of orders and pressing down the price by a large margin. Some clients require that their products cannot be made in China."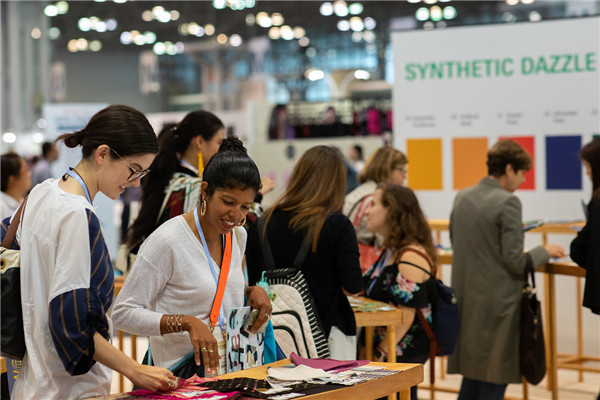 There is more than one exhibitor required by the U.S. clients to transfer their production site. The head of a Jiaxing-based enterprise said, "After June this year, our company's sales volume has been falling, which is lower than that of the same period last year by around 8%. Clients have been required to transfer their production to Cambodia and Vietnam. Meanwhile, our products are of a high end, and the single batch of output is small, which is unsuitable for mass production in Cambodia and Vietnam."

Robert Leo, a legal consultant to the American Home Textile Association, mentioned in the Home Textile Forum that around 85% of down feather products in the U.S. were from China, and only 5% were from the U.S. Therefore, if the U.S. stopped importing down feather products from China, the down products, either produced in the U.S. or imported from other countries, would be unable to satisfy the U.S. demand for down feather products.


Wayne Buchen, the former operation senior manager of Lacoste and Under Armor, thought that the Sino-U.S. trade relations would never come to an end. No matter what happens, the textile circles of the two sides show a strong desire to cooperate with each other. This suggested that the Sino-U.S. textile trade would not be stopped because of the ongoing trade war. Interestingly, Wayne Buchen also asked audiences present whether they were doing business with China. Almost all of them raised hands. Then, he asked whether there were any audiences attempting to transfer the Chinese business elsewhere. Only one lady raised hands. This response indirectly reflected the irreplaceable position of products "made in China".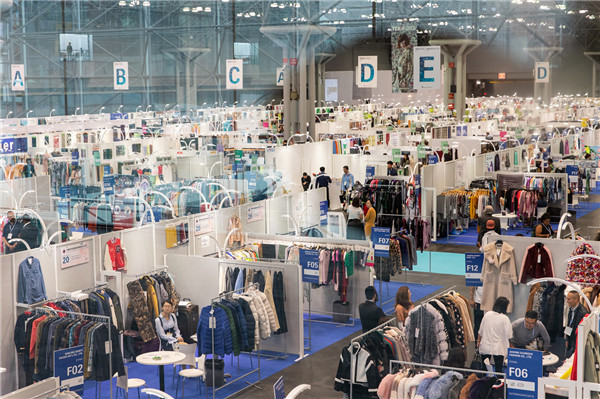 In spite of a shrinking market share, the U.S. market and purchasers are by no means the best suppliers among Chinese enterprises. Mark Engebretson, Executive Vice-President of Vice, said that it was much harder to purchase from other countries than from China, particularly considering the supply chain and production technology. "Products 'made in China' are superior in quality. Though their price is not the lowest, their cost performance ratio is high. That is also why Vice has kept on purchasing products from China." Mark Engebretson compared several countries in Northeast Asia in terms of their cost, infrastructure, supporting facilities, policies, and regulations, business regulations, and credit, finally coming to the conclusion that China was still their top choice. This means that transfer of orders from China to other countries is not something easy to achieve. In addition to the production technology, design, R&D, quality and price, China's complete industrial chain, infrastructures, logistics, traffic, and policy environment have added value to products "made in China".

Julia Hughes, President of U.S. Fashion Industry Association (USFIA), also said that USFIA would be committed to helping member enterprises lower risks, reduce tariffs, and mitigate the influence brought by trade frictions. From 2018 on, USFIA has been actively communicating and negotiating with the Trump administration, showing them the influence of tariff issues on the U.S. fashion industry. Though some U.S. enterprises have been or are ready to seek new supply channels from countries in Vietnam, Bangladesh, Indonesia, and India. Seen from the overall data, it can be found that some countries have limited supply capacity, and the sudden increase in demand will directly lead to an increase in the purchasing cost. At present, China is still a major supplier of the U.S. market. Julia said that the Chinese textile industry and the U.S. textile industry are inseparable. The textile industrial circles of the two sides have been working with each other for years, having forged a tight partnership. This gives the two sides the confidence that they can overtime current difficulties hand in hand.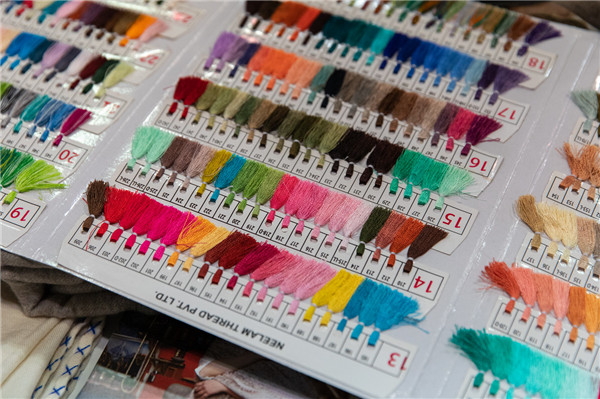 Chinese textile export enterprises strengthen their competitiveness to seek more opportunities
Many local American purchasers said on the "New York Show" that, though trade frictions had increased the expenditure, time cost and communication cost of the two sides, they were glad to see Chinese enterprises' rapid response to the current situation by accelerating their industrial structure and product upgrade, improving their R&D level and productivity, and upgrading their technical services to strengthen their competitiveness in international competition. Therefore, the occurrence of trade frictions has been both weal and woe, and is partially beneficial for Chinese entrepreneurs' upgrade.

Indeed, enterprises participating in the "New York Show" did not pessimistically turn to a wait-and-see attitude; instead, they actively pursued countermeasures and development solutions, emphasized on product innovation, and strengthened their service awareness. The head of a Hubei-based home textile enterprise introduced that, the American market was very sensitive to prices, and every marketplace had developed its own fixed client group, so price changes or increase were hard to achieve. The linchpin for Chinese textile enterprises to maintain their competitiveness was the leading R&D link. "The Southeast Asian countries are incomplete in terms of their industrial chain, and backward in the technological level. This makes it hard for their output of high-end functional products. So we are striving to produce differentiated products so that clients cannot find substitutes of such a high cost performance ratio. Products developed by us with a high technological content, such as graphene fibers, pearl fibers, and silver ion fibers, are very competitive in the international market."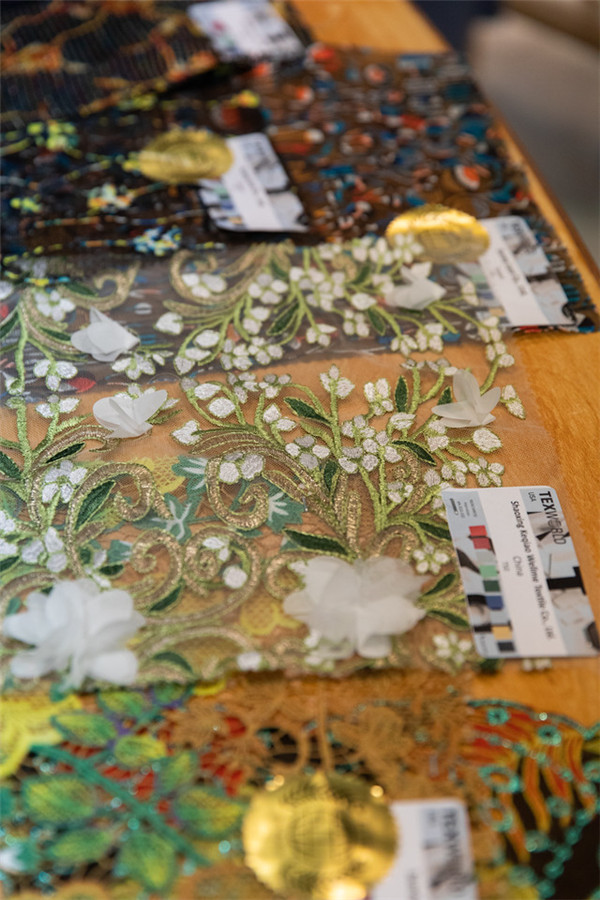 The head of a Jiangsu-based enterprise also got a similar feeling, "The American clients, though capable of purchasing ready-to-wear from Cambodia and Bangladesh, still rely on Chinese enterprises for fabric supply in the short term. We are now accelerating our product upgrade to improve our product irreplaceability, thus succeeding in achieving satisfactory outcomes."

On this "New York Show", GU Chunfang, Commercial Counsellor from the Consulate General of the People's Republic of China in New York, and XU Yingxin, Vice President of China National Textile and Apparel Council, and President of CCPIT TEX, both cheered up the textile enterprises, hoping that they could maintain their confidence despite of temporary difficulties.


GU Chunfang:
Economic globalization has been an irresistible trend of the current world. Industries and even every industrial link of different countries are intersected with each other. The era when the industry of a country sought independent development has been gone. China's textile industry boasts the most complete industrial chain. As major textile producers and consumers, China and the United States have important shared interests and a large room for cooperation. Therefore, the two sides have been indispensable in respective textile trade and economic field.

XU Yingxin:
Enterprises should immediately change their ideas, keep on improving their supporting facilities and service awareness, and realize their orientation to production only to orientation to production and service together. Besides, enterprises should work hard to improve their own competitiveness by improving their product quality and added value, embarking on the intelligent production path, and upgrading their productivity. At the same time, enterprises should remain confident about the current industrial prospects, actively adjust their development tempo, quicken their response to market changes, and proceed from the market demand to consolidate their competitive advantages on the international arena.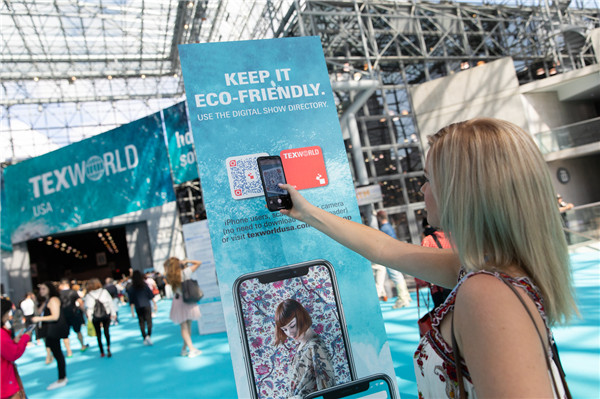 A trustable platform against a bundle of uncertainties
The unpredictability of Sino-U.S. trade and economic relations decides the extraordinary significance of holding this year's "New York Show".


This year marks the 20th anniversary of the "New York Show". Over the past two decades, the New York Show has adhered to the mission of serving the textile industry, gathering upstream and downstream resources of the whole industrial chains, and promoting Sino-U.S. industrial exchange at an attempt to become a reliable and trustable platform of exhibitors and professional audiences.


Many participants have participated in the "New York Show" for one decade or so. The significant role of the "New York Show" in helping China's textile industry go global and distribute global resources has been widely recognized, particularly in supporting China's textile industry to realize industrial transformation and upgrade. Even exhibitors, who have just started participating in the "New York Show" for the recent two years, have also expressed their gratitude for this great event, which have created an occasion for them to meet new clients, some of whom are medium- and high-end clients from the Fifth Avenue. All in all, the "New York Show" has played an active part in promoting mutual selections and understanding between enterprises and purchasers.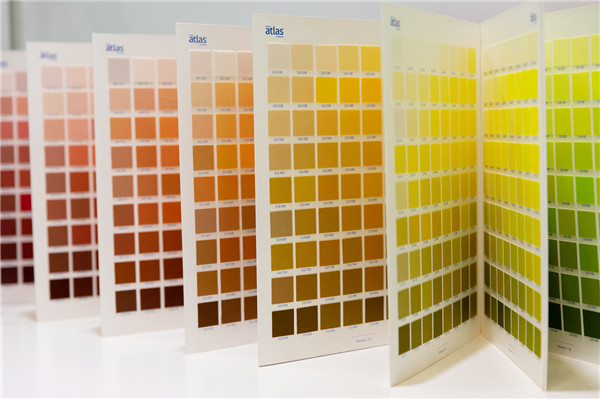 Currently, the Sino-U.S. trade relations have been volatile, and many exhibitors think that such an exchange platform is what they need most under the current situations. In this year's "New York Show", the host thoroughly arranged more than 20 professional forums, and a series of trend releases, lectures on issues of common concern, and product launches. All these activities effectively boosted the coordination and innovation of the industrial chain. Besides, most audiences were from the U.S. This event ensured a high quality of its buyers by extending its influence to North America and Central South America. "Only when effectively interacting with audiences and purchases can we gain a better understanding of the American market, learning real demands of clients to allow us to get prepared for the future layout in time. The professionalism and devotion of the New York Show demonstrated over the past 20 years are really assuring," said an exhibitor from Shandong.


Thanks to the tacit agreement and trust, the "New York Show" is redoubling its efforts to gather as many platform resources as possible, coordinate forces of different sides, and create more opportunities for exhibitors to exchange ideas with each other and to seek solutions to the current uncertainties.