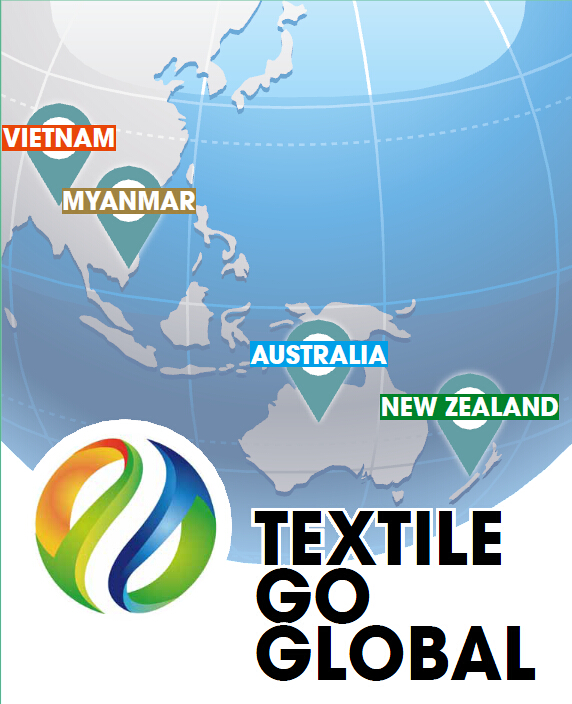 The Belt and Road Initiative became a main objective and task during the 13th Five-Year Program period in March 2016, being a theory and practice banner for China to firmly promote globalization and free trade, for which, the "Go Global" strategy is a strong support. China National Textile and Apparel Council has been making great efforts in going global and has enjoyed a steady progress in the global distribution of capacity of China's textile industry, through encouraging and organizing the enterprises to carry out cross-border productivity distribution and global distribution of high-quality resources. The layout of the cotton industry in Vietnam and the textile industrial chain in Ethiopia in Africa are the highlights of the textile industry "Go Global" in 2016. China Textile Go Global Union, after its inception, will play its role as a service coordination platform in expanding the global interests of the industry, providing better services to Chinese textile enterprises in going global.
Investment investigation - Vietnam and Myanmar
On January 23, 2017, President Trump directed the United States Trade Representative (USTR) to withdraw the United States as a signatory to the Trans-Pacific Partnership (TPP) agreement; the acting USTR gave notification to that effect on January 30.
The TPP is a proposed free trade agreement (FTA), signed by the United States and 11 Asia-Pacific countries on February 4, 2016. The agreement requires ratification by the member countries before it can become effective. Implementing legislation, the vehicle for U.S. ratification, was not submitted by the President or considered by Congress, in part due to the contentious debate over the agreement.
According to Brock R. Williams, Analyst in International Trade and Finance and Ian F. Fergusson, Specialist in International Trade and Finance, "The White House has stated that it may instead explore bilateral deals with the various TPP countries. Japan represents the largest market among the TPP countries without an existing U.S. FTA. At their recent summit, Prime Minister Abe and President Trump announced a new bilateral commercial dialogue, which some argue could be the first step toward FTA negotiations. The U.S.-Japan negotiations were a critical aspect of the TPP, which included provisions on autos, insurance, and other issues applicable only to the two countries. Economically, Malaysia and Vietnam, also represent significant candidates for bilateral negotiations given their quickly growing economies and existing trade barriers (e.g., relatively higher average tariffs)."
Under such a background, organized by China Textile Go Global Union, an investigation team from China led by Gao Yong, Secretary of Party Committee and Secretary General of China National Textile and Apparel Council, are going to Vietnam and Myanmar from April 23rd to 30th, 2017 to make a survey of the businesses that Chinese enterprises have established there, especially the current situation as well as the future development after the American withdrawal from the TPP Agreement.
The survey details will be presented to the readers in the following issue of the magazine.
Investigation on textile raw materials - Cotton in Australia and New Zealand
From April 17th to 24th, 2017, China Textile Go Global Union will organize some well-known domestic cotton spinning enterprises to Australia and New Zealand to make an investigation and survey of the production and trade of cotton. The team, led by Ye Jianchun, Vice President of China Cotton Textile Association, includes such enterprises as Anhui Huamao Group Co., Ltd., Jiangsu Yueda Group Co., Ltd., Henan Pingmian Textile Group Co., Ltd., and Handan Textile Co., Ltd.
Cotton production in Australia is highly mechanized, capitalintensive, technologically sophisticated and requires a high degree of management skill.
The cotton industry is very important to Australia's rural communities. A snapshot of Australia's cotton industry shows:
• Cotton is grown in over 150 regional communities across NSW and Queensland (but expanding into Victoria)
• Cotton represents between 30% and 60% of the gross value of the agricultural production in regions where it is grown
• Around 1200 farms grow cotton: 60% in NSW, 40% in Queensland
• In a normal year, the industry provides work for over 10,000 employees
Cotton is one of Australia's agricultural success stories. The modern cotton industry emerged in this country in the 1960s, and has evolved into the world's leading cotton industry – by yield, quality and water efficiency.
Australia's cotton industry is underpinned by an enormous research effort that is funded by cotton growers in partnership with the Australian government. The cotton research program covers the nitty gritty business of farming, soil health and water management as well as human capacity and the value chain.
The Australian cotton industry continually improves its practices, finding new ways of doing things better, smarter and more efficiently.
Cotton growers themselves are scientists too, constantly investigating new and practical ways to save more water, reduce chemical use, improve soils and biodiversity, increase yields and improve profitability.
The industry's success has been driven by:
• A culture of innovation partnered with access to research, development & extension
• A commitment to a best management practices program which fosters a spirit of continuous
Improvement Australian cotton growers are the most sophisticated in the world:
• 70% of growers use soil moisture probes, the highest rate amongst all Australian agricultural industries
• 93% use integrated pest management (IPM) strategies and farm practices
• 90% use satellite navigation systems in tractors
• 82% of growers use new round module pickers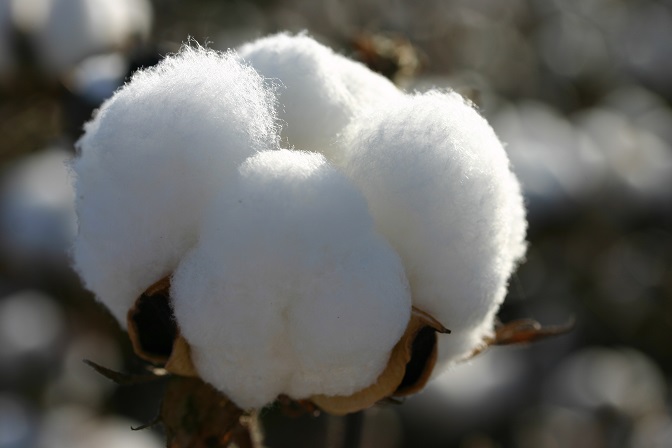 Cotton growers are dedicated to their land–they improve soil health, fence off remnant vegetation, save water, practice no-till farming and Integrated Pest Management. All this is done with a combination of cutting edge science and technology, local experience, common sense and significant personal investments of time and money.
On the average cotton farm, approximately 40% of the land is dedicated to native vegetation. More than 42,000 birds representing 45 species were found on farm water storages in the Gwydir Valley, 153 bird species were found in natural vegetation in the Namoi Valley, and 450 species of invertebrates were recorded in one cotton field during the summer period.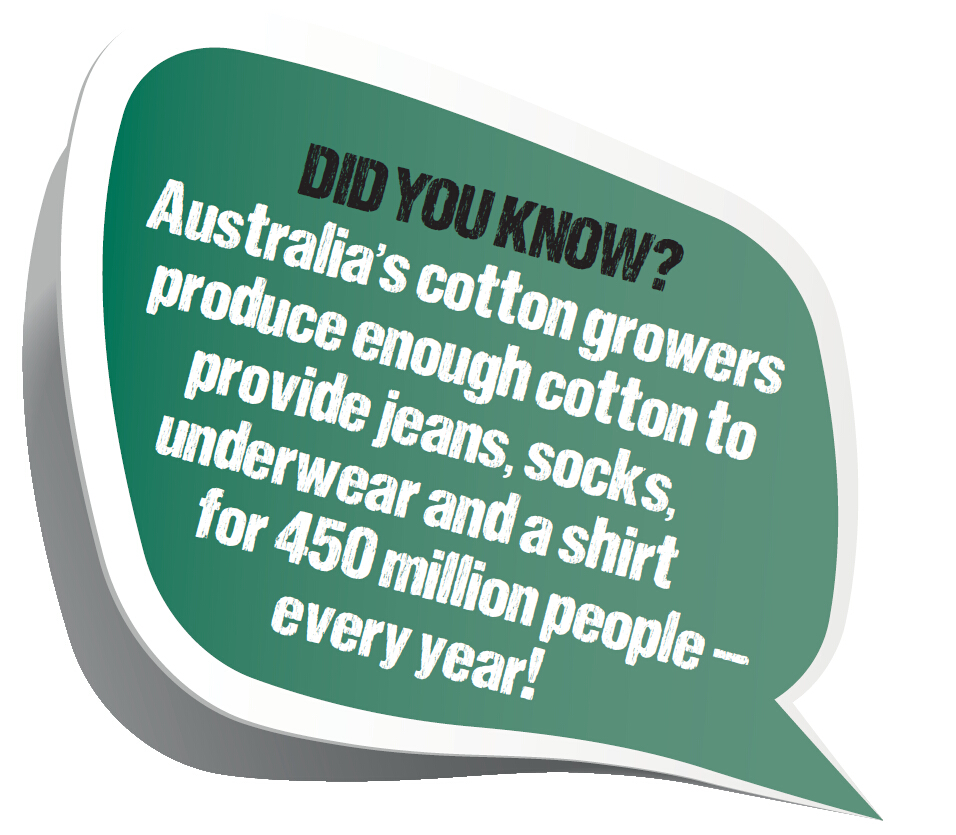 Cotton is the most widely produced natural fiber in the world, and represents about 31% of the world textile market.
Australia is the world's fourth-largest exporter of cotton, behind the USA, India and Brazil. Australian raw cotton is exported to mills overseas to be spun into yarn and fabrics, predominantly for garment and homewares manufacturing. The bulk of mills using Australian cotton are located in South-east Asia.
The Australian cotton industry has achieved a 40% increase in water productivity since 2003. In other words, 40% less water is now needed to grow one tonne of cotton lint, compared to 2003.
Australian cotton growers have almost doubled their irrigation water use index from 1.1 bales/megalitre in 2000-01 to 1.9 bales/megalitre in 2009 - 10.