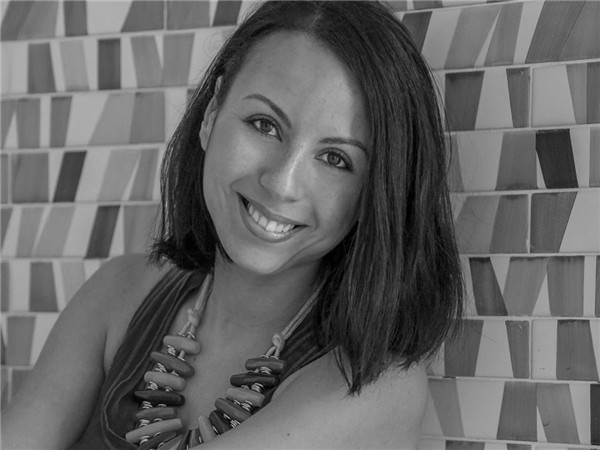 China Textile: Please give a brief introduction to yourself, including your work experience, studio and brand, as well as the award-winning experience.
Natascha Wanvestraut: I am an Italian fashion designer and illustrator. Grown up in Naples, south of Italy. I was surrounded in family environment by creativity, passion for making clothes and fine art. This gave me a great influence and inspiration.
I graduated in political sciences at the university of Naples, Federico II, and then in fashion design at the Accademia della Moda. In this way I developed a creative vision with a multidisciplinary approach and find my path based on "contamination".
My work experience started in a commercial environment, working for Gucci group, then in design and style, working for some Italian designers and brands.
Regarding the creative path, I participated in various exhibitions and competitions. I was selected by the famous Italian designer Rocco Barocco to participate in an important competition held every year in Milan. I won the Critics' Award and the Calcagnile Award in the "Fashion Puglia" competition, the main competition in southern Italy.
My artistic and brand vision blends playfull approach with a sophisticated spirit, combining minimal lines and unexpected details. Handmade craftsmanship, fabrics, color and high concept design are fundamental to my eclectic sensibility. I want to express a sense of naivety and glamour, femininity and individuality, maintaining a spontaneous and relaxed attitude in a modern and unique way.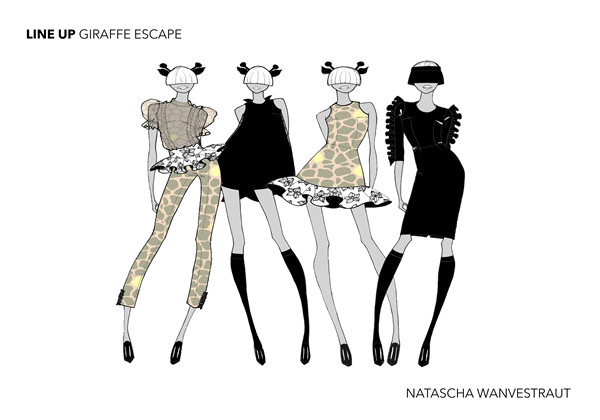 China Textile: What are the design highlights of this entry? What is the design concept?
Natascha Wanvestraut: The design concept of the collection titled "Giraffe Escape" is about a surreal escape, almost a dreamlike one, in a secret garden. An escape from the urban world, from chaos and from all smartphone notifications, to take refuge in a special place, a personal one. A place full of flowers where time stands still and your imagination can freely fly.
The clothing items exhibit character and strong personality; the silouhette is minimal and clean, playing with important details; ruffles and volants of different sizes are part of every outfit and refer to giraffe's mane, with the purpose to give movement and liveliness to a joyful and at the same time sophisticated mood. The highlights, besides ruffles and volants, are the prints I created, the giraffe and the floral pattern that is based on my freehand drawing. The clothes are handcrafted by Italian artisans and another important point is that "Giraffe Escape" is versatile. For this collection I have foreseen the variation of color, meaning the possibility of playing and combining the various fabrics (black duchesse, giraffe pattern duchesse, floral pattern duchesse) according to one's taste preferences, thus personalizing the dress.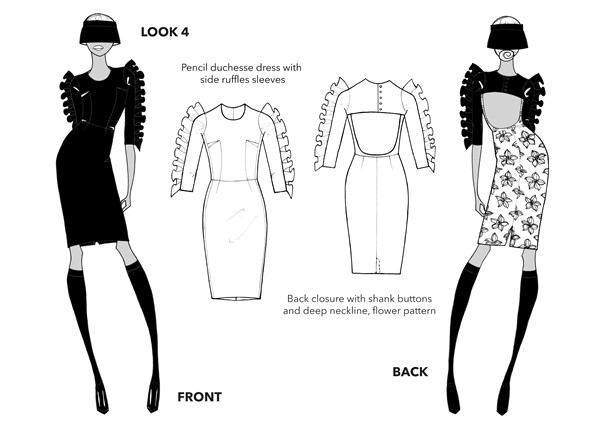 China Textile: Have you ever cooperated with the fabric companies in Keqiao China or China Textile City Market?
Natascha Wanvestraut: No, I never cooperated with fabric companies in Keqiao or China Textile Market, but a cooperation would certainly be a very interesting experience.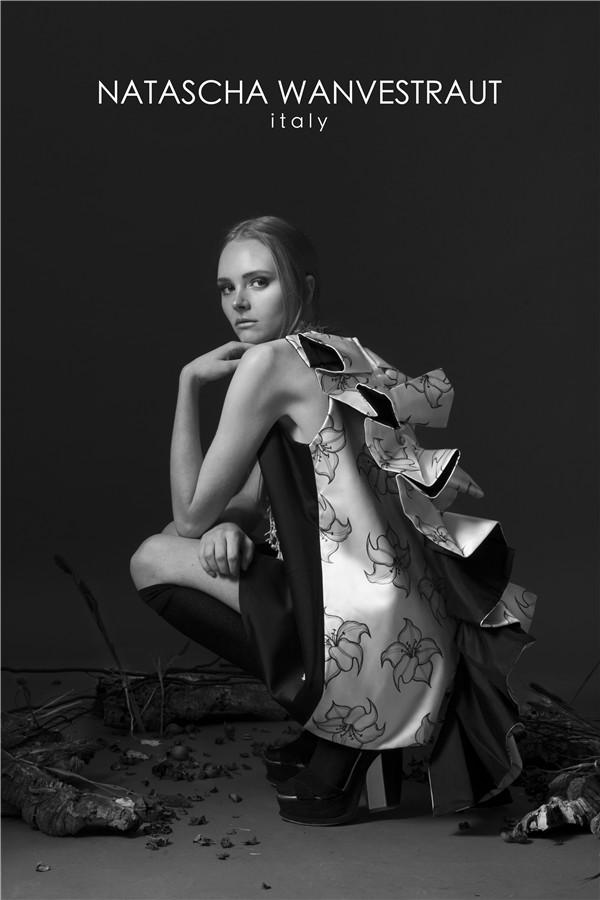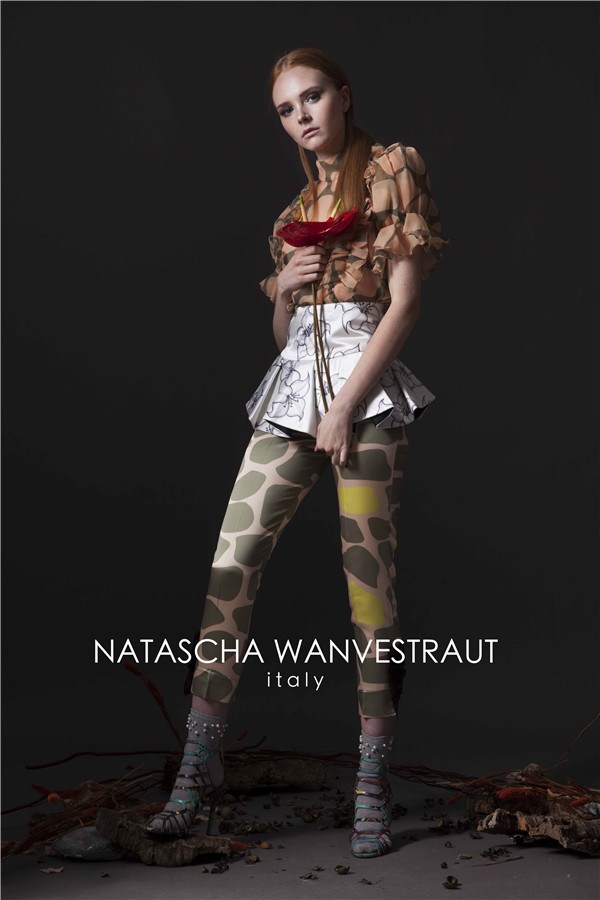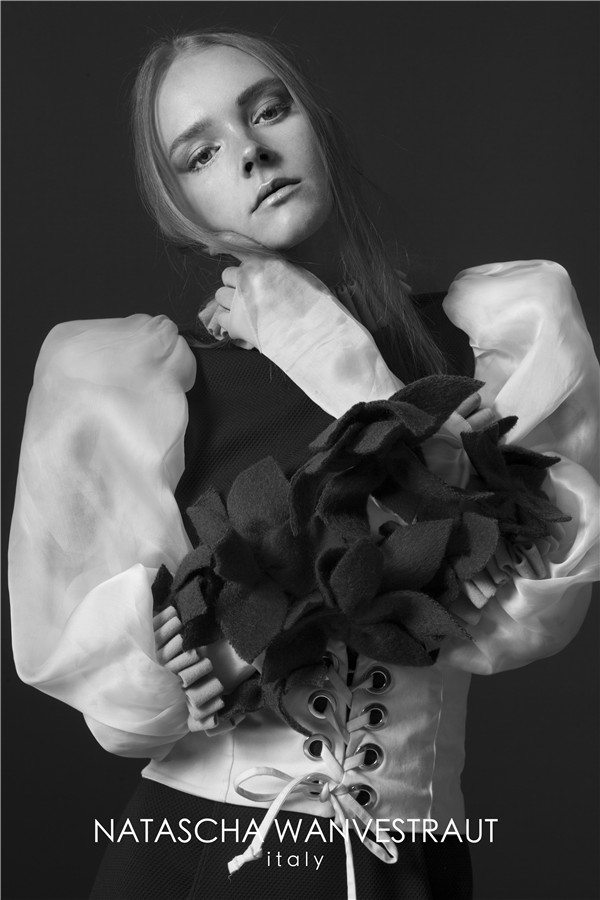 China Textile: How do you expect for the future development of the Chinese market?
Natascha Wanvestraut: Chinese fashion industry has changed a lot in the last decade. Fashion clothing and accessories demand has increased and will continue to expand in a more and more demanding way.
Chinese women today travel a lot and are informed and attentive to what happens abroad, there will be a greater interest in Western style. The Chinese market has an enormous potential and I expect that in the close future it will achieve, also through the collaboration with foreign designers, a perfect connection with the consumer aimed at satisfying its needs for change.