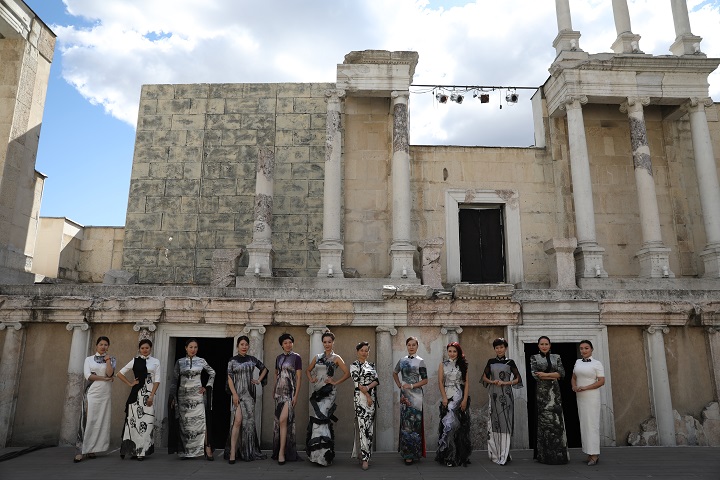 On September 24th, the international cheongsam cultural ambassador, founder of Chantel Gong and one of China Ten Outstanding Designers — GONG Hangyu, who just won the honorary title "the one hundredth Chinese artistic master in the world stamp history" in the fashion capital — Paris, sparked a flurry of modern cheongsams on the Continental Europe soon. Invited by Sofia Chinese Culture Center, she led the 12-Chantel Art Troupe of Chantel Gong to strike a splendid pose on the stage of opening ceremony of Central and Eastern Europe 16-country Chinese Culture Week held in Bulgaria.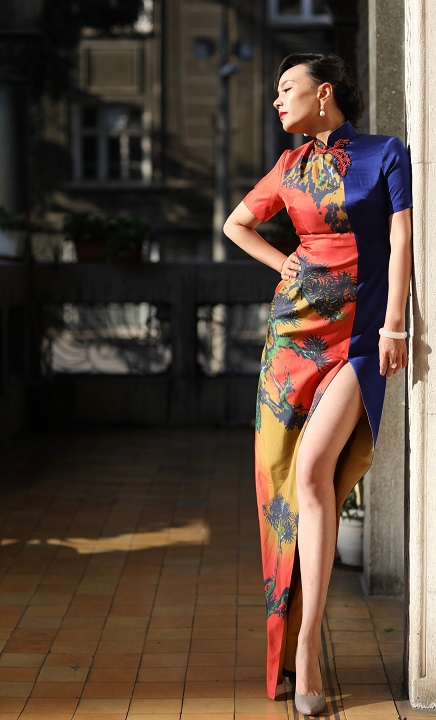 GONG Hangyu
On the Culture Week, Chantel Gong held a series of activities like cultural lecture, opening ceremony performance of Culture Week, location shooting, artistic quick flashing, etc.

Integrating diversified elements in traditional Chinese culture like tea ceremony, Dhyana in Buddhism, painting, calligraphy and music and combining western arts like sculpture, oil painting, poetry and ballet, GONG Hangyu creatively oriented cheongsam art at life, created "12-Chantel" cultural performance series according to different life scenes, and multi-dimensionally displayed Chinese enjoyable lifestyles of women in the new era so that women found styles belonging to their own temperaments and the world witnessed openness, inclusiveness and innovation of the Chinese culture which advanced with the times.


As "the first person (founder) of modern cheongsams", GONG Hangyu used the unique linguistic mode deeply ingrained with Chinese cultural charm — cheongsam to give out China's voice and tell Chinese stories. In this way the world further understood and advocated profound connotation and broad inheritance and innovation of the Chinese culture while witnessing the modern cheongsam art.
The Chinese culture is the culture having the deepest root and fascinating us most
As early as when studying in Wuhan University, GONG Hangyu showed her incomparable love for traditional culture and fashion art. Her footprints spread in over 40 countries across the globe just in her adolescence. When systematically learning costume design, she deeply absorbed nutrients of integrated multiple cultures. Moreover, she started the unique "cheongsam diplomacy" enough to set foothold in the world and propagate the Chinese culture with her rich cultural experience and creation wisdom.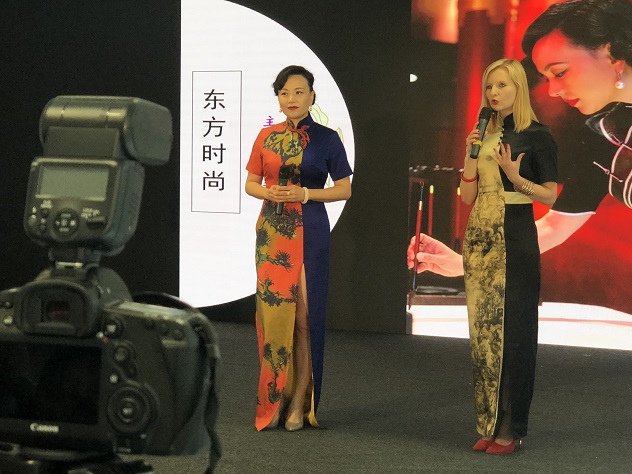 "After experiencing Korean-style elegance, French-style romance and American-style utility, I suddenly realized that only Chinese culture is the culture with the deepest root and fascinating us most. Chinese apparels and ornaments are in an urgent need of an individualized language belonging to a nation, the world and even the era to express them and create cultural belongingness and sense of identity, and this is what contemporary cheongsams possess". In the eyes of GONG Hangyu, what cheongsams carry are not only the oriental culture, Chinese lifestyle and artistic feelings but also openness, inclusiveness and innovation of the Chinese culture which advances with the times. In 2013, she was the first one proposing the concept of fashionable cheongsams and created the then internationally famous "Chantel Gong" brand which became a first-class international fashion brand.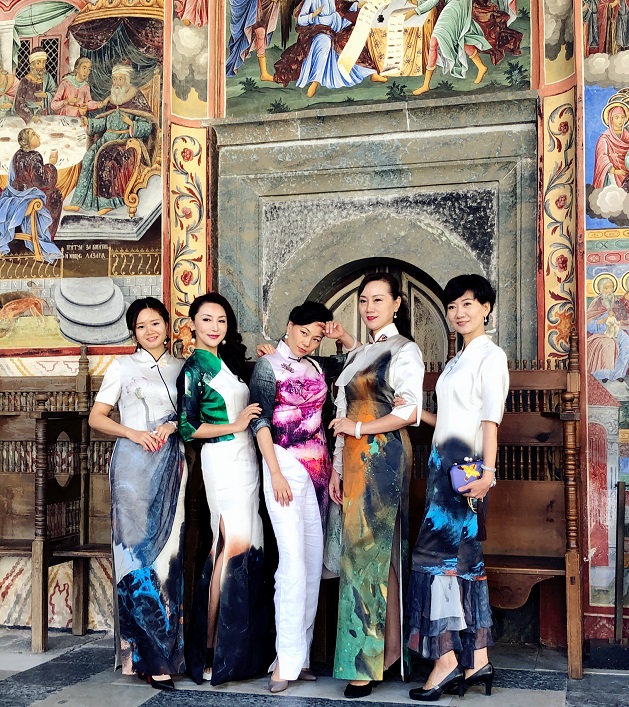 "In the new era, cheongsam is not a kind of conformity or inheritance any longer but a new culture and new fashion. I hope to break through the traditional while carrying forward the culture, decorate contemporary cheongsam design with artistic life and display elegance, confidence and graceful bearing of females in the new era by how they dress." With a good and pure heart, GONG Hangyu has continuously accumulated connotation and appearance of cheongsams with her amazing creativity.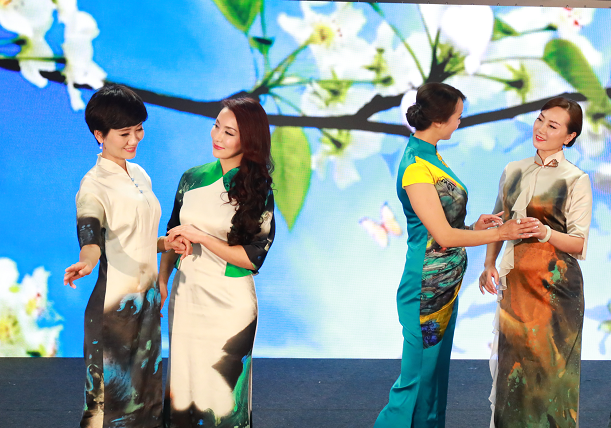 Gently carry forward cheongsams with poetry and decorate poetry with cheongsams
In the eyes of GONG Hangyu, cheongsam is not only a fashionable dress and fashionable linguistic form which doesn't need rendering but also carries various social functions like aesthetics, etiquette, social contact and international cultural exchange. Gorgeous and bright postures of cheongsams can be seen in all kinds of diplomatic activities and on various international social occasions.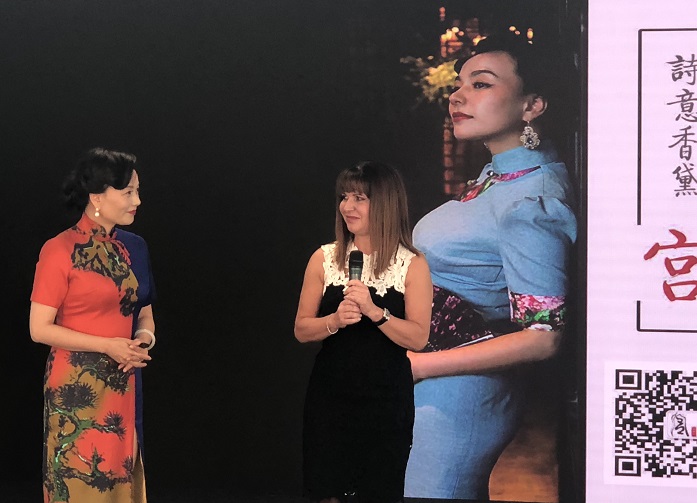 "Gently carry forward cheongsams with poetry and decorate poetry with cheongsams." As the founder of Chantel Gong Poetry Community, GONG Hangyu is not only founder and chief designer of Chantel Gong cheongsams but also a remarkable member in contemporary poetic circles from Wuhan University. The accumulation in poetic art has brought rich connotation and inspiration to GONG Hangyu's cheongsam design and those beautiful flowing charms of modern cheongsams endow her poems with more fashionable splendor.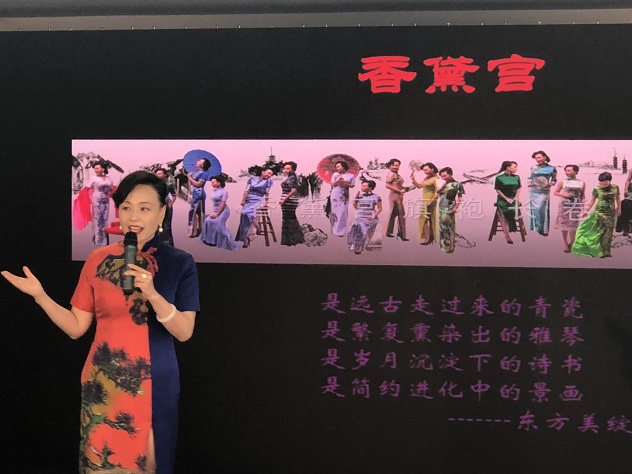 Cheongsam is poetry just as poetry is cheongsam. "Cheongsam is a silky poetry with every-changing patterns, and poem is a rich spiritual cheongsam." GONG Hangyu displays beauty of cheongsams and females with poetry, and her collection of poems has been translated into English, Korean and Spanish languages, Chantel Gong artistic troupe founded by her integrates poem reciting, shape-up exercising, aesthetic training, cheongsam show, films and TV and stage plays, thus it has not only become an enjoyable saloon for life of fashionable females but even become a "bridge" for the Chinese culture to connect to the world.
"International cultural ambassador" who wears cheongsams to walk in the world
"Cheongsam belongs to the nation and also the world." Since Chantel Gong Cheongsams was founded in 2013, GONG Hangyu has been determined to represent Chinese cheongsams, take propagandizing the oriental culture as the mission and spread the Chinese culture to the whole world.
Chantel Gong Chinese fashion has won affection from both the industry and a great number of consumers at home and abroad since its inception thanks to its Oriental vision and combination with Western-style tailoring and pattern-making process. The designated cheongsam brand for the International Miss National Champion and Miss Universe Champion; making 500 cheongsams for 2016 CCTV Spring Festival Evening Gala - Shanghai Parallel Session and the Lantern Festival; invited to participate in the 2015 Milan World Expo, attending the 40th anniversary of the establishment of diplomatic relations between China and Suriname; participating in the 2016 Auckland Christmas Parade, San Francisco International Fashion Week, and the global Confucius Institute cultural exchange; striking a pose on the stage of China International Fashion Week ... Gong Hangyu has created numerous miracles in just four years, and has published a number of essays and poetry collection, succeeding in making Chantel Gong cheongsam a must choice for the celebrities, female elites and international ambassadors.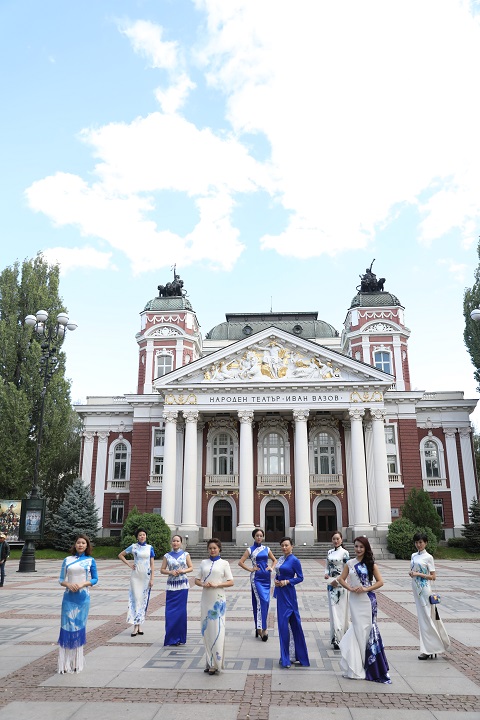 In July, 2015, Chantel Gong Cheongsams won good graces from wife of governor general in New Zealand — Mrs Mattpa who ordered several cheongsams at one time. Afterwards, Chantel Gong gradually became a Chinese brand which was most welcomed by wives of ambassadors of various countries stationed in China, first ladies paying a visit to China and international top-end beauty pageants, and cheongsams were presented to heads of states as national gifts. Therefore, GONG Hangyu has become a genuine "cultural ambassador" in the international exchange.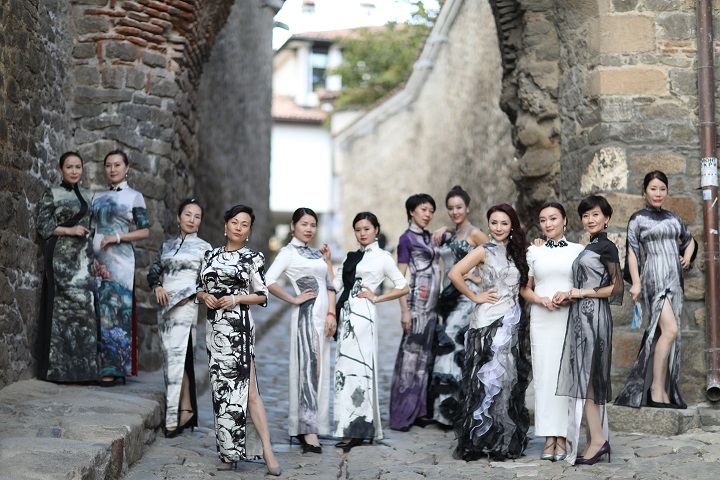 In April of this year, United Nations World Intangible Cultural Heritage Protection Foundation granted GONG Hangyu the honorary tile "an outstanding Chinese artist in the world". Stamp collecting agencies of state posts like America, France, the Netherlands and Belgium jointly issued "an outstanding Chinese artist—GONG Hangyu stamp", thus she became the first cheongsam designer displayed on a stamp in the world. Just a few days ago, on "Charming China Shining in the World—Chinese Culture Paris Exhibition on A World Stamp" held in Paris, France, GONG Hangyu were listed on the honor roll as "the first famous Chinese artist on a world stamp" together with famous artists like LI Xiaolong, Jackie Chan, CHEN Peiqiu, HE Jiaying, TANG Guoqiang and JIANG Kun. GONG Hangyu Stamp Global Offering & Awarding Ceremony was grandly held.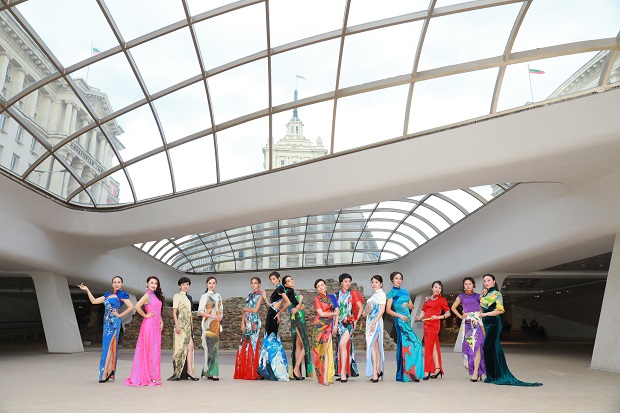 "I would like to speak for traditional Chinese culture to step towards the world." GONG Hangyu who walks in the world as "an international cheongsam ambassador" wins an amazing glance from the world to the Chinese culture while displaying beauty and charm of traditional Chinese culture.