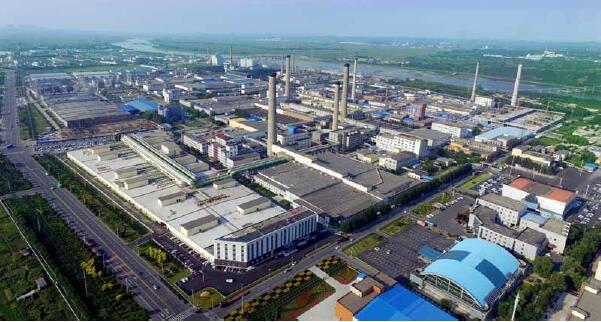 "Mr. Xie, would you please write a story about Song Dewu?" Liu Hongwei, Party Secretary of Jilin Chemical Fiber Group Co., Ltd. said in the phone, while making an introduction to the business changes and the deeds of President Song Dewu, full of appreciation and admiration.

From a new comer as a college graduate to workshop director of Jilin Chemical Fiber Group, and then to General Manager of Hebei Jigao Chemical Fiber Co., Ltd. till President of Jilin Chemical Fiber Group, Song Dewu has been enjoying an increasingly bigger arena step by step, on which he took the lead to establish China TANBOOCEL Union and led the Group to weather a crisis, manifesting his strategic vision, active spirit, and powerful leadership.
Stay calm to focus on the main business
In the autumn of 2013, Song Dewu became the head of Jilin Chemical Fiber Group by virtue of his own capability and the trust from the organization; however, what he was facing then was a poor bill of the business. Three years later, he handed out wonderful achievements.

The above data illustrates everything. "I did not expect so rapid changes that Jilin Chemical Fiber Group had made in the three years," said Chu Guozhi, the Former Deputy Party Secretary of Jilin Chemical Fiber Group. Similarly, more than a few people have been surprised. After surviving several ups and downs, the Group head by Fu Wancai grew from small to big, from weak to strong, being a model of the national textile enterprises. Once upon a time, there was a saying in the industry "There is Huamao in South and Jilin Chemical Fiber Group in North".
During the last period when Fu Wancai headed the Group, weakness showed up that the workers had not seen a rising of income for a decade. The year of 2013 was accompanied with dropping economic growth, surplus capacity, and downward product prices, when Song Dewu stepped in.
After taking office, Song Dewu shook things up early on, and financing came the first. The Group had missed several opportunities for financing subject to objective factors since its listing; therefore, seizing the rapidly changing opportunities was of great importance to Song Dewu. During nearly one year from December 2013 to November 2014, he hurried through Shenzhen Securities and Jilin Chemical Fiber Group. Meanwhile, he actively adjusted the property rights structure and the subsidiaries of the Group for the combination and separation of property rights, while implementing restructuring to three companies.
On November 18th, 2014, the effort finally paid off; the raised 900 million yuan was fully funded so that the Group's asset-liability ratio fell by 20%.
In the process of enterprise development, for the use of funds, some people think that the entity profit margins are too small and advise to turn to real estate development. Once such voices emerged, Song Dewu stated firmly: "Entity is the only choice!" Holding this belief, years of business management experiences made him believe that guaranteeing the scale is the basis of efficiency, and he continuously explored the application of the limited funds for expansion of the scale, thus the enterprise has been more powerful, winning right of speech in the industry.
Under his leadership, the company is enjoying a more reasonable structure, together with highlighted scale benefits, followed by one miracle after another. Among the innovation project awarding this May, the R&D of big spinning cake sent out the most ripples. By this May, repeated trials had made it true that the single spinning cake is weighed 920g from the original 540g, which has won the user's approval. The growing weight means a qualitative leap. Man-made yarn production is labor-intensive with high labor costs and cumbersome operations; therefore, how to improve production efficiency and fabric quality is the difficulty that the R & D project team is facing. Led by Song Dewu, the team began from the development of new refiner and spin-drier with efficiency increased by 30%. Subsequently, the use of homogenizing numerical control equipment and the improvement of product process had the tube weight increase by 23% while the neps reduce by 33%, thus the spinning cake is larger in size with less staff. The annual benefits amounted to 21.4 million yuan.
For the development of the company, Fu Wancai once put forward: "two men work for three while one is out for infrastructure." On this basis, Song Dewu put forward: "One worker works for two while one is out for infrastructure." Three years and two months were required to build 30,000 tons of acrylic in the past,while now 60,000 tons only ask for 248 days. A differentiated acrylic fiber project with an annual output of 60,000 tons was put into operation on May 26th 2017, setting a record of the shortest acrylic construction cycle in the world. Amazing data also include: acrylic production capacity reaches 400,000 tons, accounting for 1/5 of the global output; man-made yarn is 60,000 tons; bamboo fiber is 130,000 tons.
The new carbon fiber product "12S" developed by Jilin Chemical Fiber Group in July 2016 surpassed the T700 Standard, breaking the technical bottleneck that had hindered the domestic carbon fiber industry for many years. At present, 12S products have been enjoying an annual profit of nearly 7 million yuan.
Today, Jilin Chemical Fiber Group has the only 24K carbon fiber precursor production line in China, and its advantages in terms of technology, size, cost and quality have already had the ability to compete with world-class enterprises.
Having bamboo fiber well in hand with amazing talents
Grass-roots is the fertile soil for Song Dewu who came to Jilin Chemical Fiber Group in 1985 when the Group was enjoying its heyday. He was not tall, and always in a humble gesture while listing to others. Whether being a technician in the workshop or working in the factory office, he either worked hard to take notes or was busy in reading, very "alternative". The former workshop director Lin Zhenhao gave such an evaluation: "This young man is a good seedling, modest and studious."
In 1996, he was sent to the production control center, where he was responsible for introducing the manufacturing situation on behalf of the Dispatch Officer in the daily dispatch meeting, adept and steady-going. He was always capable of giving answer to any question, which came from his eager to learn, and also from the love to the enterprise. Soon, he was promoted to be the Deputy Director of the workshop, followed by being the Director less than six months.
With hard work and courteous personality, Song Dewu stood out from among the 27 graduates who came to the company at the same time. The larger test appeared in 2005 when he took the position of General Manager of Hebei Jigao Chemical Fiber Co., Ltd. after ten years of work in Jilin Chemical Fiber Group.
Hebei Jigao Chemical Fiber Co., Ltd. is the raw material base for Jilin Chemical Fiber Group, and at that time the newly developed bamboo fiber was in urgent need of management when Wang Jinjun took over the work of then head Fu Wancai. In face of enterprise expansion and lack of talents, Wang Jinjun entrusted Song Dewu with an important post.
"Innovation often starts from small businesses which are of stronger awareness of business crisis. Though large enterprises are stable and sound, small ones always enjoy a fast U-turn." Song Dewu was certain of the law of the market and determined to create an independent brand. Shortly after he took office, China TANBOOCEL Union comprised of 32 companies came into being in Yibin City, Sichuan Province, opening a new business model of the bamboo industry.
Making bamboo fiber integrated into the world of textile to become the fifth element besides cotton, linen, wool, and silk has been always a dream of Song Dewu. In the spring of 2006, an English interpreter accompanied the Indian guests to visit the company for business negotiation, but stumped by a technical word, then Song Dewu calmly took over the words to communicate with with foreign guest fluently. In the end, the foreign guest not only showed a strong interest in the new technology of bamboo fiber, but also admired Song Dewu's knowledge - the contract itself spoke volumes.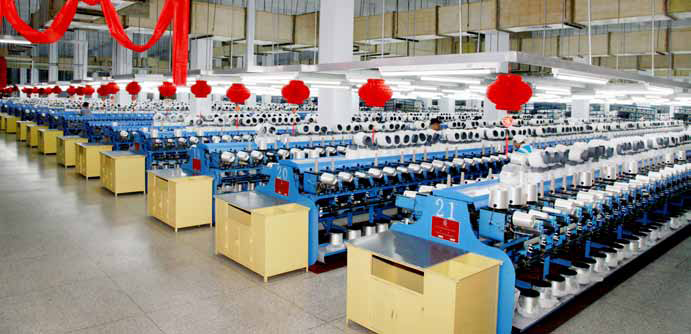 He once carried the bamboo fiber to 20 industrial clusters for wider promotion. During one promotion event in 2007, the then Deputy Director of Shishi Municipal Economic Bureau was invited to participate, and he thought it was just a conventional meeting, but to find that an eyeful of new products made from bamboo fiber attracted more than 300 people, with every seat taken. Then he immediately reported to Zhang Xin'an, Vice Mayor in charge of industry, who then sent an invitation to China TANBOOCEL Union to participate in Straits Textile & Clothing Fair and provided preferential conditions for free of charge.
With keen insight into the market and accurate prejudgment, Song Dewu always gives penetrating judgment in the low profile. In the China TANBOOCEL Union Council Conference in 2005, some representatives questioned the price of bamboo fiber, for they thought that the downstream profits could not accept the current price. At the end of the meeting, the price of bamboo fiber increased by 10%, instead of falling. In this regard, everybody was puzzled, except Song Dewu for whom it seemed that everything was under control, saying that the bamboo fiber inventories fell by 20% from the previous month at that time, and the market news told that fast sales indicated the downstream demand increases. If not now, when? As he expected, the price of the product changed, and the market accepted it; therefore, the doubts of the crowd were dispelled.
Win-win is the purpose and philosophy of China TANBOOCEL Union. Many pioneer enterprises have been accompanying the Union for 12 years, among which BALISO is one representative and its General Manager Ma Haoran expressed his heartfelt appreciation in the evaluation of Song Dewu: "He is well aware of your profits, and will not drive you into a corner while not allow you to get sudden huge profits. It seems that the main switch of business efficiency is under his control."
Under the guidance of Song Dewu, China TANBOOCEL Union witnessed an expansion to more than 600 member companies from the original 32 ones at its 12th anniversary in 2016, including SEPTWOLVES and JOEONE in Fujian, SUNVIM in Shandong, white collar in Beijing, THREEGUN in Shanghai, GRACE in Zhejiang, and many other famous brands. In the China TANBOOCEL Union Council Conference held in Wuzhen last winter, Gao Yong, Party Secretary and Secretary-General of China National Textile and Apparel Council, expressed that "Jilin Chemical Fiber has opened up a model for products to integrate with the market." In this regard, Song Dewu's contributions cannot go unnoticed.
During the Award Ceremony of Innovative Talents of the Year in 2010, when asked about the current stage of China TANBOOCEL Union, the award winner Song Dewu did not hesitate to give such an answer: "in the spring, on the road". In the spring means continuous growth of bamboo fiber for ten years with an annual growth rate of 30%, while on the road refers to the ideal goal that Song Dewu has been seeking after. The plain language is words from the bottom of his heart.
Song Dewu commands public respect and support, for he is capable to have the situation of the Union well in hand, obvious and convinced.
Renewing the new dream based on the inheritance of the former head
Tracing back to the glory of Jilin Chemical Fiber Group, first of all, we have to mention the enterprise head in the nineties - Fu Wancai, who acted as the President and General Manager of the Group in 1985 - 2002. During his tenure, the Group's taxation increased significantly to 174.2 million yuan from 6.41 million yuan, becoming a banner of state-owned enterprises in reform.
As Fu Wancai's student, Song Dewu pays respects to Fu at his tomb on every Tomb-sweeping Day. Upon taking over the position of President of the Group, Song Dewu came to the tomb alone, staring at the tomb and bowing deeply, "Do not worry, President. I will strive to carry forward your career."
Living up to the expectations of the older generation, he focuses on personal practice and pursues supreme spiritual realm, career progress, flawless character and enrichment of life. In a high position, he still works hard as always and spends one day as a year. His simple desk is always filled with different types of management books. He would always have books in his simple luggage during a business trip.
"A book holds a house of gold." Reading makes his wisdom to get the most play, thus forming a self-contained management philosophy and expert-style classic management quotations.He is recognized as the spokesperson of the enterprise spirit. Jilin Chemical Fiber Group's "Enterprise Management Compilation" shows that Song Dewu's essence of enterprise management is hidden in many "three" proverbs: in the capital operation, he talked about "three capitals", that is, the maximum use of assets, the fastest capital turnover, and the maximum integration of capital. The mostly mentioned is "three rates", that is, "cognitive rate", "conversion rate", and "execution rate". When asked what is the pronoun of Song Dewu, Liu Hongwei did not hesitate to sum up: "dedication, devotion, responsibility, innovation, and self-discipline." These five spirits are Fu Wancai style. Song Dewu continuously carried on such entrepreneurial spirit as solid and diligent, working realistic, and focusing on details. He has been doing what he has said.
Inheriting former President Fu's management concept and strategy, Song Dewu particularly values strict management. Factories must be strict in their management work, and it is an important driving force for the glory of the Group. Similar to Fu's methods in stressing discipline, Song Dewu also believes that discipline is the top prohibition and ensures that everyone is equal. He always sets himself an example to others. His staff Yan Dongdong said: "Mr. Song has always been around us, inspecting the workshop every day and talking with workers to have a better understanding of the first - hand information. He is pragmatic, instead of only theory-discussing. "
Spot checks is also an implementation of Fu Wancai's theories of management. Each time Song Dewu comes back from business trip, he will go to the workshop for inspection. Cao Ruyi, one staff of the Group, said that enterprises have provisions that there must be leadership on duty on holidays, so that any sudden accident can be dealt with in a timely manner. Song Dewu would insist on getting to the bottom of the matter if he found no leadership on duty. For instance, once, he found a division head breaking away from the position, and still off early the second day, then a notice was posted at the gateway of the enterprise with a fine of one thousand yuan as a penalty for taking time off.
Strict management, diligent governance ... it is all these that have become a booster to re-write the fate of Jilin Chemical Fiber Group. Three years is short for life, but for thousands of workers of the Group it is unforgettable. During the three years, under the leadership of Song Dewu, Jilin Chemical Fiber Group witnessed a lot doubled growth in terms of total output, overall benefits, workers income, etc., reversing the downward trend and rewriting numerous records. In May this year, Jilin Chemical Fiber Group held the Second Innovation Conference, during which the audience burst into a long applause when Song Dewu appeared on the rostrum, an interpretation of their love and expectation to a young entrepreneur. Flowers are still in blossom in May, while the immortal light in the chemical fiber base illuminates people's heart, and Song Dewu has lit the light of faith, enlightening more people to make unremitting efforts for the cause of chemical fibers.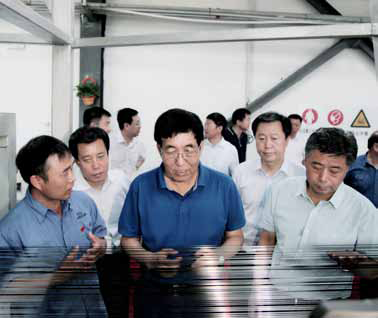 Bayinchaolu (middle), Secretary of the Communist Party of China (CPC) Jilin
Provincial Committee, made an investigation in Jilin Chemical Fiber Group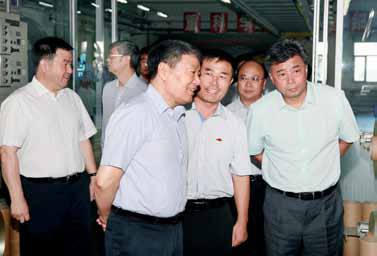 Xu Shaoshi (Left 3), Director of National Development and Reform Commission, paid an
inspection visit to Jilin Chemical Fiber Group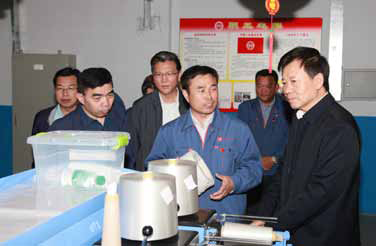 Wang Wenbin (Right), Deputy Director of State-owned Assets Supervision and Administration
Commission, visited Jilin Chemical Fiber Group for an inspection